By Michele Murphy
For years he's been called the (unofficial) Mayor of Boulder Creek, which has no Mayor, so Barry Tanner may as well hold the honorary role. A bold and passionate fixture in the Boulder Creek community and in the SLV music scene for decades, Barry has led the charge for live music and supported musicians at all levels.
Tanner grew up in Davis where his dad played folk guitar and influenced him to pick up both the bass and the guitar at around 11 years of age. His early musical influences were people like Stan Getz, Sam Hinton, and Pete Seegar. At 15 he was playing with the Amazing Grace Jug Band at pizza parlors and beer halls around Davis.
A decade later Barry migrated to the Santa Cruz area where he got involved with the music scene while helping to form and settle the "off the grid" community of Last Chance. A duet he formed grew to a trio and eventually exploded into an 8-piece band called the Hellgrammites, featuring originals as well as homages to artists like Django Reinhardt, yes, and Zappa. In 1984 they produced a modern dance musical called Return of the Niad (aquatic nymph) which had 16 performances at the Louden Nelson Center. Also a carpenter, he designed and built the set, played in the shows, wrote, and produced all the original music, and it was a hit!
After toggling between living here part time and traipsing around the south of France, Barry laid down roots when he purchased the old Post Office at the corner of Forest and Pine in Boulder Creek back in 2007. He turned the old brick building behind the historic Odd Fellows Hall into the place to be. PASS Studios became a chill spot for both local and touring bands to practice and rehearse. A laid-back groovy place to cut a single, or an album, with state-of-the-art equipment and sound stages for recording videos or doing live streams, the studio has provided a haven for many groups to practice, record, and perform. For locals it's been a welcoming space to hang out or play music on any given day. Over the years there have been mini music festivals, potlucks, memorials, benefits, fundraisers, fire relief meals, and more. The door has basically always been open and the community appreciates the space and Barry's endless generosity.
For many years Barry helped to maintain the historic Odd Fellows Hall and served as the Noble Grand for the Boulder Creek Chapter of the Independent Order of Odd Fellows, an ancient order dedicated to the following: To improve and elevate the character of mankind by promoting the principles of friendship, love, truth, faith, hope, charity and universal justice. To help make the world a better place to live in, by aiding each other, the community, the less fortunate, the youth, the elderly, and the environment in every way possible. To promote goodwill and harmony amongst peoples and nations through the principle of universal fraternity, holding the belief that all men and women regardless of race, nationality, religion, social status, gender, rank and station are brothers and sisters.
His dedication to community, creative freedom, and expression is an extension and example of the goals he has aspired to as an Oddfellow, an activist, a musician and a catalyst for musical endeavors.
From booking bands, to providing equipment and sound tech services, to recording and producing music in studio, Barry Tanner has done pretty much every job you can do in the music industry. And his band, Badenov, played out up until about a year ago when his continuing fight with cancer made it impossible to perform. But that hasn't stopped him from enjoying an occasional jam in the studio, and you can still often hear music wafting up Pine Street on a sunny afternoon.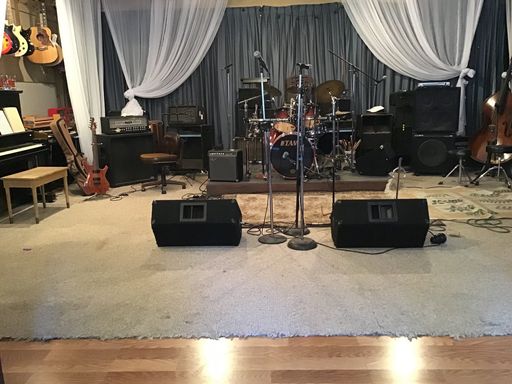 PASS Studios in Boulder Creek
Michele Murphy is a writer and singer-songwriter who has lived in the Santa Cruz area since 2005 when she migrated West from Buffalo NY to the beautiful San Lorenzo Valley. An avid music lover, she is entrenched in the local music scene both as a performer and a fan, with her finger on the pulse of what is happening at the terrific selection of local music venues and with the bounty of local musical talent in the Santa Cruz area.
Photos contributed by Barry Tanner