Redwood Keg Liquor & Deli Under New Ownership
By Michele Murphy
If you're heading north up Highway 9, The Redwood Keg is perched charmingly and unassumingly on the right, at the gateway of Boulder Creek, welcoming you into town with the intoxicating smell of barbeque.
The Keg has changed hands and exciting innovations are now afoot! New owners Doug Woolard and Eunhee Lee are busy revitalizing the space and expanding the deli menu and the wine, craft beer, cider, and liquor selection.
History
The property was originally owned by Alma Hale who sold it to Louis and Mac (Michelina) Gho (nee Pesenti) in 1938. According to Lisa Robinson, Collections and Exhibitions Curator at SLV Museum, "It was described as one of the oldest places in town. It was her home. The Ghos razed it in 1939. They intended to build a modern building but that did not happen until the Redwood Keg was built in 1973."
The property is also known for the Hartman cottage across the driveway. The building still stands, was purchased by the Ghos in 1931, and was the famous Go Inn tavern until 1975.
The Famous Belly Buster Tri Tip Sandwich
But what about the Belly Buster? A longtime staple of hunger satiation in the valley, the famous Belly Buster is a sandwich piled high with tender, thinly sliced, bursting with flavor, smoked tri-tip, dressed with marinade and a variety of tantalizing toppings. Do not fear! The Belly Buster is still here! And previous owners Bob and Jane Presswood are still on hand, continuing to be part of the community they love.
More than just the new owner, Doug is a barbeque guru. After 30 years committed to the art, he believes his search for the perfect grill has finally ended. He and Eunhee have invested in the largest pellet smoker they could find, as well as a Santa Maria style grill. But it doesn't stop with tri-tip. They've added a variety of smoked meats such as falling apart tender Texas-style brisket, pork belly, teriyaki chicken, Corralitos sausages, plus Korean barbeque, cha shu pork, and Indian inspired dishes.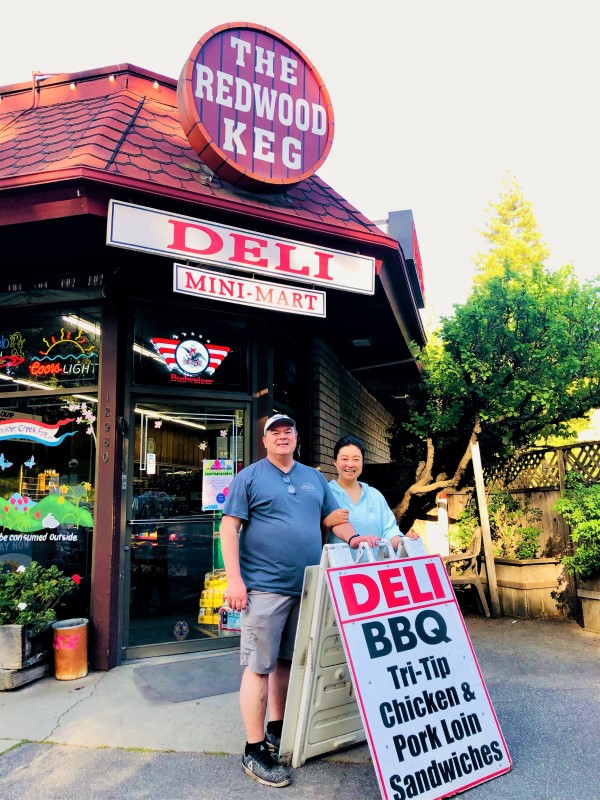 Expanded "to go" dinner options make the Keg not just a great lunch spot but THE place to stop and pick up a mouth-wateringly delicious dinner! The popular deviled eggs are still available, as well as the large pickles in a jar that no legitimate deli would be without.
"Everyone who has come in has been warm, inviting, and supportive," Doug says, "we are super excited to be here." Eunhee ran several restaurants in Japan, and they both have a passion for flavor and quality. They can't wait to share their love of good food with the community, so stop in, say hello, and take home some great food.
The Redwood Keg Liquor & Deli
12980 Highway 9
Boulder Creek, CA 95006
831-338-2727
Michele Murphy is a writer and singer-songwriter who has lived in the Santa Cruz area since 2005 when she migrated West from Buffalo NY to the San Lorenzo Valley. An avid music lover and active member of the SLV community, she is entrenched in the local arts and food scenes.
Featured photo: Doug Woolard and Eunhee Lee at the Redwood Keg Deli & Liquor | Photo by Michele Murphy