Dispelling the Myths Around the Roaring Camp-RTC Debate
By Jayme Ackemann
Earlier this year, Roaring Camp launched an aggressive campaign to defend its right to operate freight on the Felton Branch Line that connects to the line owned by the Santa Cruz County Regional Transportation Commission (RTC).
The campaign came in response to RTC's move to consider requesting the forced abandonment of freight operations, initially on the Felton line, and eventually requesting the abandonment of the Santa Cruz Branch Line.
Now one RTC Commissioner is suggesting a friendly coffee meeting will resolve the conflict. But we'll get back to that.
Roaring Camp Doesn't Operate Freight? Does it?
It doesn't matter whether Roaring Camp actively operates freight over the line or not. But the answer to that question is, yes. Roaring Camp also holds the contract to operate freight service through Santa Cruz County, which includes the Felton Branch Line. But due to track and bridge repair questions, freight service is primarily operated out of Watsonville at present.
An abandonment would result in the loss of federal protection for Roaring Camp's rights to operate trains in the corridor – tourist or freight.
The federal government extends protections to freight corridors so that operators can be assured of unimpeded passage without threat of additional liability. Roaring Camp has an easement to operate on the Felton Branch Line across property that is largely owned by the California State Park system. When the train emerges from tracks on state park property it crosses over land owned by the City of Santa Cruz before merging onto the Santa Cruz Branch Line, which is owned by RTC.
Federal freight protection means that none of these entities can unilaterally decide to remove the tracks, or change Roaring Camps' easement to prevent operation. While relationships are good with these agencies today, things can change. The opposition to Rail-plus-Trail, spearheaded by Greenway, the bike and pedestrian trail advocacy organization previously led by Supervisor Manu Koenig, shows how quickly that can happen.
It wouldn't be unreasonable for Roaring Camp to be cautious about taking RTC's word that it will continue to enjoy unfettered access to the Boardwalk. While leadership at the transportation commission may presently support Roaring Camp's continued rights, as we've seen with recent elections – leadership can change.
It's unlikely RTC is even in a position to make such assurances today. RTC only owns the tracks once they cross over Maple Street in Santa Cruz. Should feelings about the railroad change within the State Park system, Roaring Camp could find itself in an even more existential battle down the road.
Is Greenway Opposed to Rail?
Greenway denies it is opposed to long-term rail planning but its ballot language seeks to have the portions of the Santa Cruz County General Plan that deal with rail removed entirely.
Its support for "railbanking" is another red herring. Railbanking removes the tracks.
Let's follow this logic down the rabbit hole, shall we? To "preserve the corridor," we are going to remove the tracks because there is not enough funding to complete the rail project today. This is a bit like building half a house, then tearing it down so you can find the money to finish construction. Once you tear out the tracks, the already expensive rail project gets a whole lot more expensive.
Greenway does not support rail. Don't let them put any more lipstick on that pig.
So About That Coffee?
RTC's Commissioners seem to be of the opinion that Roaring Camp and RTC's executive team just need a little relationship-building to reach an agreement.
Commissioner Jacques Bertrand made the explicit suggestion that Roaring Camp CEO Melani Clark and RTC Executive Director Guy Preston work out their differences over coffee.
Roaring Camp & Big Trees Narrow Gauge Railroad has operated in Santa Cruz County for more than 80 years. The Clark family, which has been involved with the local railroad business for generations, has worked alongside both current and past RTC administrations.
When asked about the Commissioner's recommendation, Clark thoughtfully responded, "I prefer direct, plainspoken communication. So Commissioner Bertrand's suggestion of a cup of coffee with the RTC executive director is my kind of thinking, though it may come as a surprise to some that we've already met together a few times, including a meeting held at Roaring Camp. We also stay in touch via text and email. I'm confident we'll keep the lines of communication open as we try to hammer out a way forward."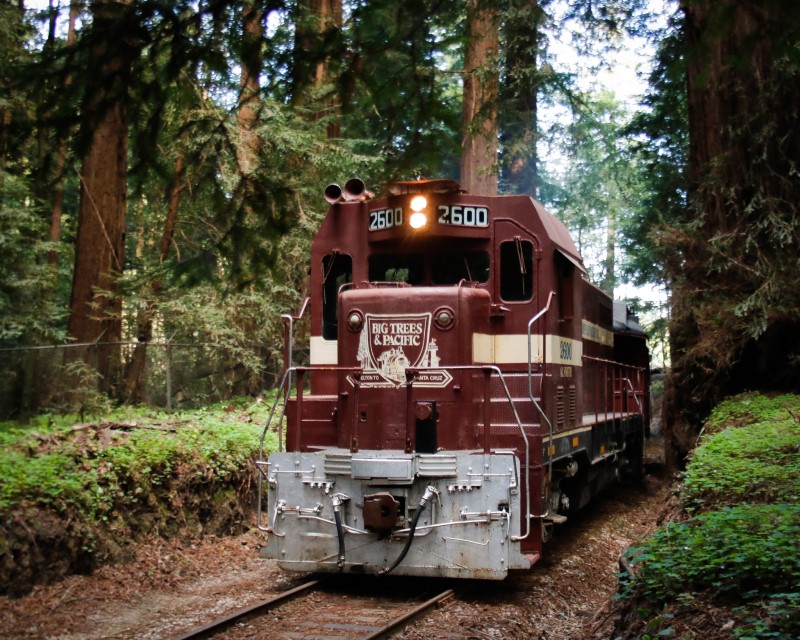 According to Supervisor Bruce McPherson's office, support for Roaring Camp has been significant. Since news broke regarding the RTC's plans earlier this year supporters have sent more than 6,000 letters to RTC's commissioners. If that's a sign for Santa Cruz County's overall support for rail, that's good news for the Rail-plus-Trail supporters.
The decision will come back to RTC's board for consideration before a vote unless that coffee date can help Roaring Camp and RTC reach an agreement. Let's hope it does.
Jayme Ackemann is a public affairs consultant and freelance writer. She has worked on major capital investments and water infrastructure construction projects in the Bay Area. Jayme is a resident of Ben Lomond.
Featured photo: Melani Clark, CEO at Roaring Camp Railroads
Photo contributed by Roaring Camp Railroads