Storm Update Friday January 13
Weather
From the National Weather Service: The forecast calls for light rainfall on Friday with another storm approaching Saturday, January 14. We can expect periods of rain as a cold front passes over the region. Pre-existing saturated soils will not be able to absorb excess rainfall. Urban and small stream flooding is expected along with continued flood potential on mainstem rivers through the weekend. After a brief lull early Sunday, another storm will bring more rain later Sunday into Monday.
Flood Watch
Flood Watch remains in effect from late tonight through Monday afternoon and includes all of the Bay Area and Central Coast regions including the Santa Cruz Mountains. weather.gov/safety/flood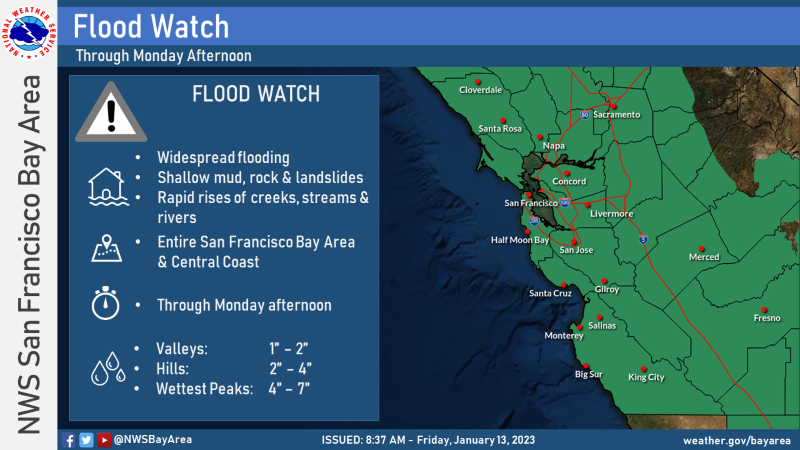 Surf Warning
High Surf Warning/Coastal Hazard Message from Coastal North Bay to the Big Sur Coast in effect until 10:00 am Saturday. If travel is required, allow extra time as some roads may be closed. Do not drive around barricades or through water of unknown depth. Take the necessary actions to protect flood-prone property. Everyone should remain out of the water due to life-threatening surf conditions. Stay off of jetties, piers, and other waterside infrastructure.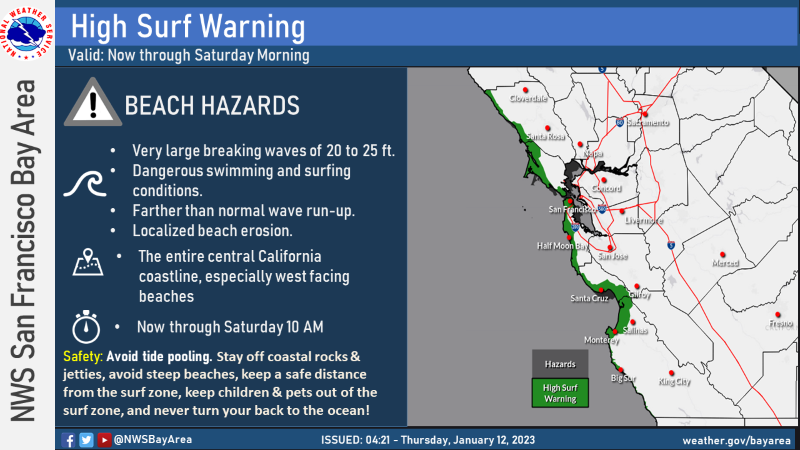 SAN LORENZO RIVER AT BIG TREES FELTON
The San Lorenzo River at Big Trees latest observed stage was 10.26 ft at 1:00 pm Friday. Flood stage is 16.5 ft. View data at water.weather.gov.
POWER
Power is back on in some areas of the San Lorenzo Valley with widespread outages remaining in Boulder Creek and Ben Lomond. Some residents have been warned that power restoration could take up to two weeks. Keep an eye on the outage map for updates at pgealerts.alerts.pge.com/outagecenter.
ROAD CLOSURES
View current road advisories at experience.arcgis.com/experience/09f637a4d84946edbb5aab283766c9de. See which roads are closed or hindered due to slides or damage and construction. Highway 9 and tributary roads vary in condition and access.
CHP Traffic cad.chp.ca.gov
State Routes: roads.dot.ca.gov
SC County Roads: experience.arcgis.com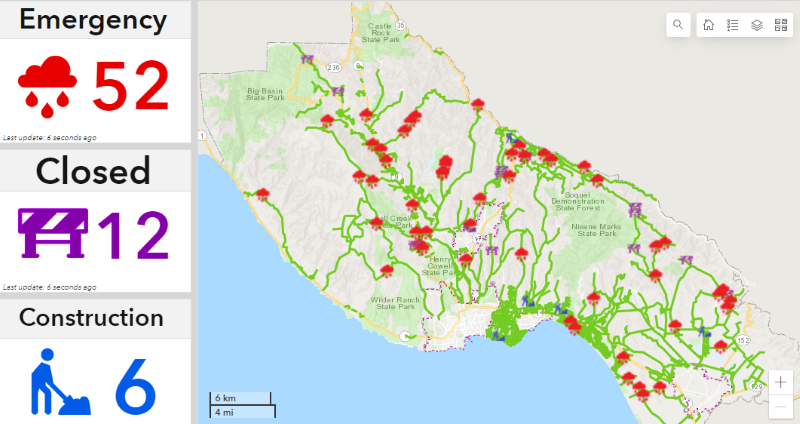 EVACUATIONS
Multiple Evacuation Orders and Warnings around the county have been abated but residents should anticipate new orders during the incoming storm. Look up your zone at aware.zonehaven.com.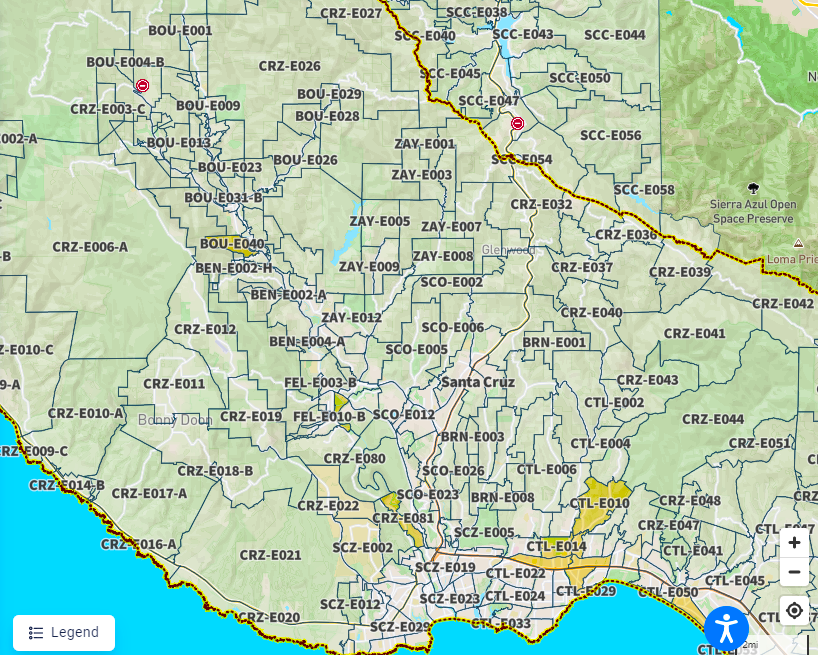 SHELTERS
Santa Cruz County Fairgrounds
2601 East Lake Ave. Watsonville
Pet friendly – large and small
Cabrillo campus
6500 Soquel Dr. Aptos
The Cabrillo gymnasium, cafeteria, and parking lot P are for those in family size vehicles or smaller. Parking lot K on lower part of campus for RVs and oversized vehicles. Pets must be contained to vehicles and parking lots or parking garages, and walked out on the main roadway sidewalks, not on campus
RECOVERY RESPONSE
PG&E has been staging at the Santa Cruz drive-in property with emergency response vehicles and equipment at the ready.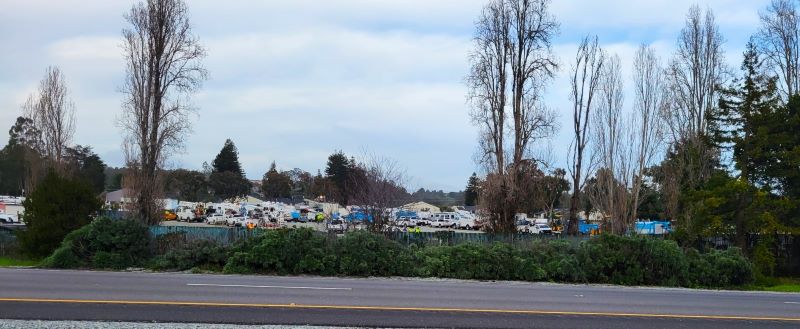 In anticipation of the next wave of storms, PG&E set up a base camp in Santa Cruz with vehicles placed throughout the County. The company confirms that they have more than 4,000 personnel responding to the storm.
Contact Mary Andersen at mary@slvpost.com 831-335-6500 and Julie Horner at leap2three@gmail.com 831-325-1974.