By M.C. Dwyer
Local average home prices are about 10-20% lower than a year ago, varying widely depending on location, price range, and condition. Softer prices are largely the result of fewer pandemic-motivated buyers as well as the impact of higher mortgage rates dampening buyers' financial capacity. When looking at the chart below, remember some towns are so small that the mix of high and low-end sales can greatly affect the average price. I consider these statistics as useful information, but not the entire equation.

As the traditionally busy spring market unfolds like the glorious flowers of a tulip tree, more homes are rapidly coming on the market for sale. The number of new home listings for sale has been higher than the number of homes sold for weeks now. More home listings combined with fewer home sales results in more inventory buyers can choose from. Now that there are more homes for sale, for the most part, there are fewer crazy multiple-offer situations. My last seller got 3 offers. A client of mine offered about 8% over asking price in order to win the bidding for Hall Ranch Road in Santa Cruz — we were competing against an all-cash buyer. Still, the price they paid was 15% less than the asking price for that same house last summer.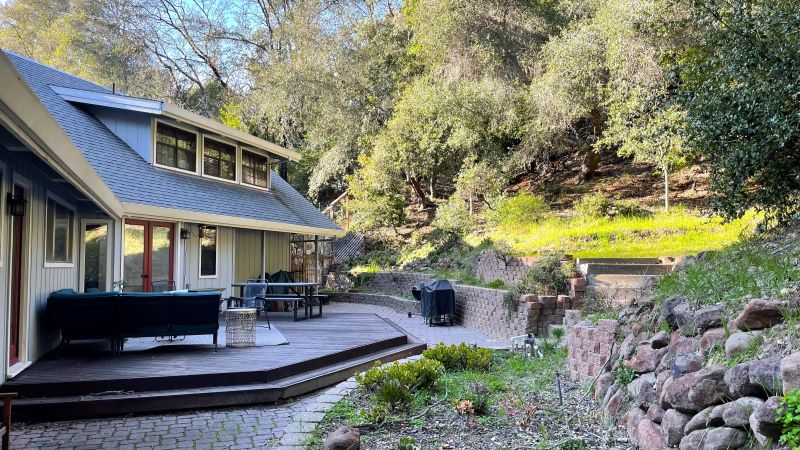 Just sold — Hall Ranch Rd in Santa Cruz — a 4 bedroom 3 bath 2500 square foot home on 3.5 acres in the Santa Cruz Mountains. These clients reached out to me after reading my online reviews. We toured a few properties together and just "clicked." My buyers prevailed despite a challenging multiple counteroffer process where the sellers' agent was negotiating using a win-lose strategy. This went on until late in the evening, at which point I was able to convince the sellers' agent of my buyers' strengths and how my clients' offer was the best for the sellers.
One of my buyers got her degree at UCSC, and met her husband here; he'd gotten his degree at Cal Poly. They married at a lovely local mountain venue. They are delighted to return to living in the Santa Cruz Mountains, after renting a San Francisco loft in a neighborhood that's crusty and noisy all hours of the day.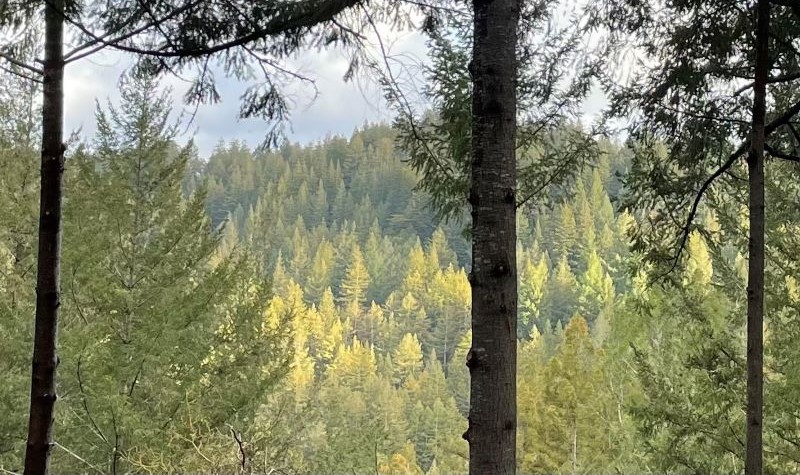 Just sold — 835 Blue Ridge Dr. Boulder Creek — a 2 bedroom 1 bath 870 square foot home on ¾ acre. After making a price adjustment to better position the home in the market compared to its competition, and spending $1,000 to open up parts of trees blocking the inspiring distant mountain views, we received 3 offers; the property sold for $580,000. Fortunately, for the same amount of money, they now can buy a much larger home with a big workshop up in the Redding Area.
The bomb cyclone on March 21 destroyed a home just down the street from me. Three trees crushed the home — fortunately it was a vacation home and no one was there. Unfortunately, I've heard they'd just spent $50,000 fixing the place up, including a new roof last summer. Our neighborhood was without power for about a week.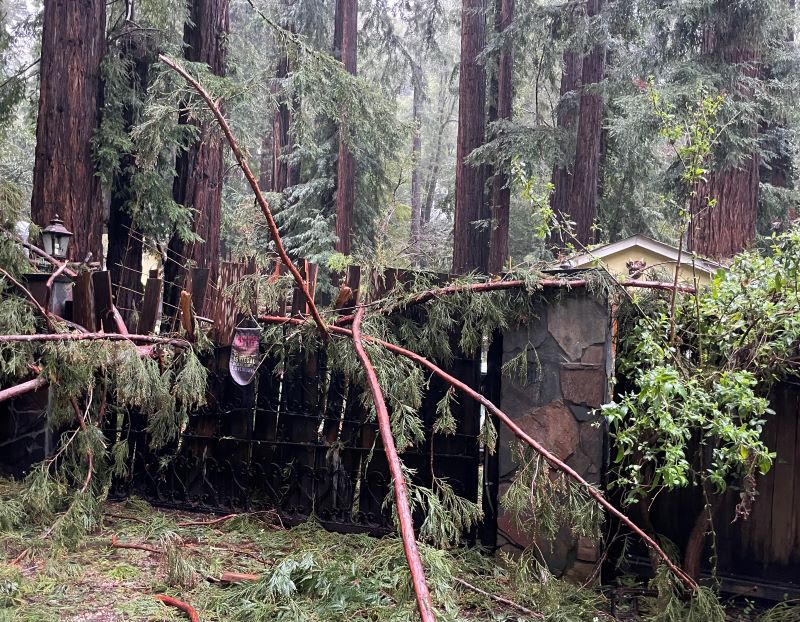 This photo of my wrought iron entry gate shows just the beginning of the damage at my home. The roof was pierced by multiple large redwood branches, so we have leaks and broken skylights in 5 different rooms. A shed roof and a flight of stairs were damaged, and our gazebo and hot tub may not be salvageable. Once again, my heart is warmed by our community: while we were away, some neighbors tarped our roof so quickly that we were able to come home, change the bedding, clean up the debris, and sleep in our own bed that night. Dozens in our community were not so lucky.
Insurance is mailing me a check … and I can appeal the amounts based on actual repair bids. It will be challenging to replace my treasured gate. It was handmade in the 1920s, the era of my home. Originally it was part of a fence on a sloped San Francisco lot. My handyman and a welder used a brilliant technique to transform this fabulous wrought iron fence into a gate.
Our Rebuild
It's been two and a half years now, since the August 2020 CZU Lightning Complex fires. Santa Cruz County has completed just 26 rebuild home permits, out of 911 homes lost in those fires.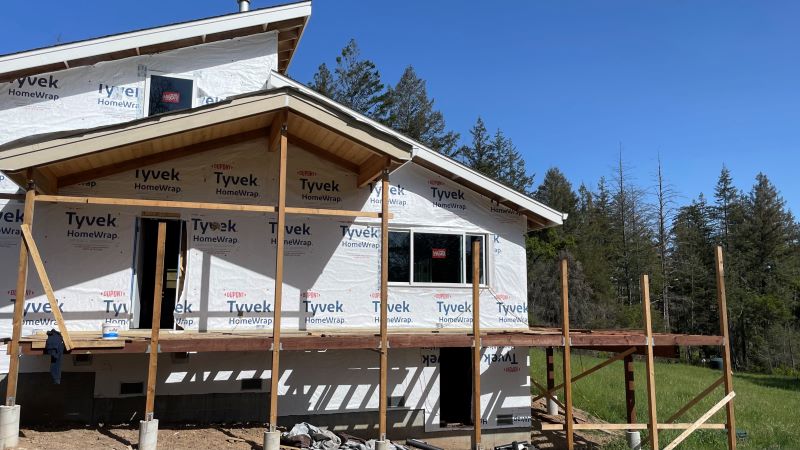 The U.S. Small Business Administration (SBA) offers loans to help fill the insurance gap for disaster survivors. My husband Mark got his first $25,000 check last month from SBA. Our latest case manager, the 5th and best we've had, was let go after working at the SBA for just a couple of months. Last Wednesday, I got a very upsetting call from the SBA loan underwriter, who said he was going to put our case aside because we hadn't gotten him all the documents he'd asked for the Friday before. Yet, we hadn't received a request for some of the documents he was now saying he needed. I'd already spent hours gathering all the information he said he wanted, and I'd diligently provided that. Since I'm still dealing with the recent damage to my home, his demeanor was the last straw. I burst into tears on the phone with him. After 40 years as a businesswoman, I can pretty much roll with anything, it takes a lot to make me cry. Later, he called back and said he'd spoken to a manager who said they would move forward after all. But since we'd just lost our best case manager, it's hard to remain hopeful. I now know all too well how challenging it is to get promised government assistance after a disaster. My heart goes out to everyone trying to recover from disasters here and all across our country.
Send your questions & topic requests to "M.C." (MaryCatherine) Dwyer, MBA, REALTOR®
(831) 419-9759 E-mail: mcd@mcdwyer.com Website: https://mcdwyer.exprealty.com
CA DRE License 01468388 EXP Realty of California, Inc.
Sources: Sources: MLSListings.com data as of 4/23/23. California Association of REALTORS®, Mercury News, S&P Dow Jones Indices LLC, Mortgage News Daily, Mortgage Bankers Association
The statements and opinions contained in this article are solely those of the individual author and her sources, and do not necessarily reflect the positions or opinions of eXp Realty, LLC, or its subsidiaries or affiliates (the "Company"). The Company does not assume any responsibility for, nor does it warrant the accuracy, completeness or quality of the information provided.
Featured photo of Hall Ranch Rd in Santa Cruz by Open Homes Photography