Lynn Kravitz: Festival RN
By Michele Murphy

If you attend local concerts or music festivals, you might recognize beloved Santa Cruz Mountains EMT & RN Lynn Kravits. A longtime San Lorenzo Valley resident and prominent fixture in the Bay Area music scene, Lynn is easily identified by her shock of long golden hair and commanding presence in the middle of the action at any event she is working.
Lynn was raised in the theater, her parents were both involved in the entertainment industry. In addition to their "day jobs," her mother was affiliated with the opera and her father worked with photography and movie projection. She has participated in every facet of theatrical productions, from dancing and singing background vocals to behind-the-scenes work, creating costumes and sets, doing stage management, catering, backstage ambience, and has worked directly with talent and crews from some of the most well-known acts around. As fate would have it, these activities eventually led to assisting people with medical issues at large events and productions.
Medical Concierge
No one wants to have a medical problem at a concert or music festival, but it happens. Sometimes folks suffer from heat exhaustion, minor injuries occur, people occasionally drink too much alcohol or take a drug that causes them physical trauma or mental turmoil. Isolated in the crowd where everyone else is busy having a good time, it's a great comfort to know that competent people like Lynn (or "Lynnie" as she's known by many) are on hand ready to help. Recalling her early experiences assisting with medical issues at live events, she says she had an "immediate and innate connection to it; it was an organic situation where the energy picks you, you do not pick it. I knew it's what I was supposed to do at the moment, and the moment has continued for almost three decades."
Wearing many hats within several well-known concert medical operations, Lynn has assisted with staff support, supply resources, and worked as an EMT, an RN, and a behavior emergency safety management specialist. The pandemic brought the entertainment industry to a screeching halt over the past two years, and as it's slowly coming back, Lynn reports that she is "thankfully back to being requested by many well-known artists and entities as an experienced and trusted medical concierge."
This path is a labor of love: early mornings, long hours, standing in the rain, anticipating a problem before it occurs, and jumping on it when it's happening. It is calm in the face of panic and cool-headed in the middle of a raging, rocking crowd, with loud music filling the air. Lynn stands vigilant. If someone goes down, she steps up. If someone needs assistance or feels unsafe, that fear dissipates in front of her steady gaze, soothing manner, soft voice, and words of reassurance, followed by top-notch on-the-spot care.
Whether it's a parade, sporting event, stadium show, or a multiple-day camping festival with hundreds of thousands of people in attendance, the job is the same: make it run smoothly and take care of issues so people can be ushered to safety — or fixed up so they can go back to having a good time.
Often traveling all over the US and through some parts of Europe and the UK, on an average day Lynn is faced with demanding schedules and seemingly non-stop challenges that "all roll into one." She said, "Somehow, by the grace of God, I've been able to keep my mind focused on the day, game face on, and the gift of kindness in my heart."
---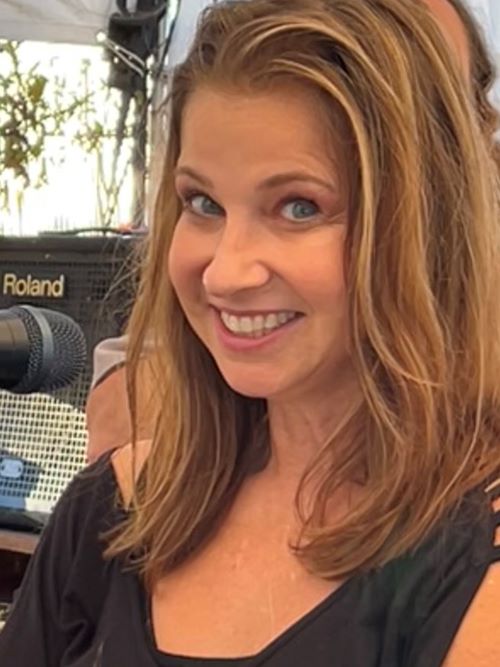 Michele Murphy is a singer-songwriter who has lived in the Santa Cruz area since 2005 when she migrated West from Buffalo NY to the beautiful San Lorenzo Valley. An avid music lover, she is entrenched in the local entertainment scene both as a performer and a fan.
Featured photo of Lynn Kravits contributed
Have something to contribute? The San Lorenzo Valley Post welcomes story ideas, photos, and letters to the editor. Send us an email.