Fall Trends in the Market | Real Estate
By M.C. Dwyer
Last week, the MLS numbers I watch showed a few new trends: the number of homes taken off the market was similar to the depths of previous holiday seasons. Encouragingly, about 20 homes sold compared to 30 new listings in the region I track (SLV, SV & SC): not too long ago there were far more new listings than sales. Almost as many homes had price reductions as new homes got listed — reflecting summer's optimism fading to a weaker fall market that's a surprise to almost no one, as the pandemic-fueled market disappeared after the Federal Reserve's inflation constraining policies resulting in the highest mortgage rates seen since the previous century.
Real estate is always a hyperlocal landscape, but regardless of location, the pace of home sales is clearly lower: Nationally the pace of home sales fell to the lowest in about 13 years, 17% slower across Santa Cruz County and 26% slower in Santa Clara County. In the chart I researched below, many of the submarkets had too few sales for the resulting price averages to be statistically meaningful; it's better to zoom out into the region to find trends. For example, neighboring Santa Clara County's single family prices rose 12% year over year with an eye popping premium of 10% over asking price. This may be due to far lower homes for sale, combined with an increase in cash buyers. Santa Cruz County's average single family prices fell 12% year over year, but sellers held on to their asking price. Statewide, the median home price rose 3.2% year over year, and homes sold for 100% of list price.
California Association of Realtors reports, "As mortgage rates surge to new highs not seen in more than two decades, home sales are being tested and are likely to remain tepid for the next few months," said C.A.R. Senior Vice President and Chief Economist Jordan Levine. "With the Fed planning on holding rates higher for longer, the cost of borrowing will remain elevated and may not come down much in the near term. Housing affordability will continue to hinder sales activity for the rest of the year, especially in the low- and mid-price ranges."
Nationally, according to CNN, "In September just 27% of those buying homes were first time buyers, according to NAR, matching cyclical lows and down from last month and a year ago. A more historically typical share of first time buyers would be in the high 30% to low 40% range. At the same time the share of all-cash buyers is now higher than first time buyers, which has historically not been the case. In September 29% of purchases were all cash, up from 27% in August and 22% in September 2022. A more typical share of all-cash purchases, historically, would be around 20%.
Those homeowners served by Big Bain Water were just beginning to enjoy the improved service through Central States Water Resources, CSWR, (who'd taken over operations after BBW went into state receivership), when they got texts and e-mails over the weekend of October 21st announcing CSWR's abrupt termination of service. Santa Cruz County promised emergency funding, and the legal firm handling the receivership will have to step in and find a new water operator. Meanwhile, handmade signs along Hwy 236 urge conservation and state that water is being trucked in.
Our Rebuild
It's been over three years since the August 2020 CZU Lightning Complex fires. Yet, just 2 more (38 total) homes were completely rebuilt since last month. Over 900+ homes were lost to the fires: 175 permits have either been issued or are ready, the same as last month, but 236 permits are in process, up 6 from last month.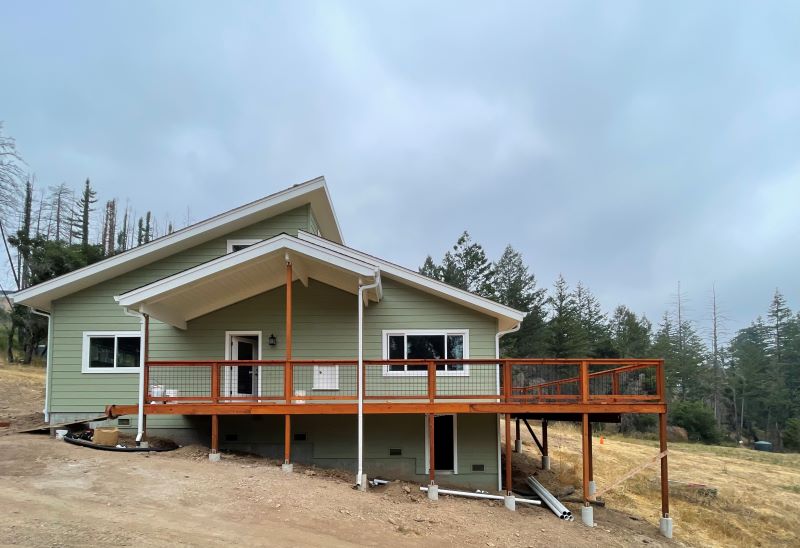 Mark's house is virtually finished, and it's gorgeous! They're finishing the site grading required for drainage and the driveway. Then he goes through the final occupancy inspection which is reportedly difficult to pass. Given financial constraints, my landscaping plan which emphasizes deer resistant & drought tolerant native plants, is necessarily getting knocked back to smaller size trees and native shrubs, with greater emphasis on wildflower seeds. We're looking for a wonderful tenant who will appreciate brand new construction at the end of the road, featuring top of the hill distant ridge views and privacy, plus a separate site downhill which is ready for a tiny home on wheels or an RV, with complete hookups.
Featured Photo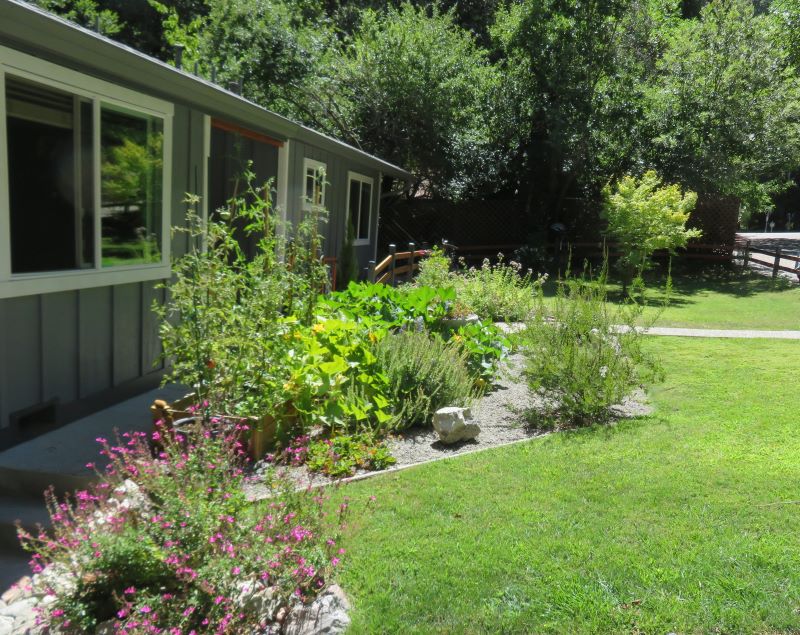 New Listing: 140 Fern Rock Way is a CZU fire lot just waiting for a new owner to take advantage of a mostly level sunny parcel. Amazingly, the seller has the original plans from 1969 for the 3 bed/2bath 1627 sq.ft. home with a two car garage. The neighborhood sewer is managed by Cypress, the County maintains the mostly flat and wide street. High speed internet and underground PG&E power lines are the ribbons around this package. Photo is a view of the property before the fire. (Photo by F8 Media)
Send your questions & topic requests to "M.C." (MaryCatherine) Dwyer, MBA, REALTOR®
(831) 419-9759 E-mail: mcd@mcdwyer.com Website: mcdwyer.exprealty.com
CA DRE License 01468388 EXP Realty of California, Inc.
Serving San Lorenzo Valley and Scotts Valley since 2005
Sources: Reuters, Realtor.com, California Association of REALTORs, CNN, MLS as of 10/23/2023,
https://www.santacruzcountyca.gov/FireRecovery/RecoveryPermitCenter/RecoveryPermitCenterDashboard.aspx
The statements and opinions contained in this article are solely those of the individual author and her sources and do not necessarily reflect the positions or opinions of eXp Realty, LLC, or its subsidiaries or affiliates (the "Company"). The Company does not assume any responsibility for, nor does it warrant the accuracy, completeness or quality of the information provided.
***
Have something to contribute? The San Lorenzo Valley Post welcomes your Santa Cruz Mountains news, story ideas, photos, and letters. Send us an email.