By Alison Steele
On a quick visit to the neighboring farm, I returned with a basket of fresh beets from Jon Knopp's vegetable garden and a new motto that made me smile. Grow to Give! The Knopp's are an old family here in Staunton whose name is synonymous with kind. It's not hard to see why they're spoken so fondly of after chatting with them for a few minutes. They're some of the nicest folks you'll ever meet. Studying unconventional farming for the last several years, it's inspiring to hear what new gardening techniques and plants he's experimenting with. I was thrilled to have a basket of vegetables from their land to eat on over the next couple of days.
You either love them or "don't care for them, thank you", as we were taught to say as kids. I've always loved beets! The jewel tones and the earthy sweetness reeled me in as a kid. Beetroot, as my charming British friend calls it, supports brain, heart, and blood health, fights inflammation, is a liver detoxifier and a blood sugar regulator. Along with its strong nutrient profile, beets are simply grounding. I could eat a big jar all by myself in one sitting. My mom would pop hard-boiled eggs in the leftover pickle for the prettiest eggs you've ever seen. They're an easy addition to any plate, pairing well with everything from meats and greens to crusty bread and fresh creamy cheese. Having a few jars of these in the winter pantry is worth the small effort it takes to preserve them now.
I couldn't wait to start canning after talking to an old timer who lines his root cellar with all the green beans, tomatoes, sauces, pickles, relishes, potatoes, turnips, radishes, and other garden treasures he and his family would enjoy through the winter. He uses a wood stove for his summertime canning and I imagine has streamlined the process considering how hot and humid a summer day in Virginia can be. My grandmother used to can in her basement which was always cooler than the kitchen. My ears perk up when canners start sharing their secrets, but botulism is no joke, so always double check your resources. As always, fuel efficiency and water conservation is something to consider. There are so many variables that may lead to unsafe food that it's worth taking the time to research safe canning practices if you're a beginner.
This year instead of going to the local market for all the typical pickling spices, I decided to use the flavors from the field and garden. Dried Juniper berries from the native cedars on the edge of the meadow along with the Staghorn Sumac growing along the spring, thyme, garlic, and dill from the herb bed, and onions from the garden. Pickling is a creative art, so feel free to change up the herbs and spices, however, be sure to keep the vinegar to water ratio in tact when water bath canning non-acidic vegetables like beets and beans. Canning frees up fridge space, leaves the homesteader feeling productive, and keeps the kids eating from the garden year round. Don't be scared to give it a try! You'll fall into a rhythm in no time.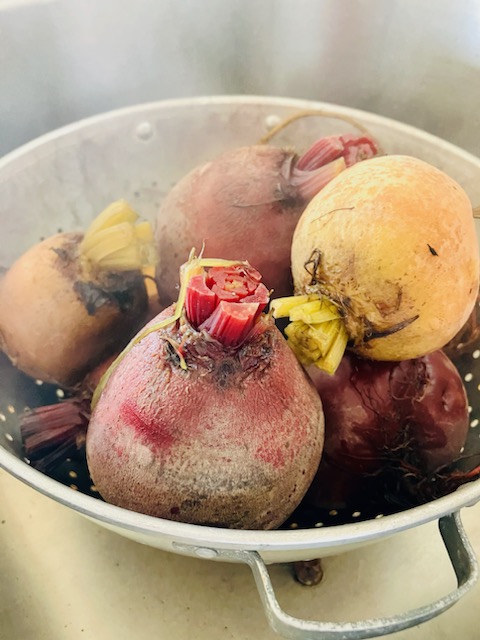 Dill Pickled Beetroot
6-8 hot sterilized pint jars with lids and rings
8 large beets, whole with tops trimmed off
1 large sweet onion, optional
3 cups apple cider vinegar
3 cups water
4 T honey
1 t sea salt
1 t juniper berries, dried
1 t black pepper, whole
1 t Staghorn sumac berries
4-6 large cloves garlic, sliced thin
1 small bunch dill
Cook beets in boiling water until just soft, about 30 minutes. Remove from heat, drain and let cool. Mix the vinegar, water, honey, salt, garlic and onions in a saucepan. Bring to a boil and simmer for 5 minutes. Slide the skins off and trim tops using only unblemished beets for canning. Others can be stored and eaten as refrigerator pickles. Chunk or slice warm beets and fill glass jars to bottom of rim. Divide spices evenly between the hot jars. Pour hot liquid over the vegetables leaving ½ inch of headspace. Once all the jars are filled, wipe glass rims clean with a dry cloth. Top with clean dry lids and screw on rings. Check your altitude for processing times at the National Center for Home Food Preservation website. When finished, wipe down jars and listen for the sealing pop. Not to worry if you don't get a good seal. They store in the fridge for weeks until you're ready to throw a garden party.
Check your altitude for processing times at the National Center for Home Food Preservation website (nchfp.uga.edu). Boulder Creek is 480 ft above sea level, so the processing time is only 30 minutes. If you're just starting out the website above is reliable, easy to use, and answers common questions for the beginner and seasoned canner alike.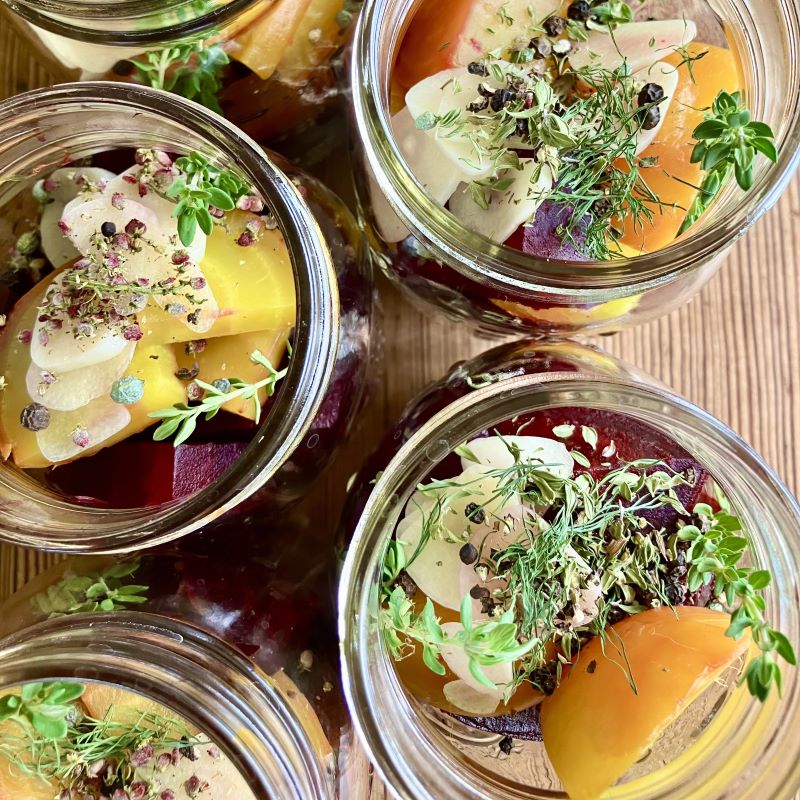 A native of Virginia, Alison Steele lives with her husband, two children, and cat in Boulder Creek where she raises quail, chickens, fruit trees, vegetables, and herbs. Alison plays banjo and sings in Sugar by the Pound. She is currently vacationing with her family for the summer sharing her recipes and bounty from Virginia.
Photos by Alison Steele