While the Winter Garden Naps: Growing Community with the Homeless Garden Project
By Josh Reilly
I know, I know. Last month I chided you for thinking you could spend the Winter curled up on the couch with a glass of wine and a stack of garden catalogs, planning your Spring garden. Now, here we are, several days into a glorious extended rainstorm and, well, there is little else to do. Too wet to dig. A bit early to plant your Spring vegetables (unless you have a green house or a cold frame) and too early for maintenance pruning on shrubs and perennials. Too rainy to spray, unless you want to spray again whenever drier weather allows.
If the catalogs are enough for you, no harm, no foul. Enjoy the wine. If not, however, what about looking over the fence and into the wider community. How might we turn our passion for growing things towards helping our community grow?
The fine folks at the Homeless Garden Project (HGP) have been working at the intersection of garden and community for a long time. At HGP, houseless people find community, skills training, the opportunity to grow fresh organic vegetables, herbs and cut flowers, and hot meals with staff and volunteers. HGP operates a workshop, where participants craft candles, soaps, lotion and wreaths, using herbs from the garden. They also offer a Community-Supported Agriculture (CSA) program, providing fresh, organic produce for a large community of members. For people whose lives have been upended by houselessness, addiction, and mental health issues, these programs provide a path towards long term recovery. By participating, they find the support, stability and community that may otherwise be missing in lives so completely consumed with daily survival.
Of course, HGP is in Santa Cruz, so what does it have to do with us, here in the San Lorenzo Valley? Well, some participants may be our friends and neighbors, recently made houseless and in need of help. Some of us are only a paycheck or two away from houselessness. It's not as rare as it may seem. Or you may know HGP volunteers and staffers who live here in the Valley and devote their time to this effort. You may also be aware that HGP is planning to move its garden to a site in Pogonip, more or less at the foot of our Valley. As of now, they are located on Shaffer Road at Delaware on the westside; after several rounds of planning and approvals, the move is proceeding forward.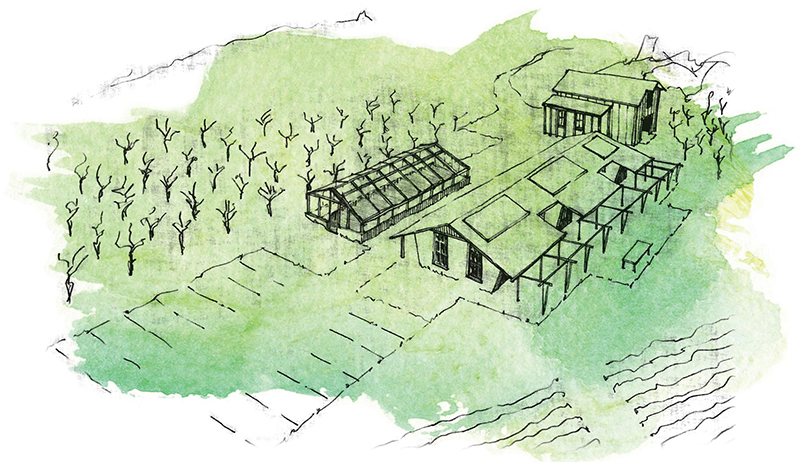 So, if your own garden is having its Winter nap and you are at loose ends, think about contacting the HGP to find out how to put your garden skills and compassion to work. Or stop by their retail store at 1338 Pacific Ave in Santa Cruz and pick up some of their herbal lotion for hands chapped and dried by garden soil. And when they finally move in at Pogonip, let's welcome them to the Valley family.
I won't leave without a few practical suggestions for January.
With some frost protection, you may be able to plant some cool weather vegetables like Cauliflower, Broccoli, Collards, and Kale. Especially cauliflower. When it snowed in Live Oak, in Winter of 77, I had mature Fall cauliflower in the ground. It was completely unperturbed.
Keep your compost from getting too wet. A little rainwater is OK and in fact, probably unavoidable. If the pile becomes saturated, however, anaerobic decay will ensue, slowing the process severely, producing sulfur compounds which stink to high heaven and draw flies.
Take an online UCSC class at agroecology.ucsc.edu
Repot container plants that have gone 2 years or more in the same pot.
Get a jump on planting CA natives like Ceanothus or Arctostaphylos. These hardy plants don't mind the cold that much.
Prune Roses
Learn more about participating with the Homeless Garden Project: homelessgardenproject.org
Josh Reilly, aka Uncle Skip, writes about seasonal gardening from his home in beautiful Ben Lomond, California.
Featured photo: Winter Chard | Photo by Jonathan Kemper