The Sawmill Sets Up at the Edge of Town
Boulder Creek's Matt Tranchita Sinks Teeth Into a Tasty New Project
By Julie Horner
The Boulder Creek Roadside Cafe, home to off-the-hook burgers and cold suds for locals and weekend road-trippers, has stood empty since late summer 2020. Restaurateur Nancy Long, who had picked up the pieces after the Boulder Creek Brewery was lost to an electrical fire in 2015 and moved operations, first to the Odd Fellows building, and then to this outpost at the north edge of town, passed away suddenly in July leaving hearts broken and a tangled inheritance to sort through.
For a few months this spring El Rey Leon parked their catering truck out front, fulfilling the need for hot food on the fly at this way station on Highway 9 across the street from Garrahan Park. Now, just as the community emerges from months of unprecedented hardship, two longtime friends have combined their talent and energy to create a new dining instance. With a hopeful opening mid-August, 2021, the Santa Cruz Mountains can look forward to delicious cooking, amazing pours, and live music in a family-friendly atmosphere. Crafted by locals who share a zipcode with their clientele, The Sawmill will provide.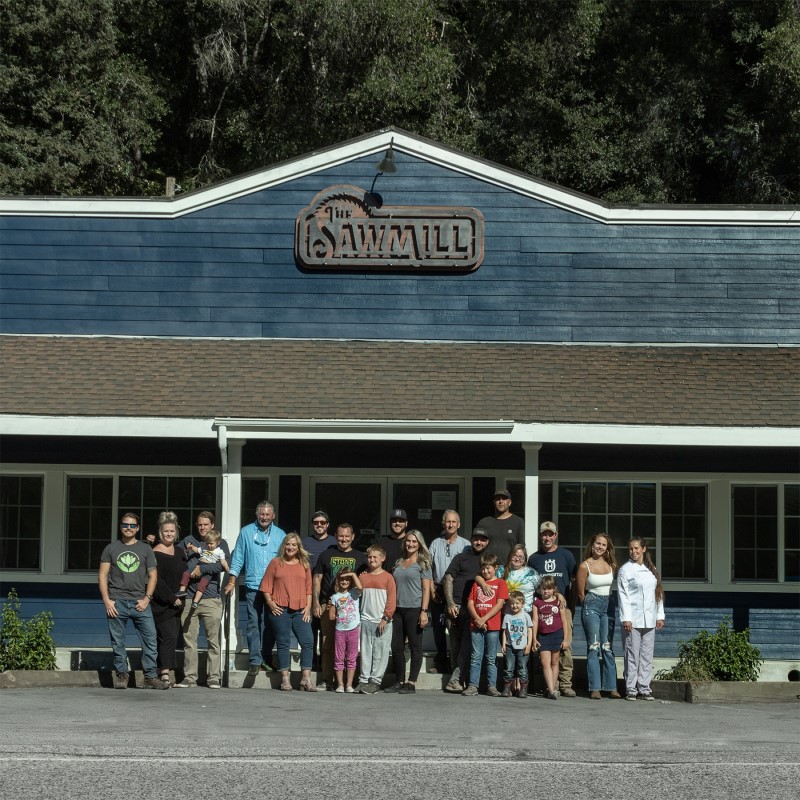 Matt and Lauren Tranchita and their two young children lost their home to the CZU fire. Matt survived Covid-19. Renting nearby and figuring out how to regroup, the family envisioned doing something to follow up where the Roadside left off, but they weren't sure. "It's my dream and I really want to do it," Tranchita said. So he did.
Painted "can't-miss-it" blue, "The Sawmill" is boldly emblazoned in laser cut steel across the facade. The design was created by artist Nicky Gaston. Tranchita has pulled from local history for a rustic interior aesthetic. "We'll be doing reclaimed wood accents and mounting old saw blades salvaged from mountain lumber mills on the walls," Tranchita said. And the outdoor space is owning it for relaxed vibes, replete with a stage Tranchita built for acoustic style musical performances. The Sawmill will be the killer spot in the San Lorenzo Valley to take in some melodies and soak up sunny views of the redwoods with lunch.
Tranchita is focused on delivering a high quality dining and hangout experience. Gaston as artistic pick was a no brainer. Their relationship goes way back to elementary school. Gaston is well known for his distinctive woodcut style drawing and has created labels and logos for local breweries like Steel Bonnet and Corralitos brewing companies, and in the midst of the CZU fire designed the "SCM Strong" poster to benefit fire devastated parks and others impacted by the fire. "I've never done a logo design job that quick and efficient," Gaston said. "It just fell into place."
They plan to be open around the one-year anniversary of the fire. Lauren Tranchita said, "Matt's drive, his plan for food, his business model, this is his dream." Friends came to help, she said, and the whole project is built out of love. Tranchita is also awaiting news whether he will be accepted into the Boulder Creek Volunteer Fire Department training program.
"People have been yearning to have a barn raising," Tranchita added. "This counts as a barn raising."
15520 Highway 9, Boulder Creek
Monday-Thursday 11:00 to 9:00
Friday-Sunday 10:00 to 10:00
thesawmillbc.com
Photos by Julie Horner