Podcast: Nick Sherrell's Vancast
By Mary Andersen
A podcast out of a van? Yep, meet Nick Sherrell and his Vancast. Nick's intimate van chats are gaining popularity and have included Santa Cruz personalities like big wave surfer Darryl "Flea" Virostko and SLV's songwriter and producer Henry Chadwick.
Nick grew up in Ben Lomond and attended local schools. He played basketball, soccer, and three years each of baseball and football at SLV High. "I loved going to SLV. I ran cross country and Fall Creek was my favorite place to run. It's the most beautiful place." He continued competing in cross country at San Jose State where he majored in film studies.
When asked how he got into podcasting, Nick said, "It was a love of storytelling through filmmaking and audio. The podcast that inspired me was U Up?, hosted by Jordana Abraham-Marinelli and Jared Freid, a New York City comedian who was on my most recent show. He inspired me to push myself to create in a new way. I mean, he was just on the Tonight Show. I reached out to ask him to come on. He said the next time he was in California he would, and he did."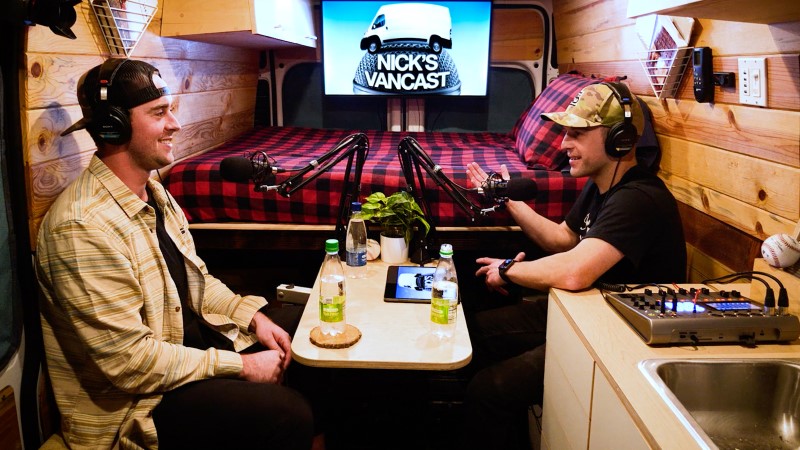 When asked how he selects his guests, Nick says that it's based on his personal interests and an eye to what his audience would find interesting. He said, "It's really a grab bag. My topics range from filmmakers, photographers, to pro athletes like MLB pitcher Tyler Gilbert and professional rock climber Sierra Blair-Coyle. Mount Hermon resident Carrie Luther came on to the podcast to talk about her son, Tosh, passing away from taking counterfeit Xanax. She was amazing to have on the show. These people don't just experience something, they use that experience to help others." A recent show featured professional big wave surfer Darryl "Flea" Virostko, who battled with addiction and now runs his own program, FleaHab, to help others. Nick said, "He won Mavericks three times experiencing the highest highs and then the lowest lows of addiction. He went through it and now shares with others. This is not a world I was personally aware of so to hear his story was insightful."
Podcasting has been around since the 80s. It took off in the early 2000s with the advent of portable playback devices like the iPod. In the last decade, the format has grown significantly, likely with a boost from the pandemic. A study by Edison Research confirms that 78% of Americans are familiar with the term "podcasting," more than half of the population have heard a podcast, and a third are regular listeners. Forbes confirmed, "In 2020, an estimated 100 million people listened to a podcast each month and it's expected to reach 125 million in 2022."
Nick's skills as a filmmaker came in handy in terms of audio and video equipment. "I film all the time interviewing people. I understood mic placement and the type of equipment I wanted, and how that setup would work in the van with an audio recorder and cameras. I had this van I wanted to use for recreation and adventure filmmaking and be able to charge equipment outdoors. And it all aligned," he said.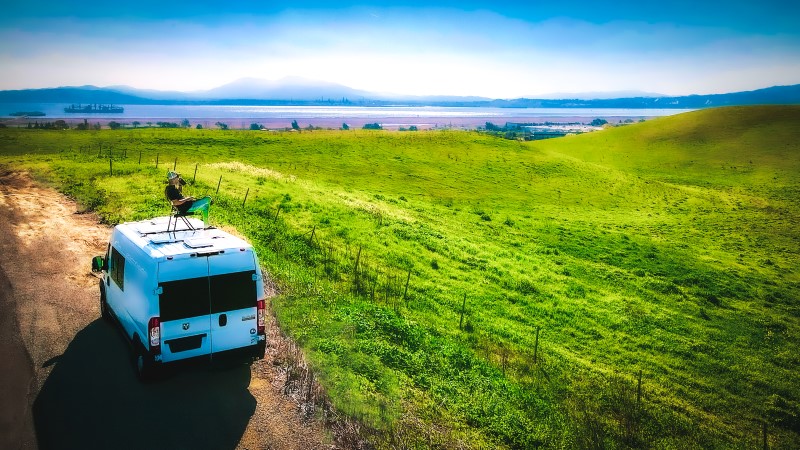 Nick's goal has been to talk to people who are expanding creative boundaries in a variety of fields and who can share incredible stories with listeners. "And the cool thing is I can go to people wherever they are and make it convenient," he said.
Find Nick's Vancast on Spotify and Youtube
Featured photo: NYC comedian Jared Freid and Vancast host Nick Sherrell | Photo by Nick Sherrell