Melamore Cafe: A Hidden Gem in Scotts Valley
By Bill English
A few blocks away from the industrial grind in Scotts Valley one can find a unique opportunity for delicious food in a garden setting. At Melamore Cafe, the dishes are crafted by Elizabeth Albertucci who honed her skills at Il Pagliaccio, a restaurant in Rome with two Michelin stars. That influence and the cafe's current setting offer up a combined taste of Italy and the Central Coast.
Fare
The menu changes daily with occasional repeat or modified selections. The salads are excellent. We especially liked the medley of artichoke, fava beans, greens, and edible flowers, with a perfectly balanced dressing. (See photo above.)
The pasta dishes are made with locally cultivated organic wheat noodles and the freshest ingredients. Products imported from Italy, like the guanciale, will not disappoint! The flavors are spot on. Our Pesto Pappardelle was amazing, al-dente, with perfectly distributed and flavorful ingredients, and aromas of fine olive oil. These high-quality small-batch meals can typically be found only at the most upscale ristorantes.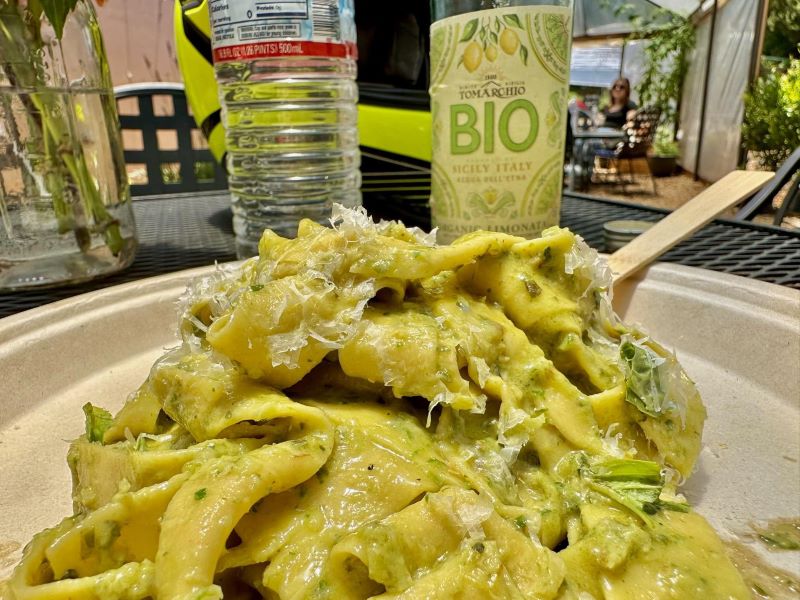 The Compromise
Melamore brings exceptional food to a quaint garden patio experience with a few caveats. The beverage menu is minimal at this time and the plates and utensils are paper and wood as the cafe operates from a food truck. Patience will be a virtue.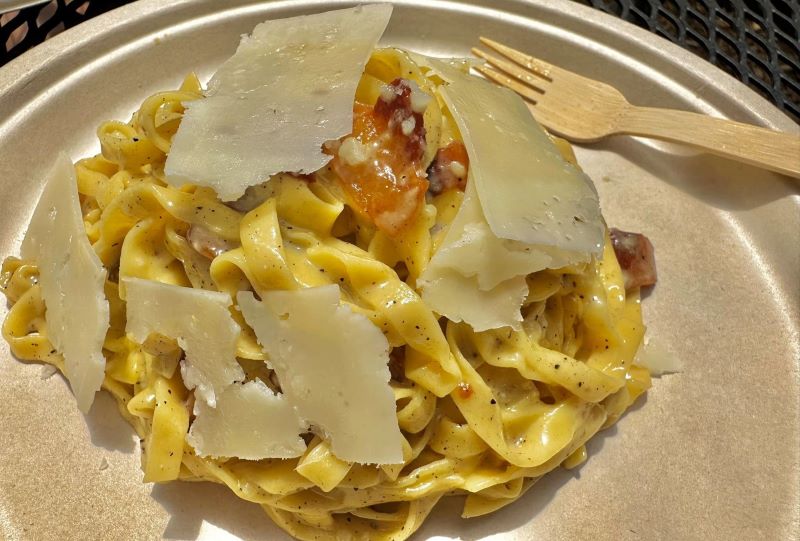 Last words
The staff of Melamore is hugely capable and generously kind to the patrons. They are seeking venues for additional popups in the area. In a world where $17 burgers are the new norm, spending $18 to $25 for quality miles apart from standard brewery fare is a bargain. So tempt yourselves and seek out this wonderful hidden gem.
Visit Melamore Cafe behind Love Apple Farms at 5311 Scotts Valley Drive in Scotts Valley from Friday to Tuesday noon to 4 pm. Follow on Instagram @melamorecafe.
Photos by Bill English.
Bill English is an amateur photographer and chef. He grew up in Austin, TX and lives in Boulder Creek.