Hooligan Smoke Club: A Taste of Summer
By Julie Horner
Working BBQ magic, Rudy Kuhn tends the firebox of his triple smoker in the driveway of his Brookdale home. It's time to get the ribs on. He opens the main cooker. A pair of pork shoulders are looking near done, somewhere on their 12-hour cook schedule. The sausages are on low heat and will take about six to seven hours. "This gives them a really slow emulsion," he said, "and the casings get this really dry snap." Toothsome, with an optimum mouthfeel. Khun is cooking for a street festival in downtown San Jose the next day. Closer to departure, he'll throw on the "salmon candy;" little chunks of Alaskan salmon marinated in brown sugar. The aroma is incredible.
Kuhn uses a "Santa Maria" style smoker, a distinct way of cooking meat that originated on ranches in the Santa Maria Valley of Central California in the mid-19th century, and which became trendy in the early 1970s. "Like Kansas City or Central Texas, BBQ styles are regional," Kuhn explains. Each cooker features a hand-cranked mechanism that travels up and down, similar to what you see in the parks, he said, so there's always direct heat. "What's neat about this is I'll have the coals here, tri-tip up here, and the juices drip down into the fire and sizzle the fat and the smoke back up, and you get this extra flavor." That's what gives it the Santa Maria style.
Wood matters. It's got to be fruit, oak, or another hardwood. The smoker depends on a carefully monitored measure of fresh air to keep the fire going. This "oxidative method" differs from the "reductive method" your regular kettle barbecue uses, and creates what Kuhn calls a "convection chamber." That's what allows you to cook a pork shoulder for 12 hours without drying it out, by getting it far enough away from the heat source to cook at low temperature. "And it also creates this bark, a crispiness," he said. "It's what the smoke does…a nice little texture juxtaposed to the juicy."
Before the shutdown, Kuhn had been Director of Sales for the Sante Adairius brewery wholesale program in Capitola, a dream job working with "the best beer I've ever had." Trying to figure out how to come back out of hibernation, he took this chance to reevaluate. Kuhn is married to Chelsea Drew, owner of Simpatico in downtown Felton. "We're two working parents with a small child to raise." He said, "If I've done my math right, this should give the family just enough cushion. I can be flexible to support Chelsea and all the amazing stuff she's doing."
There's this thing happening with BBQ at the moment, he said, that reminds him of the early parts of the last decade of craftbrewing in California. "Backyard barbecuers are taking it to another level."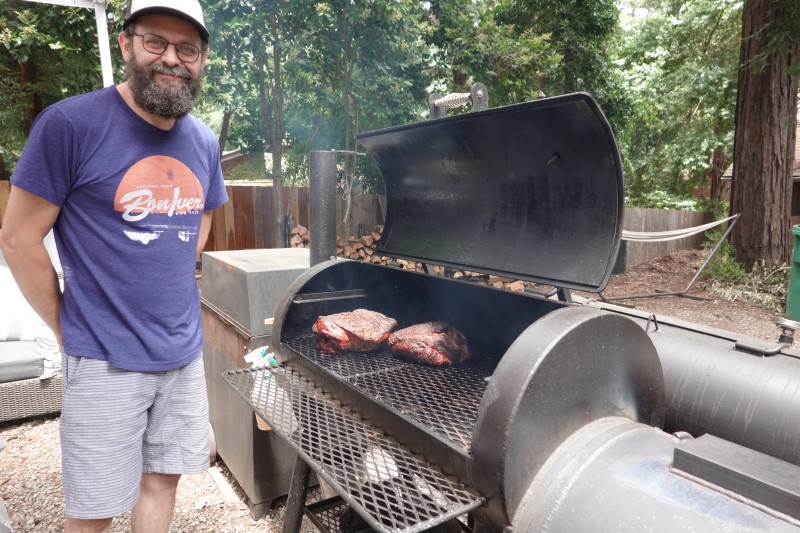 A huge fan of European football, he gets up early, "throws a brisket on the smoker," and watches the Manchester United game. It's one of the reasons that BBQ seemed to work out, because it gave him a chance to attempt 12-hour cooks that otherwise he'd have to stay awake all night for. The Hooligan Smoke Club logo is based on a classic soccer crest.
Whatever he puts in the smoker, he chooses responsibly raised meat. All you need is salt and pepper, and the natural smoke does the rest. He can cook 50 to 100 plates of food for an event. "I roll out with homemade pickles and BBQ sauce, everything is from scratch." He's planning to add side dishes little by little. "It's not the life I expected to be living 20 months ago. There's no more corporate safety net, the two of us both. We just jumped out there."
This is what he does now, and he says that he's booked all summer. He can manage about two events a week, the day of and the day before to prep and start cooking. "I'm going to go from here, really have fun with it, and stay busy."
Hooligan Smoke Club on Instagram: @hooligan.smoke.club
Redwood Rudy, Thursdays 6:00 to 8:00 pm KBCZ 89.3 @redwood.radio
Photos of Rudy Kuhn and his triple smoker in Brookdale by Julie Horner