Ranger Scott Sipes Shares an Update About Big Basin State Park
By Julie Horner
Log trucks have been moving charred hazard trees out of Big Basin Redwoods State Park in massive convoys. According to Supervising Ranger Scott Sipes, hazard tree removal in the park has been carried out by CalTrans contractors working in collaboration with park foresters and environmental scientists to protect old growth redwoods. Root systems have been smoldering for months under roadbeds on Highway 236 and within the park infrastructure, and there have been shifts in the soil beneath roadways. Active "smokes" can be seen from China Grade looking west over the amber ridges to the sea.
"The big concern right now," Sipes said, is in the scar of the CZU Complex fire, and the two infamous words are, unfortunately, "debris flow." Sipes said there is a significant threat of loss to remaining infrastructure like roads, culverts, and retaining walls, and potential issues with slides on roadways, through campsites and picnic areas, and areas where buildings and other infrastructure was lost.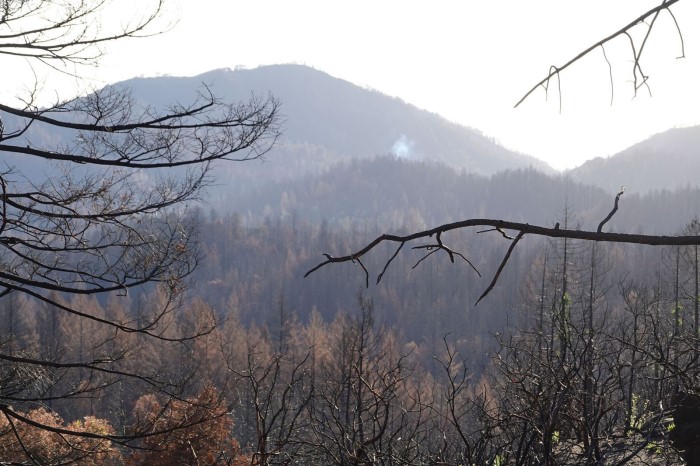 Big Basin is a self-contained community and had its own water treatment plant, wastewater plant, restrooms, ranger staff and park maintenance facilities, and visitor and interpretive centers. Freshwater delivery systems were also destroyed in the fire. "We had a combination of tanks, redwood and steel. The redwood tanks are gone, the stainless steel tanks are still there, but we lost piping."
The good news is that the presence of a visitor center will not necessarily determine whether they can open the park to outdoor enthusiasts. But Sipes said it's hard to have any idea of a timeline when Big Basin will open, not knowing what kind of debris flows to expect. "It's so early in the game."
The planning and coordination is ongoing. "We've received a ton of support from the Governor's office for rebuilding. We've received an outpouring of support from the community and our partner agencies, nonprofits including Friends of Santa Cruz State Parks, Sempervirens Fund, Save the Redwoods League, and Mountain Parks Foundation, just to name a few. The combined network of fundraising speaks to projects being shovel ready when the time comes.
Sipes said, "We're working diligently to make sure that people can access the park at an appropriate time. We're asking for a little bit of the public's patience in the meantime." State Park Rangers are patrolling, and there is a closure order on the park. "Highway 236 is closed per highway vehicle code, it is unlawful to enter a closed highway," Sipes said.
Sipes is a native of Ben Lomond and has been a ranger with State Parks for 14 years, five of them at Big Basin. "It is difficult to see your park go through such devastation," he said. But he imagines how the park will look in the future and envisions millions of park visitors from generation to generation who will have their own memories to treasure. Redwoods are resilient, especially the old growth. "The Mother of the Forest and the Father of the Forest, the Santa Clara Tree, the Chimney Tree all survived. They all have new growth on them. Some might be a bit shorter than they used to be, some might be a bit darker than they used to be, but there is hope on the horizon. The ferns will come back, the redwoods, the Douglas firs, the Western azalea, the huckleberry. It's just time to heal. And maybe we needed that. Things happen for a reason."
Julie Horner is the Editor for the San Lorenzo Valley Post. She is also co-founder and co-publisher of the publication. Julie lives and works in Boulder Creek and is an active participant in the county's vibrant music scene. She loves the outdoors and is the go-to expert on Santa Cruz Mountains hiking trails.