Livestream Revolution: Neil Pearlberg Hosts Music in the Streets
By Julie Horner
While live music venues abide in the days of covid, revolutionaries have taken things to the streets and out over livestream. At the corner of 41st and Portola in Pleasure Point, in front of an abandoned service station with weeds growing in the cracks, the Joint Chiefs play to a masked gathering of passersby. A few days earlier, overlooking Monterey Bay from the deck of a private residence, Anthony Arya's Chasing Ophelia performs to beachgoers below. A neighborhood gathers at The Hook to hear Ted Welty, Alex Lucero, and John Caruth belt out some serious blues while a cavalcade of bicyclists and boarders, toddlers, and dogs on leashes meander past. From side streets to front lawns to the roofs of local businesses, and all via livestream, Santa Cruz surfer, skater, writer, and radio personality, Neil Pearlberg, is turning live music on its ear.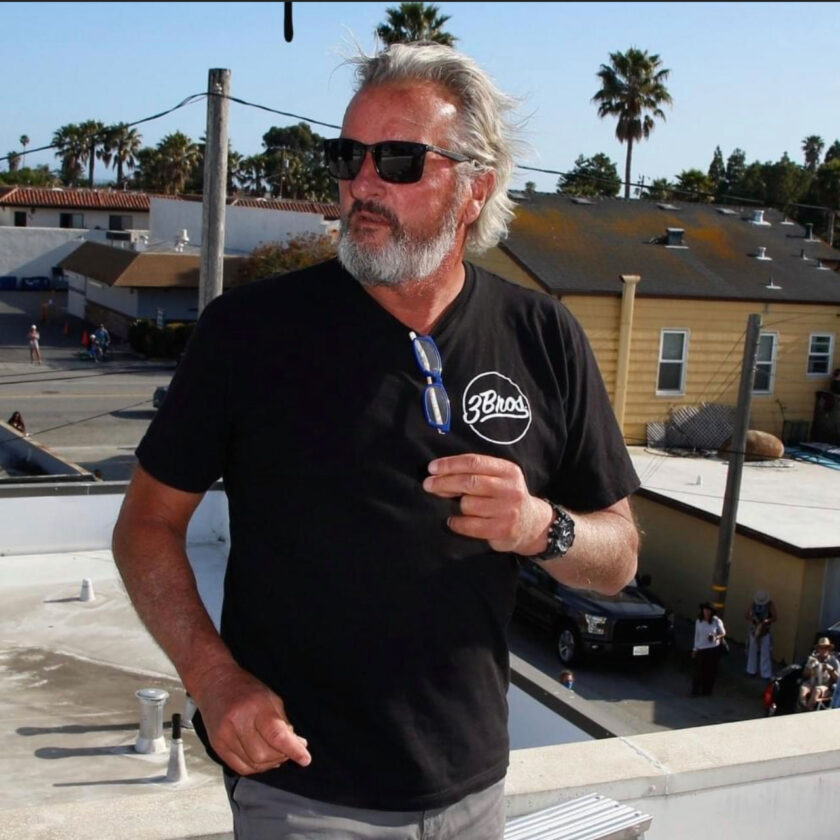 Pearlberg used to write a surfing column for the Sentinel. He was driving by KSCO one day when he got the call that the paper could no longer support his column financially, so he drove straight into the KSCO parking lot to talk to friend and Program Director, Rosemary Chalmers. "I said Rosie, you need to do a show on surfing and skateboarding at this station." He continued, "In this town you're born with a surfboard under one arm and a skateboard under the other. That's just the way it is."
He had no radio experience, but Pearlberg promised to bring in a younger audience. Chalmers thought about it and called him back."She said okay," Pearlberg said.
Terry "TC" Campion, who owns the Santa Cruz Boardroom skate and surf outfitter in Pleasure Point joined Pearlberg as co-host. Jimbo Phillips, son of artist Jim Phllips who created the ubiquitous "Screaming Hand" and "Santa Cruz" logos, created the logo for the show.
The name of the show rolled right off Pearlberg's tongue: "Off the Lip." The term is used by surfers and skateboarders alike. The skateboarding trick involves balancing the back truck of the skateboard over the edge of the ramp, or "the lip;" surfers pivot their boards off the powerful top part of a breaking wave, also called "the lip," and drive the board down the wave face in an "off-the-lip" maneuver. And, Pearlberg said, the name reflected their off-the-cuff mindset.
Off the Lip Radio Show broadcast on KSCO for five years. Musicians and storied locals found their voice on the show and Off the Lip began to morph away from hardcore surf and skate antics and became more about the larger community. The original contract with KSCO was for six months. "They thought we'd only be good for a few shows," Pearlberg said. "My show the other day was my 460th." And he's never missed one in seven years.
A schedule change at KSCO two years ago sent Pearlberg to podcasting, a medium that suited his energy and sense of curiosity. Covid was a silver lining for the Off the Lip podcast. He spent the first few weeks of the original shelter-in-place order watching YouTube, watching Netflix, making ridiculous videos like the one where he cut his lawn with a pair of kitchen scissors. "I tried to post videos that were funny and light because every piece of news was, like, aw man." Then he came across the Beatles' last performance atop Apple Studios on Abbey Road in London, which is close to where he grew up. "You watch people coming out of their apartments and out onto the street. I thought, I'm going to do that."
Off the Lip presented its first outdoor show with Locomotive Breath on the roof of the Boardroom on May 8th, 2020 and has since livestreamed well over 100 shows through the Santa Cruz Waves Facebook page with over half a million viewers worldwide. offthelipradio.com
Feature photo: Off the Lip Creator Neil Pearlberg works at the Boardroom. Photo by George T. Zaferes