Streetwise: Elisha Brooks
Hidden histories of street names in the San Lorenzo Valley
By Lisa Robinson
While many local places are named after our babbling brooks – Brook Lane, Brook Drive, Brookdale, Brookside – Brooks Road in Ben Lomond is named for Elisha Brooks.
Elisha, his wife Ellen, and their daughter Alice moved to their new cottage in Ben Lomond in 1904. Elisha was an educator who, prior to his retirement, had spent 18 years as the principal of the San Francisco Girls High School. He was also a lover and collector of flowers, which were kept in the herbarium of the California Academy of Sciences, where he served as treasurer for 19 years.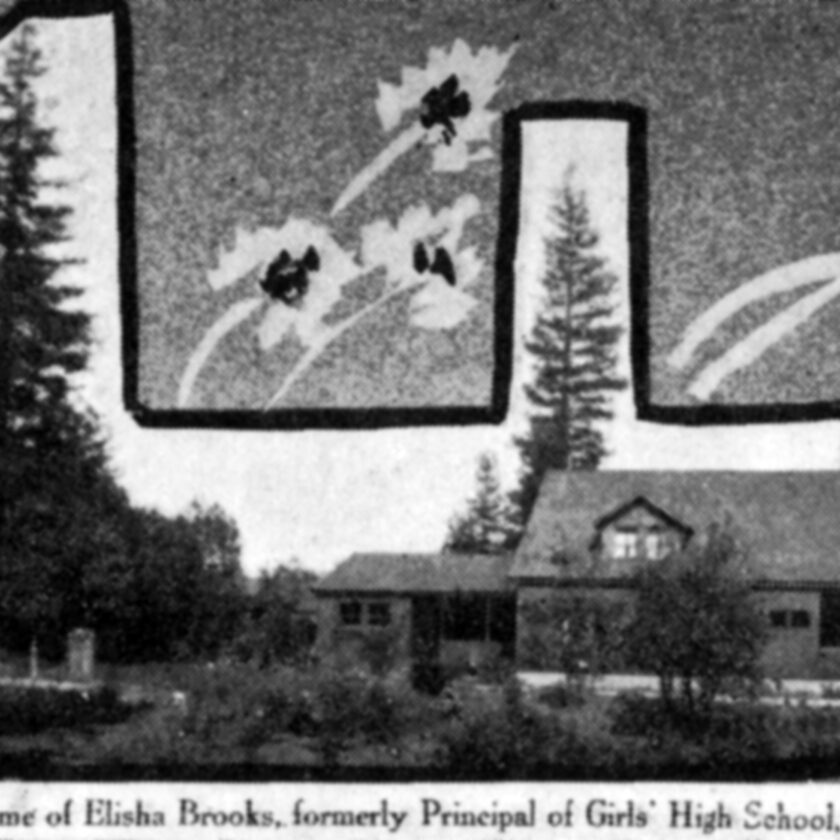 In his book Elisha Brooks: The Life-Story of a California Pioneer: Written for His Grandchildren, Elisha described Ben Lomond as an "old mill town where the buildings had mostly gone to decay; whose main street was lined with unlovely shacks; whose sidewalks were traps for the unwary."
However, he had a vision and Elisha formed the Ben Lomond Improvement Club. He was the first president and at the inaugural meeting he proclaimed: "Where there is no vision the people perish, and the fulfillment of this prophecy is taking place in your town today. The only hope for the life of Ben Lomond is in summer homes, but summer homes will never be built among these ruins. Where these old shacks stand is the most beautiful site for a park bordering on a lovely mountain stream, but those decaying relics must be removed, and the great natural beauty of the place be displayed; avenues of trees along the roadway should be planted, and the car of progress boarded; otherwise we perish."
In 1911, with Elisha Brooks at the helm, the Ben Lomond Improvement Club created that park along the banks of the river on the south side of Mill Street. The buildings that occupied the land had to be moved. Frederick Cody donated about 160 feet of his property on the north side of Mill Street onto which the buildings were transferred.
In 1912, Iven Hobson moved his barn across Mill Street and built onto it a new front. This would become Park Hall.
In 1913, the citizens of Ben Lomond, instigated a move to build a library and many of them responded to a call for a mass meeting where plans were proposed. It was decided at the meeting to order lumber and begin construction immediately. A committee to gather subscriptions to pay for the work was established that included Professor Brooks and other prominent residents.
The library building was dedicated on January 10, 1914. Visitors from Santa Cruz arrived by train and were met by Benjamin Dickenson and Elisha Brooks. The Santa Cruz Board of Library Trustees was represented by Samuel Leask, who delivered the dedication address.
Professor Brooks gave the opening address of welcome and many prominent residents delivered remarks, including Winfield Scott Rodgers of the Mountain Echo newspaper and Professor Frank Browne of Boulder Creek High School.
Said Brooks, "From the design to the finish this building is all home made. We have builded ourselves into it, and it is our own. Like one's own child, cross-grained and ugly tho he be, our blood is in his veins, and he is dear to us."
In 1923, the Ben Lomond Improvement Society, still headed by Elisha Brooks, endeavored to purchase Park Hall outright to be held in trust for the residents of Ben Lomond who live within a one and a half mile radius of the hall. This trust is still in place today.
Brooks was referred to as "a true American, the most beloved and respected citizen of Ben Lomond." He had expressed that this "is where I want to lay my head in its last sleep and let my ashes mingle with the elements in Ben Lomond." When he passed away in 1930, his ashes were scattered over his property on Brooks Road.
Lisa Robinson is the Collections and Exhibitions Curator at the San Lorenzo Valley Museum.
Featured photo: Elisha Brooks
Photos contributed by Lisa Robinson