Roasted Merlot Grape & Chevre Crostini
by Alison Steele
Crisp fall evenings remind us to fire up our ovens and warm our homes with the sultry scents of roasted fall fruits and vegetables. Here it's figs, red peppers, kabocha squash, pumpkins and this year, mountains of merlot grapes. The country wine making begins. We bring a few bottles up from the root cellar from seasons past to cook with, compare and savor. Hor d'oeuvres and small bites accent easy soups as the harvest time tasks continue on our little homestead in the mountains.
Trimming back the Merlot Grape Vine for Renaissance Faire wreaths, I uncover a glut of grapes bursting with juice. This was a tiny stick of a vine, grafted on a 25 year old root stock we gave as a Father's Day gift over a decade ago. It has always produced, but we haven't always been able to partake, due to all the critters who worship the juice of this fruit almost as much as humans. It has certainly never produced 20 lbs of long bulging triangular clusters coated in natural yeasts! I've made Merlot jelly, jello, elderberry merlot syrup (no sugar needed!), and soon will embark on our second attempt at merlot winemaking.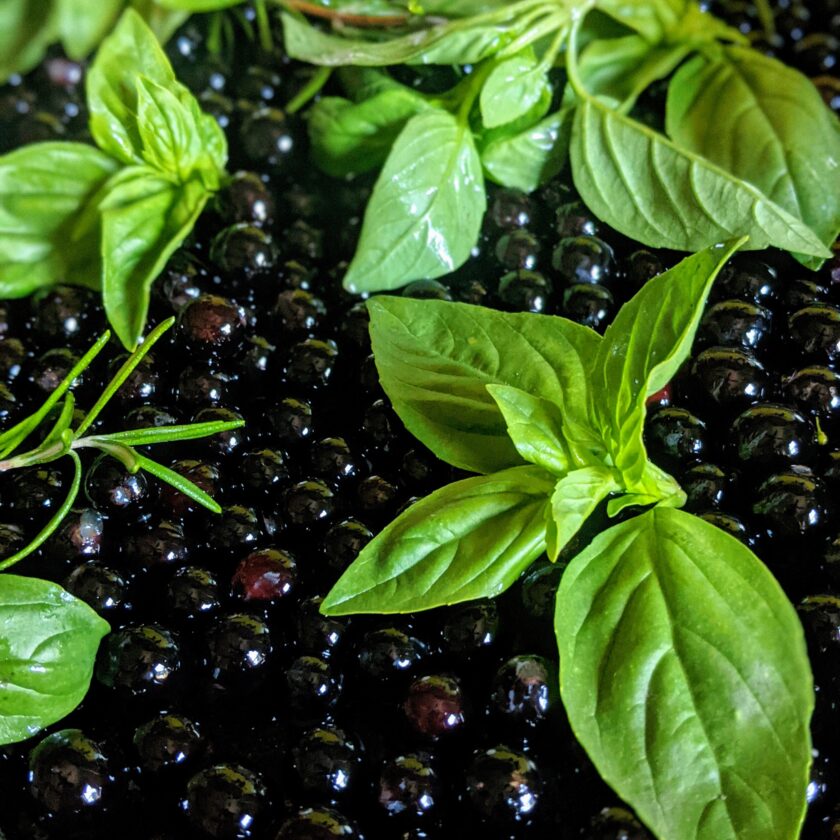 After sending my blood sugar into a frenzy with the first cluster, I decided to try roasting them with fresh herbs and olive oil, just as I would cherry tomatoes, and heap them over crostinis laden with goat cheese to anchor the sweetness a bit. Drizzling them with their own juice reduction took the flavors over the top, and in a matter of minutes these sweet and savory bites were gone. Apparently this is already a thing, as cheese, bread, and grapes are the oldest sustenance known to humankind! This experiment sent my tastebuds down memory lane and right back to Italy where Anders and I spent many a night getting high off the aromas and flavors of the garden delights that do so well in the mountains here.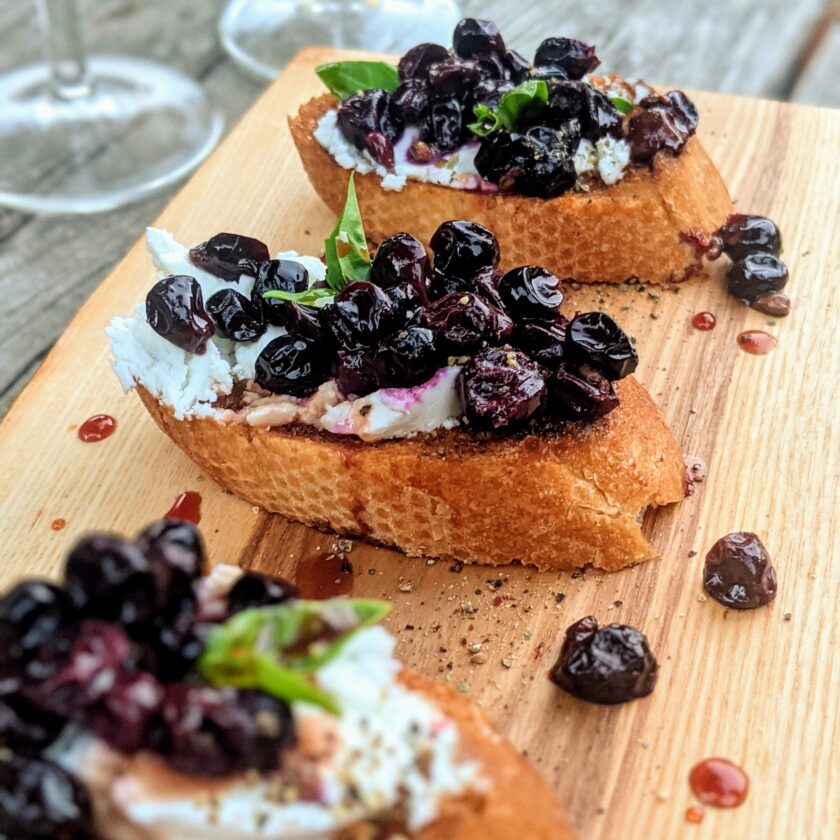 Roasted Merlot Grape & Chévre Crostini, Serves 4-6
Large log of chevre, room temperature
1 Baguette
2 large clusters of red-skinned grapes, destemmed
A large handful of fresh basil, reserving the small leaf buds for garnish
A large handful of fresh rosemary, broken into small sprigs
Olive oil for roasting
½ stick grass-fed butter, melted
1 teaspoon apple cider vinegar
Salt for sprinkling
Freshly ground black pepper
1 teaspoon apple cider vinegar
Preheat the oven to 375°F. Toss grapes along with basil and rosemary onto an edged sheet pan arranging them in a single layer. Drizzle with olive oil and sprinkle lightly with salt. Start the pan out on the bottom rack. After 5-10 minutes, carefully remove the pan and slowly pour all that juice into a small saucepan. Return the grapes to the oven on the middle rack and roast for another 15-20 minutes, tossing after 10 minutes. If your oven runs hot, like mine does, turn it down to 350°F at this point and continue roasting. If you're using table grapes you'll have to add some additional minutes to the roasting time. Keep a sharp eye on the fruit while making the reduction and prepping the baguette.
Add 1 teaspoon of apple cider vinegar to the grape juice and simmer to half the volume you started with, stirring often towards the end. Remove from heat and let cool. Both the grapes and the juice are high in natural sugars, so don't leave to the kitchen while the grapes are cooking or you will have some burnt fruit on your hands. Melt butter in a small skillet while the fruit is cooking. Slice up the baguette into 1 ¼ inch pieces, brush the top with melted butter and use the last 5 minutes of oven time to toast the crostinis. 
Pull everything out of the oven to cool slightly. Slather all the crostinis with goat cheese and arrange on a slab of wood, heap with roasted grapes removing any herb bits, garnish with fresh basil buds and drizzle with merlot juice reduction. Sprinkle with a bit of sea salt if you'd like and don't skimp on the freshly grated pepper. Slide onto the middle of the table and step back!  
Alison Steele brings us delicious home cooking inspired by her Boulder Creek organic garden. A Virginia transplant from 2003, Alison lives with her husband, two children, and cat in downtown Boulder Creek where she raises quail, chickens, fruit trees, vegetables and herbs. On the weekends she teaches reskilling workshops in her garden including knitting, natural dyeing, soap making, and other forgotten folk crafts.  Alison starts her week by filling her cup, planting seeds and singing songs with her bandmates from Sugar by the Pound. 
Photos by Alison Steele