Question Authority: County's Local Agency Management Program Impacts Homeowners
By M.C. Dwyer
Did you know that, on August 23, our elected Santa Cruz County Board of Supervisors (BOS) adopted a Local Agency Management Plan (LAMP) to completely change the way our septic systems can operate? This cleared the way for the BOS to simply vote approval on September 13…which could have resulted in insufficiently developed regulations being implemented starting January 1, 2023. Some of these rules are imposed by the state of California. Still, not enough time was allowed to create local flexibility nor to properly develop brand new processes within our county's Department of Environmental Health.
Currently, during a real estate transaction, the property seller can negotiate the outcome of a septic inspection with their buyer. This allows the flexibility to decide who pays for any required repairs, and when. Today's options include having the seller pay for septic repair out of the money they get from the sale, or passing responsibility to the buyer.
Incredibly, the LAMP included a brand new, point-of-sale septic inspection requirement, including reviewing code compliance and septic permit history. Further, there was no mention of this in our District 5 Supervisor's newsletter that Bruce McPherson's office emailed to constituents on September 9. Worse, our Department of Health hadn't released their new procedures, so the Technical Advisory Committee – including REALTORS® and septic experts: pumpers, designers, and installers – were not consulted. Finally, there were no allowances made for CZU fire survivors who, rebuilding or selling their land, are already dealing with financial constraints because their insurance wasn't enough to rebuild.
The LAMP as written would have caused delays in the sale of homes and CZU fire lots. Delays make a property transaction challenging since most buyers lock their loan rate in for a certain amount of time. After that, buyers would either incur more cost to re-lock their loan and/or their loan rate could fluctuate higher. Delays could make the purchase more expensive or even no longer affordable for that buyer; in that case the seller might experience a loss if values declined during the delay. As written, it could have required thousands of dollars – or many tens of thousands of dollars – before a property could sell if it required a system repair or replacement. It could have even made some properties essentially unsellable, or significantly reduce a seller's proceeds, for example some of the smaller CZU fire lots.
If that last possibility sounds familiar, you can re-read the real estate column in the SLV Post from November 2021 about the geological covenant our Board of Supervisors was about to approve. slvpost.com/czu-fire-survivors-navigate-difficult-rebuilding-decisions
Many property owners simply do not have the resources to repair a septic system before their property is sold. One possible example could be if the property needed a new engineered (alternative) system. These can cost upwards of $70,000 plus inspection fees, and take months, sometimes over a year to design, engineer, and permit. What if they required a wet winter water test? We can't rely on enough rains in any given winter anymore. What if that seller needed a quick sale – perhaps a court order, defaulted loan or taxes, divorce?
As another example, I am working with a CZU fire survivor who owes more money on their loan than their land is worth. This is more common than you might think. Also common – their insurance proceeds aren't enough to rebuild their former home. Selling their lot will require me to negotiate with their lender to accept less than what's owed. These are called "short sales" (a real misnomer). They are less damaging to people's credit ratings than a foreclosure. What if the lender doesn't accept the short sale? What if they don't agree to make expensive repairs because they're already losing money on the sale?
Fortunately, our local Santa Cruz County Association of REALTORS® put out an alert, and many of us REALTORS® took to social media and other avenues to encourage as many people as possible to email their concerns directly to our BOS at BoardOfSupervisors@santacruzcounty.us. This grassroots activism succeeded because every one of those e-mails becomes a matter of public record for the meeting. As a result, on September 13 the BOS voted unanimously to carefully consider changes to the LAMP, and input from their Technical Advisory Committee, before implementing changes next year.
Our Rebuild
My husband's foundation had to be poured in two parts, last week and this week. The Small Business Administration (SBA) offered my husband a $2,500 loan. However, his shortfall between insurance and rebuild cost is several hundred thousand dollars, thanks to inflation. The SBA finally acknowledged receipt of all of his documentation (after sending to them four times, accounting for our second representative no longer working there, and their computer system not loading the documents). The next step in processing his application for a disaster loan will be a review by a loan adjuster. Stay tuned.
Coming Soon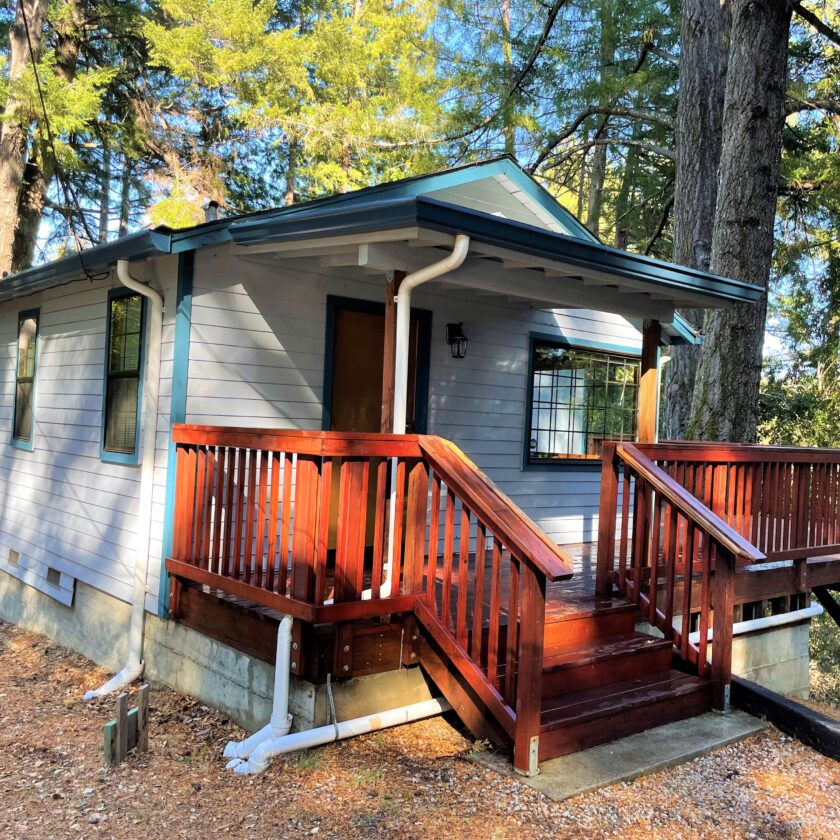 "M.C." (MaryCatherine) Dwyer, MBA, REALTOR®
CA DRE License 01468388 EXP Realty of California, Inc.
Serving San Lorenzo Valley and Scotts Valley since 2005
(831) 419-9759 E-mail: mcd@mcdwyer.com Website: https://mcdwyer.exprealty.com
*Sources: MLSListings.com, Santa Cruz County Association of REALTORS®
The statements and opinions contained in this article are solely those of the individual author and do not necessarily reflect the positions or opinions of eXp Realty, LLC, or its subsidiaries or affiliates (the "Company"). The Company does not assume any responsibility for, nor does it warrant the accuracy, completeness or quality of the information provided.