Eggs, Cream, and Butter: A Taste of Magic at Little Forest Bakery
By Julie Horner
Professional pâtissière Emily Allis has been creating delectables since she was 18. "I've been baking my entire life," she said. Little Forest Bakery, her fully licensed home kitchen in Boulder Creek celebrates nearly two years in business turning out pastries, cookies, pies, and cakes to order and savories like quiche, herbed scones, and "badass biscuits" using the finest locally sourced organic ingredients. "I go berry picking at Gizdich Ranch and use eggs from my hens." You can meet the hens — Dottie, Minerva, Getta, Isabella, and Nanoha — on the bakery website at littleforestbakery.com.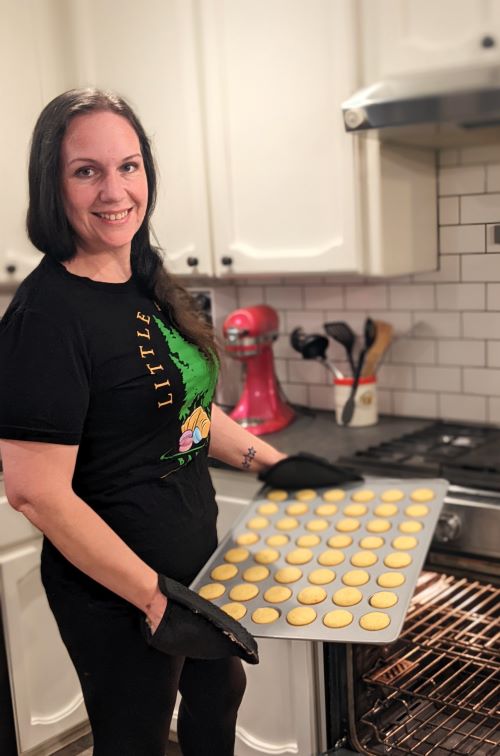 The former Google help desk technician and graphic designer found her calling by following in her biological father's footsteps. "He was a chef," she said. "I was trying to be an artist for a while but wasn't happy; it wasn't where my heart was." Facing a return to her office job once pandemic work-at-home restrictions were lifted, she said, "No way. I can bake my butt off at home." With the help of her husband's two jobs, she earned her degree in pastry arts from Auguste Escoffier School Of Culinary Arts in Colorado, which specializes in haute cuisine, a French style that mandates meticulous preparation and exemplary presentation. Even without the gourmet treatment, Emily said, "It's the butter that makes French cooking so special — laminating dough for the croissants is intense. It's just eggs, cream, and butter."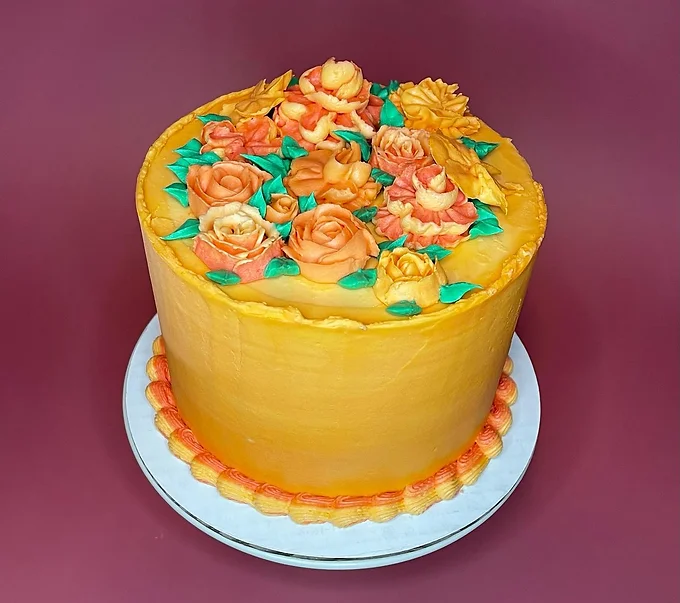 The High Tech Method
A technical background comes in handy when making shaped sugar cookies, one of Emily's spécialités. The custom cutters and stamps she uses for her "occult" planchette cookies (the planchette is the heart-shaped indicator you move around the ouija board), for example, she draws with CAD software then sends to her 3D printer. "It's a six hour process, mesmerizing, watching it extrude one millimeter at a time." The cookie frosting is called fondant, rolled icing or sugar paste, which she can make any color. "I print the cutter and the stamp, roll out the fondant, put the stamp on, smash it down, then hand-paint all the details. It's so beautiful and so fun. My hands definitely hurt at the end of the day, but I get into the zone." She can finish each work of cookie art in 15 minutes. She said she's working on making a ouija board cookie, but that has proven more difficult to reproduce.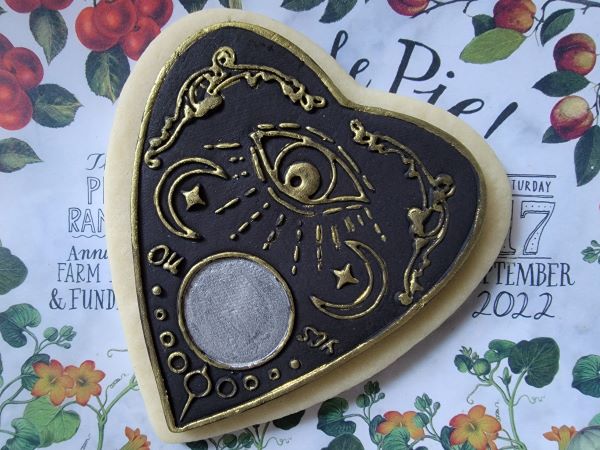 No Such Thing As Too Much Sugar
"I've always been a one-stop shop: artist, baker, cook. I'm a sucker for a tea party." Little Forest Bakery can accommodate special dietary needs, vegan, dairy free, and gluten-free. If you don't see something on the menu, she said, just ask. Hoping to find a brick-and-mortar shop in downtown Boulder Creek soon, she said, "I like creating things, and food. I love making people happy, it's definitely a love language cooking and feeding people."
Orders can be placed online at littleforestbakery.com. Emily makes all the classic pies and can do vegan chocolate silk and cheesecake. She has a soft spot for pecan pie. "It was my grandpa's favorite."
Winter Afternoon Tea
On Saturday January 14, Emily will host a Winter Afternoon Tea along with Julie Horner at the Boulder Creek Outfitters gazebo at 13150 Highway 9 in Boulder Creek. Adults $35/children $20. RSVP by emailing emily@littleforestbakery.com
Event info: facebook.com/events/5671046109597519
FB: @littleforestbakerybouldercreek | IG: @little.forest.bakery |
Julie Horner writes about art, music, and culture in the Santa Cruz Mountains. Reach out to Julie at leap2three@gmail.com.