Food, Friends, Laughter & Love! Welcome to Aroma!
By Julie Horner
The Santa Cruz Mountains celebrates a new dining experience in sunny downtown Ben Lomond. After a series of soft openings to put on the finishing touches, Aroma Restaurant officially opened in March. Located where the iconic Tyrolean Inn had served up Bavarian and German cuisine since 1975, the establishment is updated and bright and welcomes the community to enjoy exquisitely curated flavors from around the world.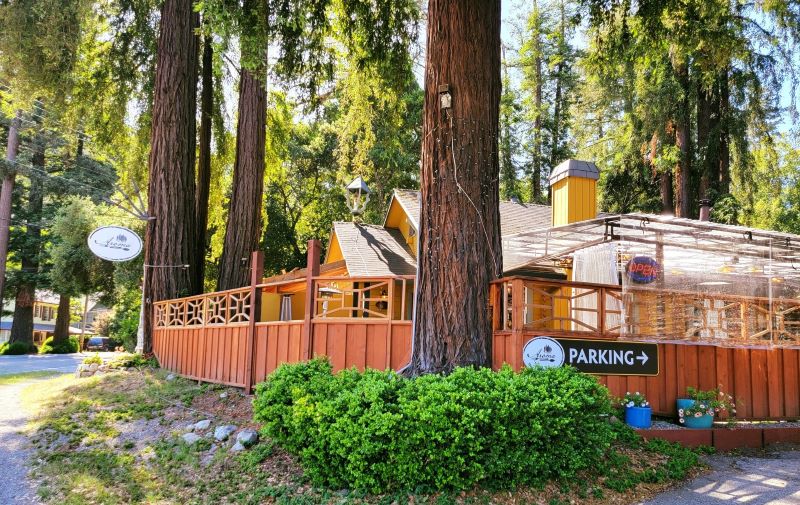 Inside, Aroma offers a touch of knotty pine chalet with a splash of European brasserie. Outdoors, the covered patio is inviting and warm. Co-owners Mario Ibarra and Pasquale Bianco, who have worked together for over 20 years in many versions of restaurant life in Santa Cruz County, have created an intimate boutique bistro with comfortable dog- and family-friendly options for gathering together to share delicious food and good company.
Ibarra hails from La Paz, Baja California Sur, Mexico. A devoted Ben Lomond resident, he said, "I love the mountains. And we have the ocean so close!" Ibarra has spent the last 25 years specializing in Italian cuisine. Casa Nostra was his third restaurant, Aroma is his fourth. For Ibarra, Aroma means reaching just a little bit higher, expanding the possibilities, growing and showcasing his talent, and making his own way. This is the spirit of living in the mountains. "You can do whatever you want to do," he said. "I love that." Together with business partner and Head Chef Pascuale Bianco, a native of Naples, Italy, and a team that includes manager Allan De Jesus, former Tyrolean Head Chef Douglas Bella, Sicily-born chef Tony Connova, and hospitality manager Denise Gorham, Ibarra said, "This is a new adventure and we have the right people to make it a success. We have no restrictions, we are wide open. People just want to have good food."
A Taste of Many Cultures
The elemental concept for Aroma hinges on a vibrant collection of recipes from every corner of the world. "A taste of this and a taste of that" as Ibarra puts it, inventive and accommodating. "If you want to put a label on it," De Jesus added, "you might call it contemporary American cuisine. Which really just means we have license to borrow flavors and cooking techniques from all around the globe but also anchor them in fresh California ingredients. It gives us a lot of versatility." Represented on the menu: German, Mexican, and French dishes; Argentinian chimichurri; spices from Syria; appetizing temptations from Korea, Japan, and the Philippines. "We've got a lot of fun things," De Jesus said. Persian lamb. Braised tempeh with ratatouille and other vegetarian delights. There's even "Tyrolean Schnitzel," a delicacy carried forward by 10-year Tyrolean kitchen veteran Douglas Bella. Many dishes will be perennial, along with seasonal offerings to complement our mountain climate.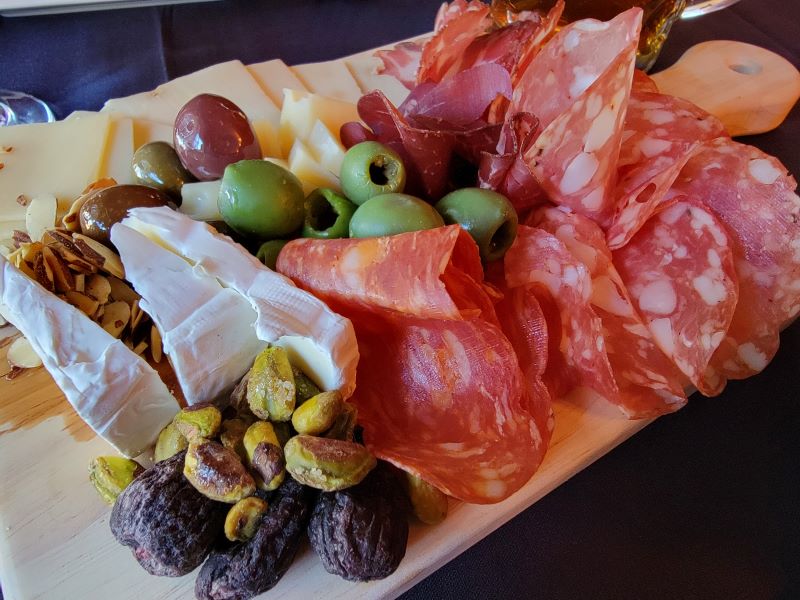 Toujours Tapas
Sommelier, saucier, and sometime technical support, Allan De Jesus, also a Ben Lomond resident and a committed scholar of the culinary arts, touts the tapas, an offering of small plates featuring a variety of bold taste experiences. Along with craft beer and signature cocktails, Aroma aims to be the Valley's tasting room created especially to pair locally produced wines to go with everything you're trying from the menu: "Kaleidoscope Kale" to filet mignon; charred brussels and goat cheese; house-made ceviche; or the charcuterie garnished with dried figs, pistachio kernels, and plump green olives. Heralding strong relationships with local vineyards such as Hallcrest in Felton, De Jesus said, "It's such a privilege to be able to set up a wine program here. I'm really excited about it."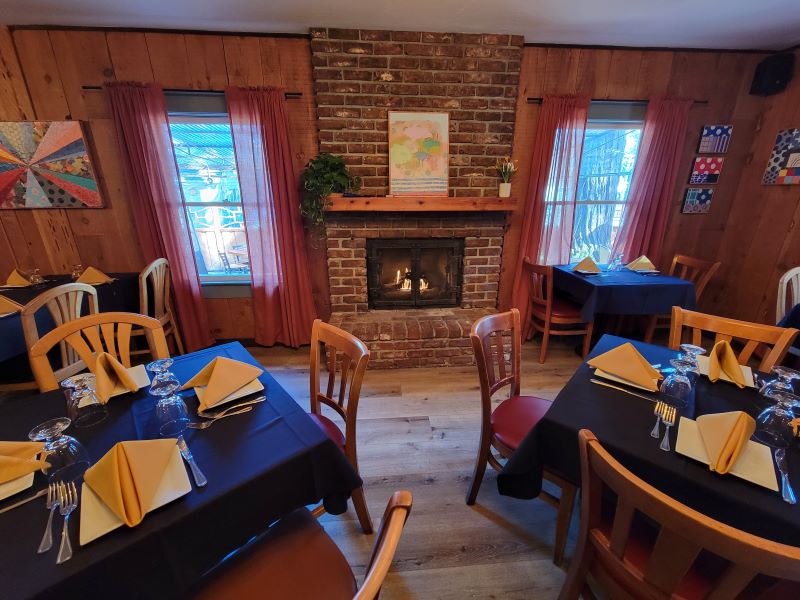 Fine dining by the crackling fireplace inside or on the patio beneath the redwoods, De Jesus said, "We've really tried to cultivate that warm, cozy space that everybody enjoys."
Open daily except Tuesdays, valet parking, reservations are encouraged. Lunch: 11 am to 3pm, happy hour: 3 to 5 pm, dinner: 5 to 10 pm. Enjoy live music with Claudio Melega on solo guitar every Friday from 5:30 to 8:30 pm.
Aroma Restaurant, 9600 Hwy 9, Ben Lomond (831) 609-6596
Lunch menu: aromarestaurant831.com/lunch-menu, dinner menu: aromarestaurant831.com/menu
Julie Horner writes about food, art, and music in the Santa Cruz Mountains. Reach out to Julie at leap2three@gmail.com.
Photos by Julie Horner
Featured photo: The Aroma crew l to r: Mario Ibarra, Allan De Jesus, Pasquale Bianco, Douglas Bella, Tony Cannova, Denise Gorham