Women-owned Salem Tattoos Opens at the Brookdale Lodge
By Julie Horner
Tucked into an enticing nook at the famously haunted Brookdale Lodge, you'll find Salem Tattoos. Easy to spot beneath a branded awning marking Suite D, between the Brookdale Market and the Brookdale Cafe and Grill, owner Berit Piik (Spoopy) and business partner Josi Lugosi welcome ink seekers to experience fresh tattoo art opportunities in their newly created studio.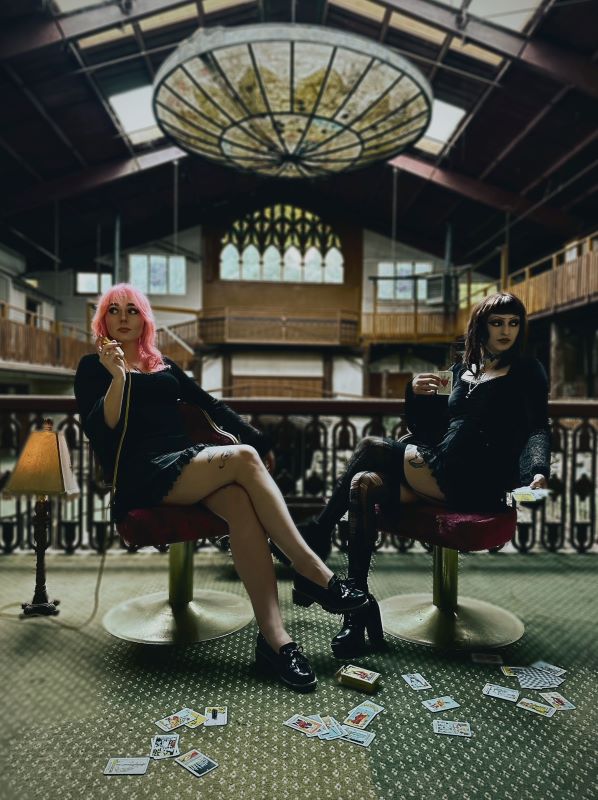 Berit Piik is an Estonian immigrant who grew up in Brooklyn, New York. Now living in Scotts Valley, the 26-year-old with porcelain skin and pink hair said, "I've been drawing and doing art my whole life. Tattooing comes as second nature." Unable to find an open apprenticeship in Santa Cruz, she compacted three years' worth of study into a streamlined program with Tattooing 101, a highly-rated online education and support system for learning the tools and techniques fundamental to the art of tattoo. She built up a client base quickly starting with her fiance and his friends. Berit specializes in spooky, anime, horror, and blackwork styles.
A surprise visit to the Brookdale Lodge for the first time last year inspired the idea of opening a tattoo studio there. She brought her friend Josi on board as advisor and artistic partner.
Santa Cruz native Josi Lugosi is 21 and has been tattooing professionally since 2017. She is a makeup specialist with a lifelong background in theater and the arts. "I specialize in a style called American traditional, very bold, sometimes very colorful. That's probably my favorite style to do." She also works in "ignorant style," a newer form of the art that's gaining popularity featuring simple words and lines, almost cartoonish. She said, "Being able to dial in your style is a huge part of being a tattoo artist."
There are dozens of prominent styles of tattoo art. Both tastefully tattooed from tip to toes, Berit and Josi can usher you through the choices.
The Sacred Canvas
Celebrating the joy and the pain of tattoo, Berit and Josi have created a safe space based on trust that respects the individual. The female form is an especially sacred canvas. "It's more comfortable for women to go to women," Berit said. In an industry dominated by men, Salem Tattoos has already broken the mold. Women / immigrant / LGBTQIA+ owned, Salem Tattoos accepts new clients without judgment or bias, honoring requests for designs of all kinds on just about any location under the sun. "Yes," Berit said, "we will take very good care of you." If you really want to be a versatile artist, Josi added, you must be open to a client's sense of personal expression. "We provide them with a piece of art that will be on their body for the rest of their life." Being receptive to the client's wishes "just comes with the responsibility of being a tattoo artist," Josi said.
Berit's Victorian/Gothic aesthetic is entirely suited to the Brookdale Lodge's spirited menagerie of bygone eras, and the individual workstations are an extension of each artist's personality. Enveloped in spa-like comfort, a visit to the artists' studio becomes an experience to be savored. The intention at Salem Tattoos is making people feel good about themselves. "Giving the gift of confidence to someone is the most satisfying part of tattooing," Josi said. "It's such a blessing to be able to give that."
Salem Tattoos at the Brookdale Lodge, 11570 Highway 9 Suite D. (831) 610-8905
IG: @_salemtattoos_
Website: salem-tattoos.com
Julie Horner writes about art, music, and culture in the Santa Cruz Mountains. Reach out to Julie at leap2three@gmail.com.
Photos contributed by Salem Tattoo