Within Broadcast Range: KBCZ Boulder Creek Community Radio Increases Coverage
By Mary Andersen
On Wednesday, August 12, 2020, the Santa Cruz Mountains received a Heat Advisory alert from the National Weather Service. By Thursday the 16th, the Advisory became a Red Flag Warning. That Sunday beginning at 3:00 am, there were an estimated 2,500 lightning strikes overnight. By morning, smoke from what became known as the CZU Lightning Complex fire began to blanket the San Lorenzo Valley. On August 18, 2020, the first local evacuation was ordered for the Waterman Gap Loop area and Upper Highway 236 within Big Basin Redwoods State Park. Early reports indicated the park proper and its visitor center were already gone. Cal Fire press releases declared: "Evacuate now!" By dusk Tuesday evening, all of Boulder Creek had been ordered to evacuate.
That night, Dan and Laurie Hennig at the south end of Boulder Creek said they were glued to KBCZ, the 100-watt community radio station located in downtown Boulder Creek, for news about the fire. DJ John Lehr was on the air from 6:00 to 8:00 that evening, his usual music show timeslot, only now he found himself reading Cal Fire press releases as quickly as they were tweeted. DJ Greg Rose was next on the schedule from 8:30 to 10:00 pm. He had never reported news on-air before, he said, but became the voice of calm during an escalating emergency. "People of the Tiehl Neighborhood evacuate now," he read, and then it was time to go. Replacing Rose at 10:00 pm, Boulder Creek's Julie Horner took over to read emergency directives on the air interspersed with soothing music and quick checks of what to pack: pets, important papers, photos. Then, station manager Tina Davey called and told her that she had better get out of there. On foot toward home a few blocks away, Horner remembered the line of headlights as far as the eye could see as motorists headed east along Highway 236 away from the flames.
When the Hennigs heard Horner signing off just before midnight, they knew they needed to pack and go. Davey continued to broadcast remotely from her home in Felton until the wee hours. Her voice on the radio was a beacon in the dark.
Over the course of the weeks-long emergency, Davey and DJs Sam and Kelli Peacock, and Brian Valdevia took turns broadcasting emergency updates from remote locations. Davey and Horner posted evolving news stories on the KBCZ Facebook page, while DJ Randy Gordon attended and livestreamed the multi-agency press briefings from base camp in Scotts Valley.
The team forged a crucial communications hub with real-time local reporting.
Now, after eight years in operation, KBCZ FM has been granted full license from the Federal Communications Commission to expand broadcast coverage across the entire San Lorenzo Valley on its new frequency, 89.3 FM. The license allows an impressive 300 watts, but the station will only use a fraction of that to expand coverage. KBCZ will begin broadcast tests on 89.3 FM in early Spring 2021, eventually phasing out 90.1, its original FM frequency. Davey said, "We will have potential listeners all the way down to Santa Cruz."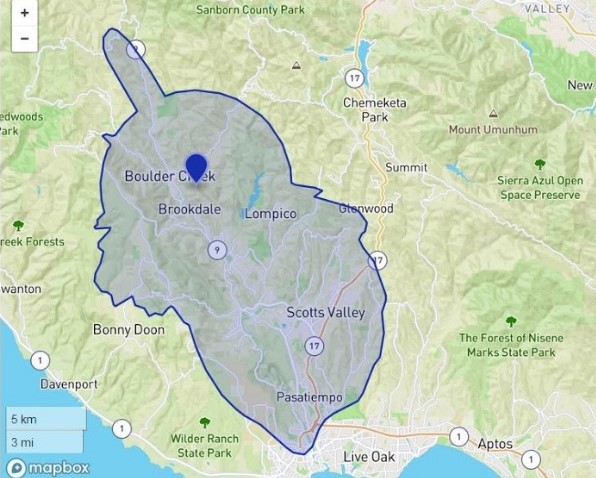 KBCZ, an internet-based non-commercial educational radio station owned by the Boulder Creek Recreation and Park District has partnered with the San Lorenzo Valley Water District to erect the new 89.3 FM antenna at a 30-foot tower site alongside antennas from San Lorenzo Valley Unified School District and the Santa Cruz County Sheriff Department near one of the District's water tanks. Complete with an on-site heavy duty backup generator, from high atop the mountain, KBCZ FM will provide coverage to all of Boulder Creek, Brookdale, Ben Lomond, Felton, Lompico, Zayante, and Scotts Valley, as well as other isolated and neighboring areas in Santa Cruz County. San Lorenzo Valley Water District Manager Rick Rogers said, "This is a great partnership for the Water District. In an area that loses cell phone and internet communications, such as during the CZU Fire and recent power outages, having the ability to broadcast valley-wide during times of emergency can save lives."
KBCZ's live broadcast studio, located within yards of the Boulder Creek Volunteer Fire Department and the County Sheriff satellite office, has continually served as a vital resource for local residents, but up until now, the antenna broadcast range has been limited to Boulder Creek, even though content is available as a streamed resource anywhere in the world. "We've long wanted to serve the entire San Lorenzo Valley," Davey said. "Folks have told us over the years that they really wanted to hear the station while traveling all the way up and down Highway 9, and now they will be able to do just that!" And then some.
KBCZ airs 100% original programming 24 hours a day. When disaster strikes, regular programming is suspended to provide local emergency information. BCPRD Director Hallie Greene said that since the CZU fire, she has seen a huge uptick in support for the station. "People realize how important a local station is for disasters." News agencies from out of the area come and go but don't know the community, station manager Davey said. "After the major networks left, we kept at it. This is our home."
Skyline to the Sea, KBCZ at 89.3. Read more about the evolution of KBCZ, Boulder Creek Community Radio: kbcz.org/our-story-so-far.
Mary Andersen is the co-founder, editor, writer, and photographer for the San Lorenzo Valley Post. She is a social media and marketing consultant and digital media strategist.