Ana Leticia: Survivor by the Sea
By Michele Murphy
At work, Ana Leticia is a busy woman. In early 2020 she decided to diversify her life and financial future. As a director at a tech company in Silicon Valley she understands that there is no loyalty in the corporate world, budgets get cut, and layoffs happen without much consideration for the sacrifices people make or the passion and dedication with which they do their jobs. With this in mind, and a desire to take control of her future, Ana took over the lease and operations at Vino by the Sea on the Santa Cruz Wharf on October 18, 2020. Of course, we all know what was going on at that time, so when Ana was finally ready to launch her business, new obstacles arose almost daily: beginning with the "orange level" of rules surrounding the pandemic limiting seating in her establishment to 50% of capacity; then the "red level" limiting capacity to 25%;  and eventually the "purple level," making it necessary to run this primarily social setting as take-out only. Luckily, they had the support of regular patrons who bought bottles of wine when the bar was forced to close, and they got creative, selling cups of wine and allowing people to sit in the breezeway overlooking the ocean.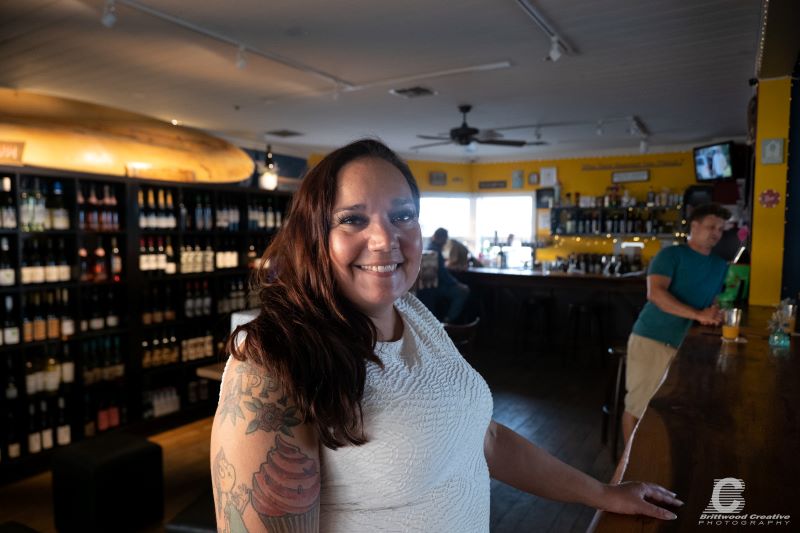 At home, living among the redwoods is something Ana had dreamt of since she was a child. After spending many summers traveling from Redwood City and vacationing with her family in the Santa Cruz Mountains, she decided to make those magical memories into her new reality saying, "I have always loved it here, so I found a property in Boulder Creek with a redwood grove and a cute little house and purchased it. It was like being on vacation every day." She moved in on July 14, 2020. When the CZU complex fires swept through the valley, Ana was evacuated and learned from her neighbors that her new home had burned on August 19th.
A single mom with a new business that was not allowed to serve patrons, and no home, many people might have simply given up. But that never occurred to her. "The support of everyone in the community has been amazing," Ana said. She was fortunate to find a rental in Aptos through the fire support group.  She says, "It's been a real struggle to figure out how to rebuild, I am underinsured like just about everyone else in the fire community, plus my insurance agent made a mistake which caused me to be drastically underinsured." She managed to save her original policy documents, but it'll take years to work through litigation with the insurer. In the meantime, she says, "I know that I am not the only one, there are so many families in the fire community going through the struggle of just trying to get back home."
Always cheerful with a warm smile, you'd never know how much Ana has been through. She says her vision for Vino by The Sea is to create a special place where people can relax while enjoying their favorite wine, craft beer, and tapas while taking in panoramic ocean views; a place where locals and tourists alike can celebrate and escape from their busy lives.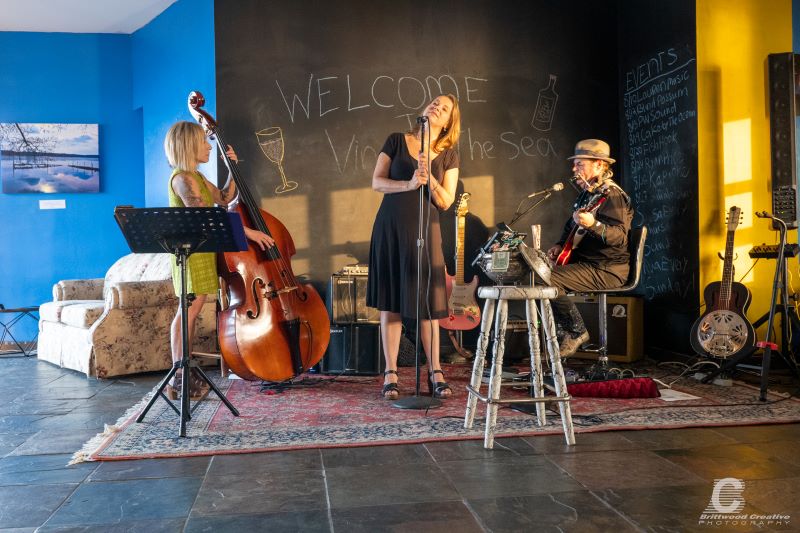 Located at 55 Municipal Wharf, Vino by the Sea is on the second floor next to Olitas, and this time of year there is plenty of parking. In addition to a wonderful array of wine selections, they offer local craft beers and Ana makes her own Sangria. Featuring live music Thursday through Sunday you can catch some great local bands playing all genres of music, Blues, Jazz, Country, Classic Rock, and R&B with Salsa dancing on Thursdays from 6:00 to 11:00 with no cover charge. Check their website for hours, events, and wine selections.
Vino by the Sea, 55 Municipal Wharf Ste B, Santa Cruz, CA 95060
Hours: Open Wednesday through Sunday
831-426-0750 | vino-by-the-sea.com
Michele Murphy is a singer-songwriter who has lived in the Santa Cruz area since 2005 when she migrated West from Buffalo NY to the beautiful San Lorenzo Valley. An avid music lover, she is entrenched in the local entertainment scene both as a performer and a fan.
Photos by Peter Woodward, Brittwood Creative
Featured photo: Ana Leticia at Vino by the Sea on The Wharf in Santa Cruz