CZU Fire Survivors Navigate Difficult Rebuilding Decisions
By M.C. Dwyer
Last month, a group of us REALTORs was spurred into action when a unanimous vote of the County Board of Supervisors ("Board") created the CZU Rebuild Directive. On its surface, the vote seemed positive for those who'd lost their homes in the CZU fires last August ("survivors"). In theory, this would have allowed survivors to rebuild without first getting expensive ($15,000+) and time-consuming (months) reports from geologists and engineers. All survivors had to do to avoid these costs and delays, was sign an 8-page Geological Covenant to be recorded on their land's title.    
One of our community's survivors, Brian Dean, is a lender. When he passed the Covenant by his underwriters, they determined it was dangerously flawed: the covenant protected the County, but it didn't protect lenders. The underwriters said no conventional lender would lend to a new buyer of a Covenant property, and no lender would refinance a Covenant property. That would devalue the property, as only all-cash buyers could buy it. And all-cash buyers demand a steep discount for putting in so much equity. Since getting a loan includes promising you won't do anything that decreases your property value, signing the Covenant meant lenders' options included using survivors' insurance money to repay the loan, or even calling the loan due in full – potentially putting survivors between a rock and a really hard place, and worst case to possibly lose their land if they couldn't afford to pay the lender back.
REALTORs galvanized. Chris Clayton set up a messaging group that grew to 60+ members, encouraging people to write letters to the Board. I started a petition that got over 980 signatures. We went to the Board meeting wearing red shirts, in support of fire survivors, and we voiced our concerns. There was one really awkward moment when the County's legal counsel questioned my description of the Covenant's riskiness. However, the survivor community has an amazing ally: banking professional Creedence Shaw. In a Hail Mary moment, he called into the meeting and reiterated these were legitimate problems. Our concerns were heard! The Board ordered the Covenant to be revised and promised a Community Meeting mid-October.
The County's communication about the virtual Community Meeting was poor. A survivors' Facebook page announced it, but REALTORs only heard just hours before it started. About 60 people attended, including REALTORs. Remember, there are over 900 survivor families.
The meeting itself was well thought out with multiple presenters, flowcharts, and a Q&A session. The County offered a new document as an option: a Notice of Geological Hazards. It's similar to documents already recorded on about 700 properties without negative repercussions. County staff ran the Notice by lenders and promised to have it reviewed by insurers prior to implementation.
There are two methods to obtain geologic clearance to build: County Code Chapter 16.10, or the CZU Rebuild Directive. The CZU Rebuild Directive is available to survivors. The lost home must either be permitted or legal non-conforming, and rebuilding "in-kind." "In kind" means a home or ADU, rebuilt substantially where it was or somewhere safer, and no more than 10% larger than the original.
By signing the Notice, which will be recorded on title, survivors can waive the geo requirements to rebuild to save time and money. It's not a permanent solution but allows the County to waive some of the rigorous state building code requirements for survivors willing to take the risks. It's also not a fair solution, because neighbors whose homes survived the fires won't have this on their title, even though they face the same geological risks. County officials explained they only can record documents on title during the permit process: they said they have no way to make it fair.
The County explained three rebuild scenarios, one using chapter 16.10 and two using the CZU Rebuild Directive. They explained how the scenarios work, depending on risks outlined in the Atkins Debris Flow Study, which was paid for by a grant. The county hopes to apply for more grants to build debris walls to protect certain neighborhoods, and announced plans to have more neighborhood-specific community meetings.
For more information, visit santacruzcounty.us/FireRecovery.aspx, email the Recovery Permit Center at rpc@santacruzcounty.us, or call (831) 454-5323.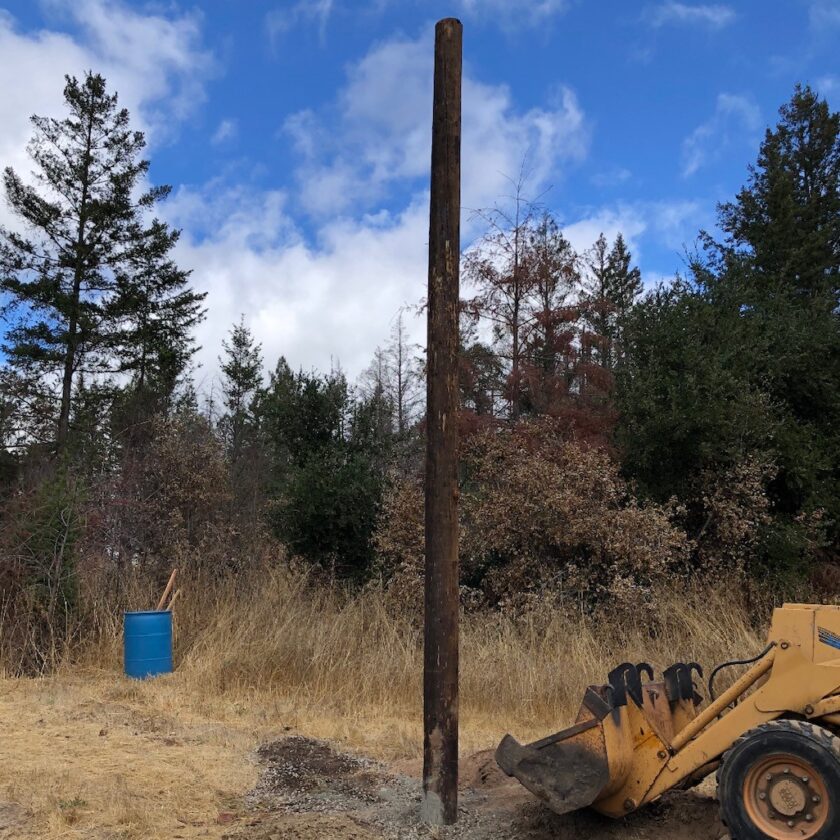 This week, the first new stick of lumber went up for my husband's rebuild: the customer power pole. More electrical work needs to be completed, then we can call PG&E to connect it. My husband hired someone to locate the septic leach fields. He's spent a month of weekends digging all over the property and fixing all the water infrastructure damaged by the fire and the heavy equipment for debris removal.
Visuals for the meeting: co.santa-cruz.ca.us/Portals/0/County/firerecovery/pdfs/events/10.14.21_CommunityMeetingCZURebuildDirective.pdf
"M.C." (MaryCatherine) Dwyer, MBA, REALTOR®  
CA DRE License 01468388
EXP Realty of California, Inc.
The statements and opinions contained in this article are solely those of the individual author and do not necessarily reflect the positions or opinions of eXp Realty, LLC, or its subsidiaries or affiliates (the "Company"). The Company does not assume any responsibility for, nor does it warrant the accuracy, completeness or quality of the information provided.
Featured photo: Temporary housing on a Boulder Creek fire survivor's property
Featured photo contributed.