Local Artist Juko Holiday Debuts New Artwork
By Blakeman Holiday
Among the many accomplishments on Dr. Juko Holiday's resume, we can soon add 'Open Studios Artist' to the list. This Ben Lomond resident, Ease Mountain Yoga founder, integrative mental health practitioner, and CZU fire survivor, will showcase her recent artwork during October's Open Studios Art Tour. The event marks the first time she is sharing her abstract and thought-provoking mixed-media creations with the public – which she fully admits is a bit nerve-wracking.
"These paintings are my way of hiding in plain sight," smiles Dr. Holiday, or Juko as everyone in Ben Lomond knows her. "After the pandemic and then the fires that obliterated my home, I could feel the loss closing in. But part of me refuses to stay broken and I can't deny my deep-rooted impulse to heal things up. I found that taking images of objects that are personal to me and then obscuring and abstracting them has helped me manage subconscious trauma, so it isn't so heavy."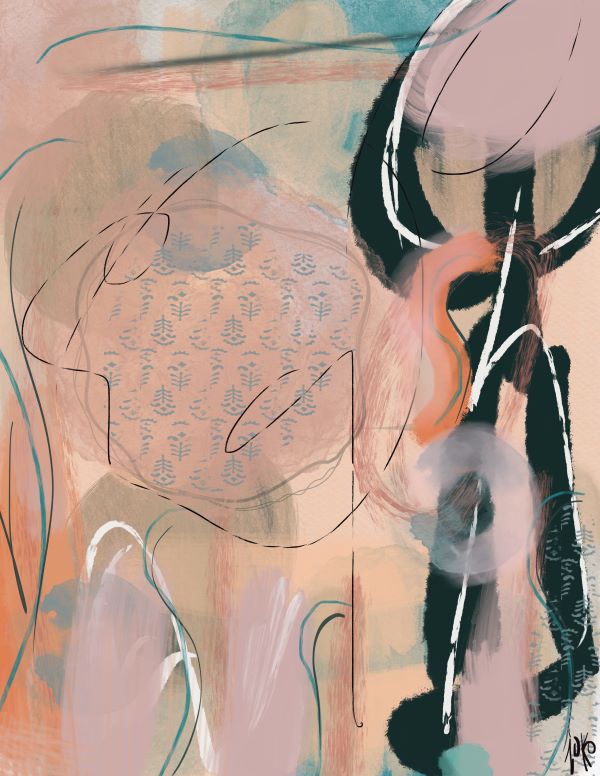 Juko's new art collection and studio opening will be featured as part of the annual self-guided 2023 Open Studios Art Tour produced by Arts Council Santa Cruz County. The goal is to shine a light on the vast variety and talent of visual artists in our community. Now in its 37th year, Open Studios is one of Santa Cruz County's most anticipated art happenings with more than 300 artists opening their creative spaces to the public in October.
Her colorful paintings are created organically through a process that she describes as "evocative and risky." She takes everyday items, including personal debris from the CZU firestorm, and photographs them. Then she digitally manipulates the images using her intuition and creative sense, eventually printing them out on canvas and adding even more layers and colors to fully obscure any hint of the original image.
"These works are a conversation between traditional and technological media, accomplished by moving shapes, images, and colors back and forth between physical and digital canvases," she explains on her website.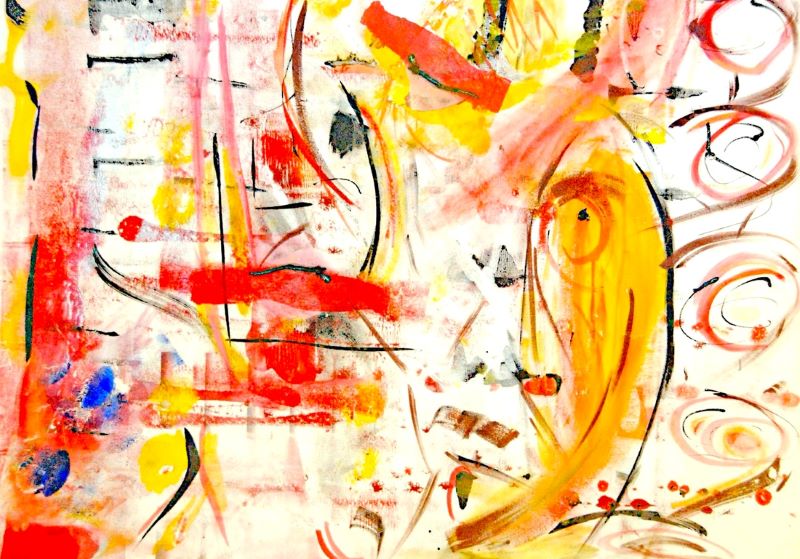 Juko's process of abstraction has not only helped with her own personal trauma, but also produces surprisingly beautiful, hope-filled, and inspiring paintings. During Open Studios, she will display her collection for viewing and sale, while also working to create a new piece during the event to give visitors a behind-the-scenes glimpse into her process.
"A painting may begin on plywood, iPad, or paper; I follow each dialogue to its conclusion, documenting it as it evolves. ​The technique combines layers of acrylic paint, watercolor, ink, pastels, wild-crafted pigments, and other sources of color with digitized images, textiles, and deeply personal abstracted content," said Holiday.
This isn't the first time she has used the art of creation as therapy to sort through challenging events. During last winter's epic rainfall, she wrote, produced, and recorded a playful song titled River Rise: SLV 2023 Traffic Mix under the pseudonym Tuesday Flowz — which became a bit of an anthem for the struggles we all faced last January. If you haven't heard it, head over to SoundCloud.com and search for Tuesday Flowz – it's worth it!. In her typically community-minded fashion, she wrote the lyrics to lift spirits and entertain her friends who were stuck in storm-related traffic, but it also served as a way for her to make sense of last winter's deluge.
Dr. Holiday's studio is located at Ease Mountain Yoga, 9573 Highway 9, in Ben Lomond, and will be open from 10 am to 5 pm, Saturday and Sunday, October 21 and 22. The event is free and there is no cost to visit any studio. The Open Studios Artist Guide and downloadable event app are available at santacruzopenstudios.com and at newsstand locations county-wide. You can learn more and preview Juko's artwork at juko.studio.
Blake Holiday lives in Ben Lomond and is a longtime Santa Cruz County resident. Prior to his career as an adventure travel guide and co-founder of Climate Ride, he served as the executive director of First Night Santa Cruz and is a fervent Open Studios supporter. Blake recently met Dr. Juko Holiday (no relation) and was inspired to help get the word out about her fabulous artwork.
Photos contributed by Dr. Juko Holiday
Have something to contribute? The San Lorenzo Valley Post welcomes your Santa Cruz Mountains news, story ideas, photos, and letters. Send us an email.