Light on Water: Veteran Firefighter Shanna Kuempel Celebrates Fine Art Exhibit
By Julie Horner
Artist Shanna Kuempel loves to play with color and luminescence in her landscapes. "My career as a firefighter, I'm drawn to light on water," she said. The flush of a Santa Cruz sunrise; the fiery sky, pure oranges and blues….color and smoke. Opalescent, unobstructed views of the ocean at Pleasure Point. The way the kelp wraps around a pier in Capitola, the deep rich colors, greens and browns. Or the minus tide in late afternoon with the last of the sun glinting on the edge of exposed tidepools washed with foam. Rich hues reflected on a rainy sidewalk. She's been told that she has "that moment in time thing," able to grasp a split-second view of something that isn't going to last. "The ocean has so many moods, so many options," Shanna said. "You cannot get tired of trying to capture the amazing depth."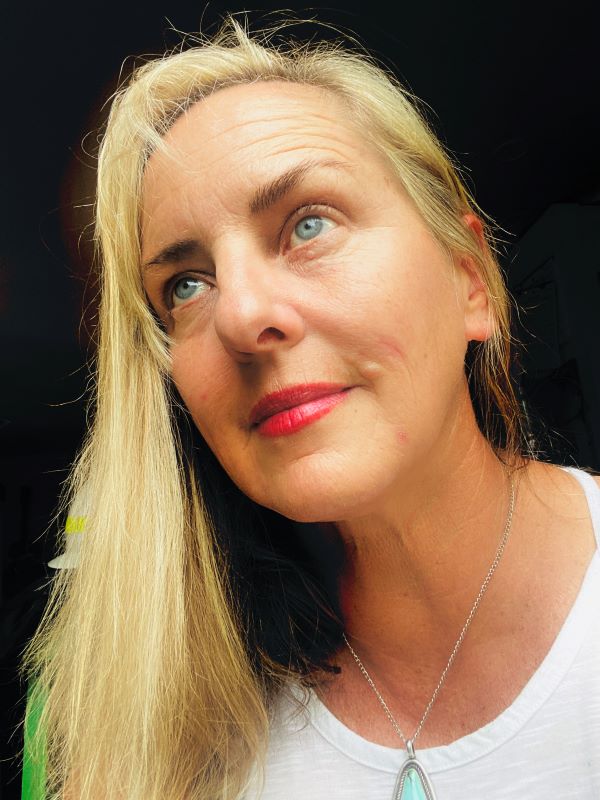 Shanna hosts an exhibition of her acrylics on canvas in the Vanguard Realtors building at 1142 Soquel Avenue in Santa Cruz. The show opens on August 11, 2023, and the pieces are on display through August and September.
Painting with Your Own Voice
Most of Shanna's paintings start on a small scale on an easel on location, a technique known as "plein air," a French term for painting directly from life outdoors within the landscape itself. She'll often snap a photo in case she doesn't have time to finish. A lot of it, she said, is the tides. "I've been run off the beach with my easel before." Being prepared for incoming currents — and fog — is part of the experience. Once in the studio, the paintings are translated to the larger canvas with sweeping brush strokes. "My paintings are very realistic, I paint what I see, my view of color and light."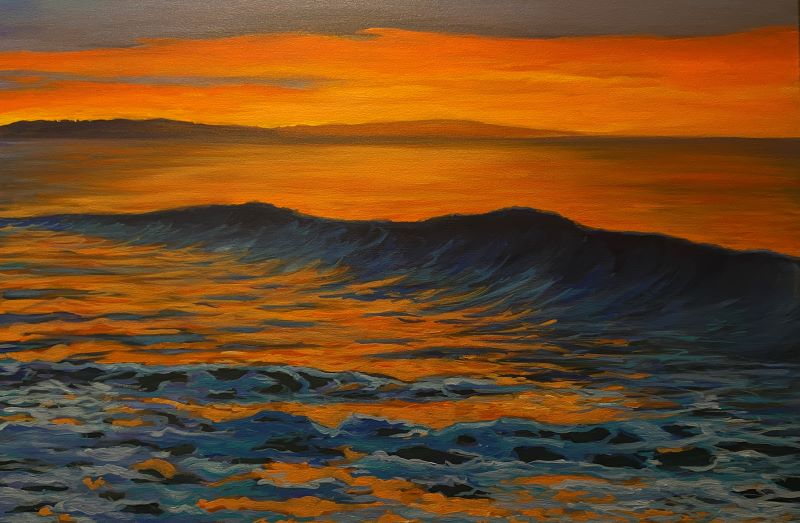 With a Bachelor of Arts degree in painting from San Francisco State with special studies in printmaking and photography, Shanna shies away from repetitious concepts, always striving for something a little different. She hosts "sip and paint" events at Maker Nights at Capitola Wine Bar and she teaches in small group settings around the county. Bringing positive energy and constructive reassurance, she motivates each student to paint with their own voice, to achieve a unique image at the end of a session. "Everyone creating a carbon copy is not where the learning happens," she said. "It happens when you push your colors, mixing, and texture."
Ashes and Courage
The Kuempels lost the family home on Summit Drive in Bonny Doon in the CZU Fire. "My mom bought that place in 1967," Shanna recalled. A Battalion Chief with Santa Clara County Fire Protection District at the time and a 30-year veteran of the fire service, Shanna said, "When the fire started, we were on a strike team in LA." When news came that her childhood home was gone, she was released from that incident for being "too emotional." So she came back up to join those who had stayed behind to fight the fire in the Santa Cruz Mountains. "They were planning to do a burnout operation on all of Smith Grade," she said, "which would have taken occupied homes; people who had either not evacuated yet or had chosen not to leave. We wondered, why are they doing this at this point? The decisions being made weren't practical decisions. We had a discussion with Cal Fire about it, and we got in trouble for it."
They stayed for days taking 12-hour shifts protecting a 300-acre ranch with tractors, rakes, and makeshift tools. Even though she was off duty and there were other Santa Clara County firefighters behind Cal Fire lines, Shanna was demoted for her actions. Still she insists, "They weren't protecting houses, so people went back. I think every house that was saved up there was probably saved by a civilian."
Shanna arbitrated her demotion and was eventually reinstated to her original role. "So many things good and bad have prompted me toward my art," she said. "I took on the State of California. It was a David and Goliath situation. If they hadn't come after me, I probably would have retired to help my mom rebuild. But I'm not going to let this happen to me. It's not ethical. It's the difference between right and wrong. We have an oath to protect life and property, and it happened on that mountain. It was my purpose in life at that moment, that stoicism."
Now eligible to retire, she can focus on her art and the rebuild. "We're waiting on the soils report, fast-tracking the next steps."
Follow Shanna Kuempel Fine Art: shannakuempel.com
Julie Horner writes about art, music, and culture in the Santa Cruz Mountains. Reach out to Julie at leap2three@gmail.com.
Featured image: Dawn Patrol acrylic on canvas by Shanna Kuempel
(Photos contributed by Shanna Kuempel)