Highlands Park Senior and Community Center: The Heart of the Valley
By Julie Horner
The Highlands Park Senior Center has served as a hub for San Lorenzo Valley residents for more than 40 years. It was built for and dedicated to the nonprofit Senior Citizens Organization of San Lorenzo Valley in 1978 with the intent that the community would have the building in perpetuity. Tucked unassumingly among the maples, oaks, and willows bordering the San Lorenzo River in Ben Lomond, the 6,000-square-foot facility welcomes individuals of all ages to participate in educational and recreational opportunities from an expanding list of options. The venue contains a full kitchen, and multi-use rooms are available for individuals and groups to rent; the Auditorium is available for dance and exercise groups or can be used for seated gatherings. 
The building is nestled in the center of Highlands Park, a 26-acre Santa Cruz County recreational destination bordered by athletic fields, tennis courts, a skate park, playground, a gracious 1930s-era home with private lawn that is popular for weddings, and a nature trail that wends gently through riparian habitat to the river. The facility is also an evacuation support site and is an emergency response and recovery agency access point.
Connecting the San Lorenzo Valley midway between Felton and Boulder Creek on Highway 9, Highlands Park Community Center Board of Directors Secretary Ann Bennett Young calls the location "the heart of the valley."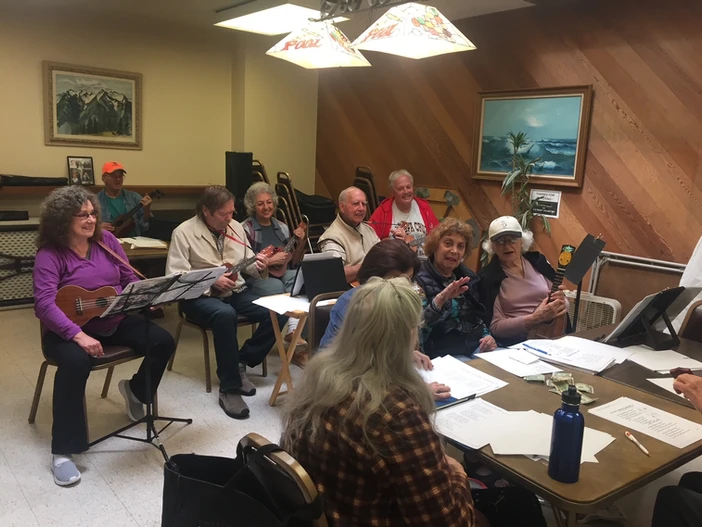 A Community in Need
Bennett Young came to the facility to help with the Red Cross Blood Drive and found a community in need. "I was always frustrated that there was no center to this place. How can we have a community with no congregation place?" She joined the Board a year and a half ago and hit the ground running to help transform the Center into a gathering place for everybody, not just for seniors. The recent name change reflects this new vision: Highlands Park Senior & Community Center.
Bennett Young and Board Vice President Coco Raner-Walter and their team are actively creating a full-service community resource and recreation headquarters. "You don't have to go down to Santa Cruz to get what you need," Bennett Young said. "Anything you need there we're going to bring here."
The venue currently serves as a vaccination clinic, a vote-by-mail polling drop, a cooling center, and as a location for meetings in collaboration with valley organizations of all kinds. The venue is home to the Valley Women's Club SLV Caregiver Support Group, which meets on the first Thursday of every month. Community Bridges Meals on Wheels for Santa Cruz County maintains a daily presence offering home delivery and dine-in options from 11:00 am to 1:00 pm. The Grey Bears Healthy Food Program pickup site is in full swing at 9:00 am on Fridays. The Project SCOUT program from the Seniors Council of Santa Cruz and San Benito Counties is available by appointment to help anyone with tax preparation; and the Santa Cruz County Health Insurance Counseling & Advocacy Program (HICAP) offers information and counseling about Medicare and related health insurance topics. CalFresh Program services are available by appointment on certain days. And the list is growing.
Teachers and groups that lead activities or provide services can register to use the facility whether you're a non-profit or a for-profit. "We are here for the community," Bennett Young said, and she points out that the park setting makes outdoor classes especially inviting. Life drawing beneath the oaks. Or a cooking class. "We want people to come with their own ideas."
The Center at Highlands Park is open and operating as usual during the Highway 9 slide repair. Access from downtown Ben Lomond.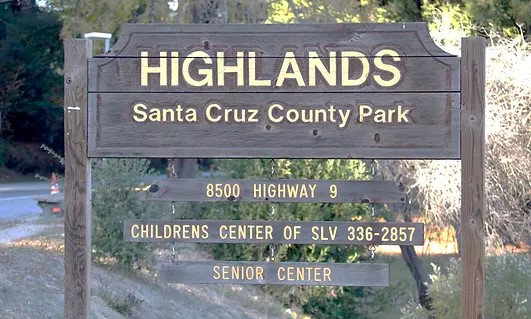 Upcoming Event
Santa Cruz Mountain Health Center is holding a health fair at the Highlands Park Senior and Community Center on Saturday, February 25 from 9:00 am to 4:00 pm. This free walk-in clinic welcomes adults and children regardless of economic status. Highlands Park Community Center at 8500 Highway 9, Ben Lomond is open and operating as usual during the Highway 9 slide repair. Access from downtown Ben Lomond. (831) 336-8900 highlandsparkseniorcenter.org
Highlands Park Senior & Community Center
8500 Highway 9, Ben Lomond, CA 95005. (831) 336-8900
seniorcenterslv@cruzio.com | highlandsparkseniorcenter.org
Julie Horner writes about art, music, and culture in the Santa Cruz Mountains. Reach out to Julie at leap2three@gmail.com.
Featured photo by Julie Horner:
Highlands Park Senior & Community Center board members pictured left to right – Diana Sue Miller, Coco Rainer-Walter, Ann Bennett Young, Susan McKenney. The team is seeking feedback on how to broaden the reach of the center to community members of all ages.