Chanterelles with Roasted Garlic & Fig
By Alison Steele
Barter is big amongst the gardeners, foragers, beekeepers, artisans, and musicians here. We've already embraced the fact that we need each other, especially in the wintertime when pockets of sunlight are few and far between. In order to vibrate on a higher level and keep our hives warm we must rely on winter bearing fruit trees like feijoas, citrus, olives, along with greens, beets, carrots, and fresh herbs. A basketful of fallen feijoas or frost covered fuyu persimmons can easily be traded for a fresh loaf of sourdough bread leavened by the wild yeasts of the Santa Cruz Mountains. A jar of honey is currency for a mixed bag of sweet, tart heirloom apples straight from the cider trees. Syrups, garden teas, and tinctures for photo captures of rebuilding and fundraising amongst the burn scar living.
We don't trade because we have to. These little treasures seem to be truly and freely given. Local glass blowers Cristy Aloysi and Scot Graham are one of those families that have an endless amount of artistic talent, grass green thumbs, and an uncanny ability for finding the first of the edible winter fungi. Bartering with them is always very satisfying, serendipitous, and timely, although they are truly just sharing all of these delights with no expectation of anything in return. It's fun to then think of something I can share with them! Dreams of chanterelles have been dancing through my head since that second saturating rain, so when a bag of dusted and trimmed chanterelles walked through our gate and up the brick walkway, my heart smiled.
Mushroom season is finally here with edibles and pigment dyers alike dotting the moist clean mountain earth. Phaelous Swenitzii are popping up in all their chocolate and lemon colored glory along with stark white Lion's Mane, Queen Boletes, and the coveted Chanterelle. It's only fitting to share the way Cristy taught me to prepare these the first season I'd ever had the pleasure of experiencing them…simply, with garlic, a little butter, and a splash of white wine. Mary Andersen, publisher and fellow writer here at the Post, concurs, spooning a dab of Apricot Jam over hers.
Figs meet chanterelles in passing alongside buttery winter squash, local wine, and the last of the garlic on this plate of unforgettables, which comes together effortlessly in the presence of warm hearts and cherished friendships.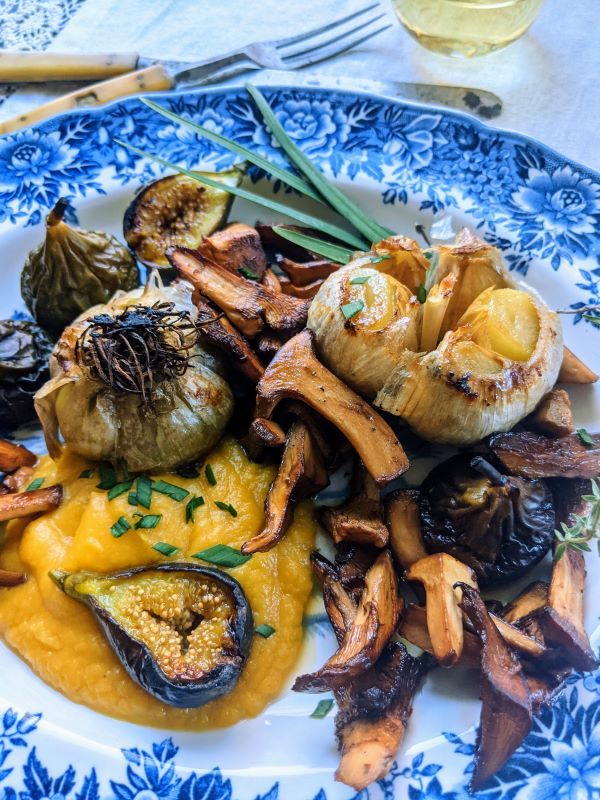 Chanterelles with Roasted Garlic & Fig
Two handfuls Chanterelles (Cantharellus cibarius)
Stick of grass-fed butter
Splash of white wine, ¼ c
A couple heads of garlic for roasting
Butternut or kombucha squash
Fresh sprigs of thyme
Handful of fresh figs
½ c chicken stock
Garlic chives, garnish
Sea salt
Preheat oven to 350°F. Slice figs in half and set aside. Slice off the tips of the garlic bulb and place them in an iron skillet leaving room for the figs. Drizzle with olive oil and slide onto the top rack to roast. Cut squash in half and rub with oil. No need to deseed. Turn seed side down over thyme sprigs on a sheet pan and slide in under the garlic. Mince the garlic tips and set aside.
After about 15 minutes toss figs into the garlic skillet and shake gently to coat the figs with oil. You may need to add another little drizzle of oil. Return to the oven. Bake until the garlic is soft and figs have some good color, about 5 minutes. Pull the garlic and fig skillet out to cool while making the squash puree. After another 10 minutes or so poke the squash to see if it's done. Once soft, scoop the seeds from the squash and save for the chickens. Spoon the flesh out and into a high-speed blender. Add a hunk of butter, a roasted garlic clove, and just enough stock (or miso) to make a thick puree. Salt to taste.
Gently brush the dirt off the fresh mushrooms and slice them lengthwise into quarters to preserve their elegant shape. Toss into a dry cast iron skillet over medium high heat. Stir frequently. Once most of the moisture has evaporated, a pat of butter and a splash of white wine along with the minced garlic. Cook until the mushrooms sear on the iron but before the garlic turns brown. It's important to cook the moisture off before adding the fat and acid to preserve the texture. Sprinkle with sea salt and turn off the burner.
Time to pull out a special plate or slab of wood and arrange this foraged feast for sharing. Garnish with garlic chives and serve with a sourdough loaf (given out of good friendship). Toast with locally crafted wine (traded for song). Here's to a beautiful season of sharing and giving!
A native of Virginia, Alison Steele lives with her husband, two children, and cat in Boulder Creek where she raises quail, chickens, fruit trees, vegetables, and herbs. Alison plays banjo and sings in Sugar by the Pound.
Photos by Alison Steele
Featured photo at top: Winter chanterelles, figs, and garlic from Alison's Boulder Creek garden