The Ring of Fire | October Astrology
By Catie Cadge, PhD
Greetings, stargazers! At the start of October, we have a nice opposition of Mercury, now moving forward, strong in critical and discerning Virgo, and Neptune in Pisces October 2nd, followed by Mercury trine (120° aspect) Pluto in late Capricorn, October 3rd. The first week is a great time to be practical about what we have been dreaming and imagining in our lives. Move ahead with plans and a strategy to change in order to make things solid and real.
Every year, the Sun in Libra brings a sense of balance in relationships, of calming down and learning to negotiate with those we love. The south node of the Moon is in Libra and the north node in Aries now; it is particularly important to stand our ground and be true to our own needs, as well as those of others. Mars in Libra conjuncts the south node of the Moon and, on October 8th, squares Pluto as Venus enters Virgo, opposing Saturn in Pisces. Don't be a karmic doormat! Venus in Virgo wants us to be the ideal servant in love and master of our craft, but with Mars and Pluto in the picture, be careful of what shadow work inside influences how you react in relationship or how your partner may respond. We are all learning to be Aries warriors and our Earth needs warriors now!
Pluto has been moving retrograde since May 1st. On October 10th, the planet moves direct at 27°54' Capricorn. Pluto, Lord of the Underworld, is about deep inner wounds and personal transformation. For those readers with planetary placements or key degrees in your natal chart at late degrees of cardinal signs, Aries, Cancer, Libra, or Capricorn, you may be feeling some old parts of you are ready to be released or morphed into something new. Challenges can be a stepping stone to allow your phoenix to rise from the ashes. Look deep inside and reflect upon what keeps you from wiping the slate clean and growing into someone new. Mars enters Scorpio October 11th, the sign Pluto and Mars both rule. There may be some power struggles and jealousy trips later in the month. Again, look at what psychological garbage is causing any troubles, any games.
On October 14th, we have an annular "ring of fire" solar eclipse, 21°08' Libra, 10:55 am Pacific time. Eclipses can usher in change, sometimes dramatic, six months before or after, in the lives of those whose chart is directly affected. Look to see where 18° to 24° Libra fall in your own natal chart. Those who have a birthday around the date of the eclipse may be ready to face some big transitions. Some of the month's themes, such as learning to find peace and balance with others in a way that honors our true selves are emphasized under the New Moon eclipse. We need not be held back by another's resistance to grow.
Scorpio season starts when the Sun enters the watery sign of the scorpion, October 23rd. Each year, on the days before Halloween and then during the festival of El Dia de Los Muertos, we ponder life fleeting by and the mysteries of death and dying. The sign Scorpio craves intensity of connection and the passions that make us thrive in spite of — or because – we will perish! Forever grateful to be dead, I say we should embrace life in its fullest!
The month ends with a partial lunar eclipse and Full Moon, 5°09' Taurus, October 28th at 1:24 pm. The Moon loosely conjuncts Jupiter at 11°14' Taurus and opposes Sun, Mercury, and Mars in Scorpio. Again, we may see some power struggles on the table, but it is a good time to bring out the truth. Wherever the early degrees of Taurus lie in your own chart, here your values may be shifting and it's ok to find creature comforts that bring you a sense of pleasure and peace. A good Full Moon for deep, honest conversation sprinkled with some music and sensual pleasure. "Would you hear my voice come through the music? Would you hold it near as it were your own?" Let your inner animal feel the passion!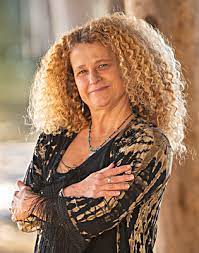 Catie Cadge is Dean of the Forrest Center for Evolutionary Astrology. Classes and more information: forrestastrology.center. Read about Catie and her work at caraevolutionaryastrology.com.
Image by Catie Cadge