Zayante Author Offers Tasty Relationship Tips
May I Take Your Order, Please: Communicating with the Universe and Finding Your Soulmate
By Julie Horner
Jo Gliddon knows her way around the online dating buffet. In her new book May I Take Your Order, Please: Communicating with the Universe and Finding Your Soulmate, Gliddon shares through personal experience — and with a generous dollop of humor — her insight on the not always graceful art of connecting with compatible singles on the Internet. "Everybody thinks they know what they're looking for," Gliddon said. "But they accept what's put before them even if it's not what they're looking for. That's the problem. We react out of desperation thinking there's nobody out there for us."
Staring down her mid-fifties in 2010, Gliddon found herself back on the dating scene. After spending most of a decade sampling the confounding mismatches on the relationship sites — and learning a lot about herself while at it — she finally met her perfect mate. She dated Gary long-distance for a while then retired from a middle school teaching career in the Central Valley and moved to Zayante in 2021, lifemates entwined.
"Don't settle," she said. "In our 30s the clock is ticking. Don't settle. As women in our 50s and 60s, we're successful and we're independent. Keep your standards high." The truth is you don't have to sacrifice your amazing life to be in a relationship. There's a shared existence possible. But first you must go on the coffee dates, lunch dates, and dinner dates.
What you want…and why you're not getting it
Smart and filled with epiphanies and hilarious anecdotes, Gliddon takes the reader lightly from one dating "main course" to the next, as if each rendezvous is a choice on a menu. Gliddon uses food as metaphor to introduce her theory that you must ask for what you want, not just for what you don't. Let's say you don't want to date a smoker. The waiter then presents a smorgasbord of people who don't smoke, but, unsatisfied, you send your order back to the kitchen. Gliddon said, "It's like an altar, a manifestation. As you sample the menu, write down the lessons learned and fine tune what it is you really want."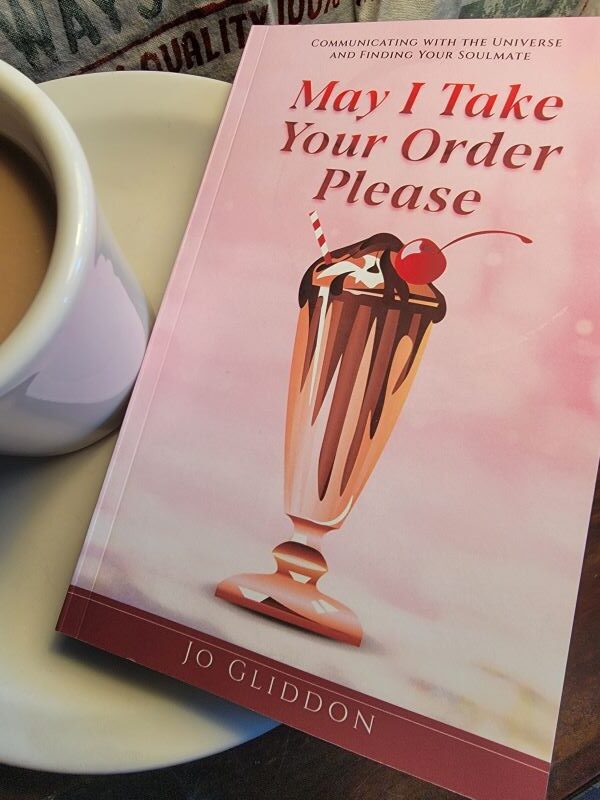 All the good ones are taken, you say. Maybe you've given up. Maybe you think the Universe doesn't have the right person for you. "The Infinite has your partner," Gliddon insists, "you just haven't given the Universe your recipe." Without loading on heaps of relationship theory, Gliddon keeps to certain key guidelines. "I don't need to know how electricity works, I just need to know that it does," she said. "That's what this book is about. You don't have to know how the Universe works, you just need to know that it does."
At 75 pages it's a delightfully easy read, and she includes a Cliff's Notes section where you can revisit important points: "Make a commitment to search safely. Take breaks when needed (it's not a race). Keep learning about yourself. Communicate your desires through revisions. Be patient. Don't settle. Believe you're somebody's milkshake. Keep a healthy sense of humor. Always ask for the highest good and benefit of all."
Whether you meet fresh faces at the local market or whether you're seeking new prospects online, Gliddon encourages the reader not to give up. While you're looking for that special someone, she notes, "It's a blessing to spend time with yourself. There's solitude, that's a beautiful part of life, that's where you do all the reflection. That's the good stuff. Unless you know who you are, you can't know what you want."
May I Take Your Order, Please: Communicating with the Universe and Finding Your Soulmate is available on Amazon and at Mountain Spirit in Felton. 
Julie Horner writes about art, music, and culture in the Santa Cruz Mountains. Reach out to Julie at leap2three@gmail.com.
***********************************
Featured photo of Jo Gliddon by Julie Horner