Local Musician and Artist Bluzar Blue Releases Retrospective
By Julie Horner
Longtime Santa Cruz Mountains local Bluzar Blue has released a compilation of songs, illustrations, quips, and observations in a book entitled "Bluzar Blue, In Black and White and In Color." The book showcases 75 colored plates of his favorite artistic creations, finished and unfinished, since 1969. "I was having a hard time getting my artwork into galleries," he said. "I just made 100 copies of the book so friends and those who are curious could look at my artwork." He sold his Martin guitar to help defray printing costs but said, "It's not about money, it's all about art." The book comes signed and includes his CD "Invisiphobia," which features 11 original songs.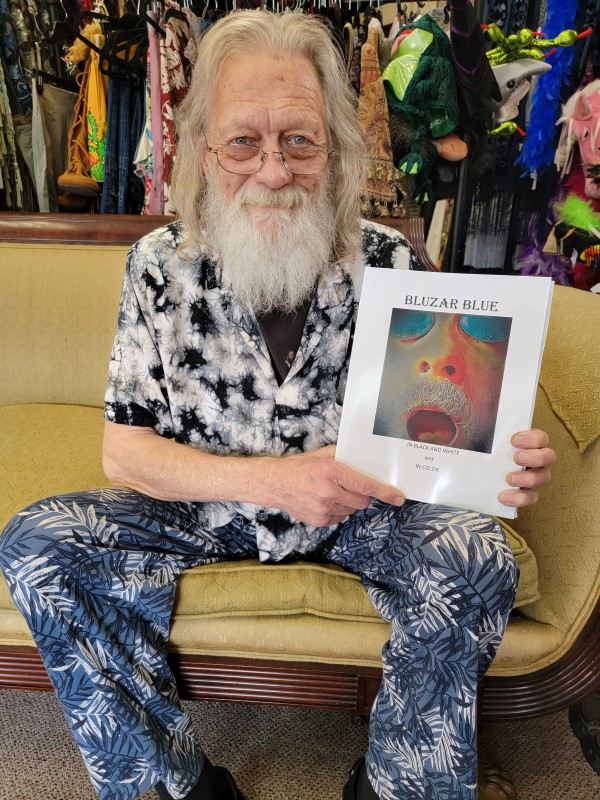 Bluzar's art is created in the spirit of experimentation. Many of his works begin as photographs and photographic slides, which he manipulates with applied texture, altered color, and then heat to conjure the abstract. With the images digitized, he sends them over to Steve and Mary Lanctot Art Services to mount and frame. In his book he gives the images whimsical titles, pairing them with poems, lyrics to songs, and wry anecdotes.
"The granddaughter of Chief Lopez gave me my name," he said. "When I first moved to Klamath in 1969 from LA, our nearest neighbor was four miles away at the reservation. She gave me a blessing, said I was blue but not lonesome." A bandmate later came up with the "zar" part. "He used to add 'zar' to the end of everybody's name." So Blue became Bluzar.
Bluzar has played guitar and bass in bluegrass outfits and country rock and top-40 bands from Crescent City down to San Jose where he co-owned Invisible Sounds Studio in Campbell with Tony "Anthony" Furlong with whom he wrote songs for over 20 years. The studio evolved into Invisiphobia Productions; the album that comes with the book is a tribute to the musical collaboration with his friend.
Blue fondly retells the story of his pilgrimage to the Santa Cruz Mountains in the mid-80s. Needing a place to crash, he found a way in through the back of Park Hall in Ben Lomond and lived in the attic there for a few months "without anybody knowing," he said. By '86 he had officially joined Mountain Community Theater. Blue played bass for Ben Laney's Thunderheart alongside fellow valley local Kevin Hamm, rocked in Vintage Crusher as a side gig, and in '96 or so started the "Sound and Vision" open mic at Java Bob's in Ben Lomond where Santa Cruz Mountains Art Center is now. "Dan D came in with TVs and video cameras. I gave people 15 minutes to do whatever they wanted, a true open mic." On Thursdays anyone could join the open band. They called it "Chef of the Future," a title borrowed from The Honeymooners television show. That's when he met three-time world champion musical saw player Thomas Spearance. "We were on TV as a full 7-piece group. Somewhere at the end of Lompico Road if anybody knows of Dan D Wilson, there's two years of videos from all the Sound and Vision open mics…all the recordings from the old days."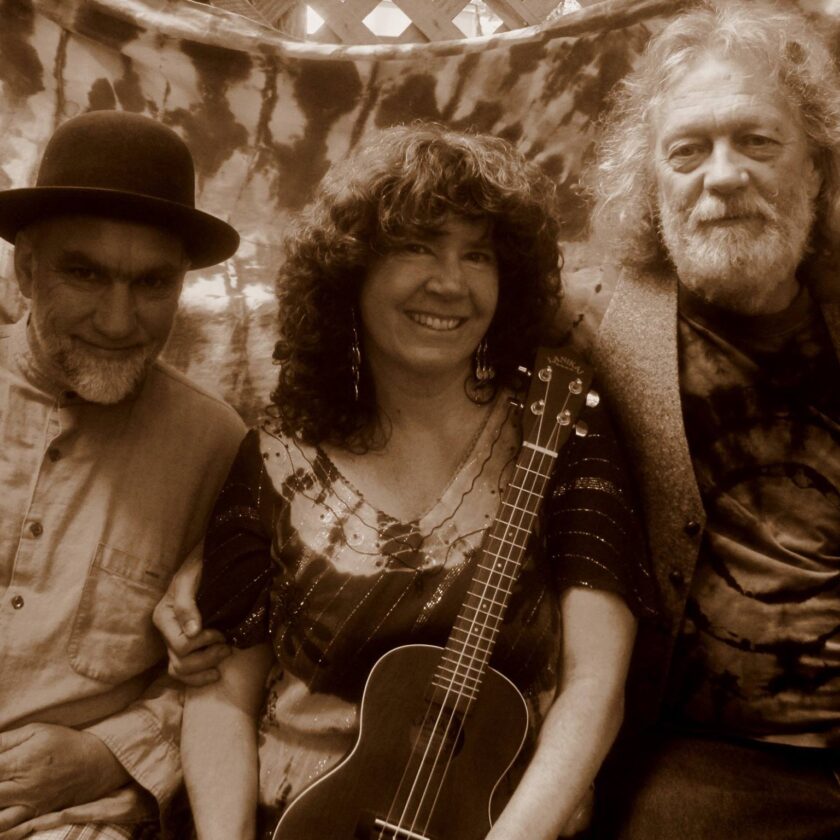 Bluzar also met his future wife Cathy Simmons at the open mic and wrote a song for her, "Catrina Cafe." Cathy picked up ukulele, and along with saw player Spearance, joined Blue to form the band Two Bar Three based in Boulder Creek. They have 60 videos on YouTube, many of which were recorded for "Look Mom I'm on TV" on Community Television of Santa Cruz County (CTV). The band returns in 2022 to play the International Musical Saw Festival at Roaring Camp Sunday, August 14. roaringcamp.com/events
Bluzar Blue's book is loaded with gorgeous images and relatable insights. Available at Art Services by Steve & Mary Lanctot in Felton, Boulder Creek Outfitters in Boulder Creek, and Bookshop Santa Cruz. Or Bluzar will deliver in the mountains. (831) 331-5149
YouTube: Bluzar/Invisiblesound Productions
Bluzar Blue and his book "In Black and White and In Color"
Photo by Julie Horner