Henflings: Still a Community Hub
By Michele Murphy
When rumors became reality and the historic Henflings Tavern was to be closed and shuttered back in 2018, resident bartender Erin (then Zimmerman) Miller, and her husband, Josh, seized the opportunity to try their hands at running the iconic and infamous live music venue.
Josh and Erin heard that the previous owner wasn't planning to renew his lease with the Ben Lomond Fire Department, which owns the property, and realized this beloved local hangout might cease to be the heart of town in the SLV, so they worked up a business plan. At the first board meeting, about 20 patrons showed up to voice their support for the couple. They got the green light to move ahead with. Little did they know what a roller coaster ride they were about to embark on.  
From the start, there were obstacles that would send most first-time business owners running in the direction of safety and security, but this was more than a business opportunity, it was a dream and a passion they had fantasized about for years. Josh is a chemist with a mind for business and Erin is a woman of the people. Together they overcame months of red tape in acquiring the business, the Herculean task of securing a liquor license, and the expensive and tedious process of remodeling the building while preserving its original charm and patina. There were holes in the floor, clogged beer lines, the kitchen needed degreasing and updating, and of course there were the famous dollar bills all over the ceiling…thousands of them. Those had to come down as a provision of the new lease. There were 3,400 dollar bills on that ceiling and 14,000 staples that had to be removed by hand. The most historic and notable bills are framed and can still be admired. The others were added to the sizable budget needed to repair this local libation station, which now features a huge outdoor covered deck with space heaters, a pool table, and plenty of seating. The bar, woodwork, and floors have been refinished, and that beam that was in the middle of your view of the band is gone.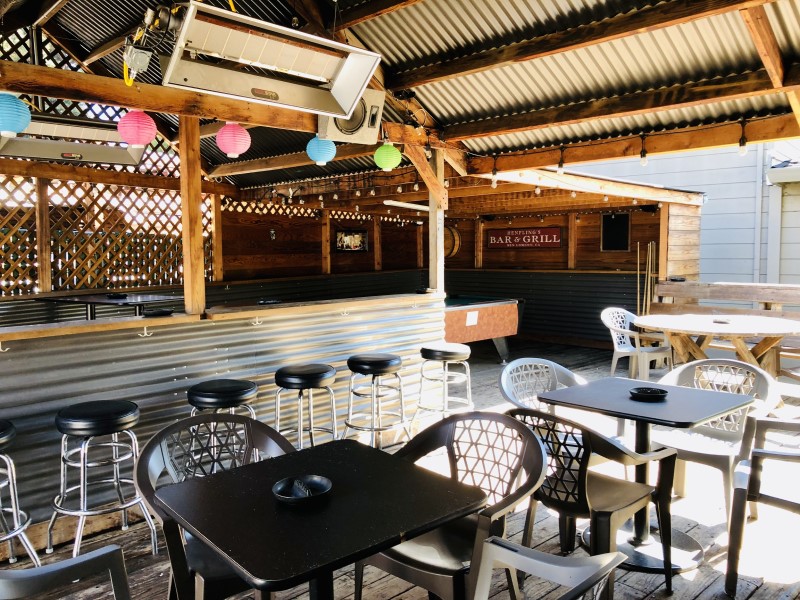 The Millers are interested in the history of Henflings and were careful to not discard any part of it. The old photos that hung on the walls are tucked in a book behind the bar and a few still adorn the walls, including one of Tavern founder, Frank Henfling.
Just as they were getting rolling in early 2020, the global pandemic and complete shutdowns halted their progress. With no outdoor dining, they scrambled to assemble a kitchen staff to do takeout orders, and then the CZU fires broke out and threatened the entire valley. Evacuations were ordered and Erin and Josh had to walk away from their home and business with a toddler and a new baby in tow and hope that the firefighters would save their properties. Thankfully, they were spared. 
"It's been a bumpy ride to say the least," said Josh, "but we want people to know we are making it work, that everyone, without exception, is always welcome, there are no strangers. It's not the dive bar it once was." It still has some of that dive bar appeal but it's clean and inviting, they have good food and plenty of space to enjoy a meal, a conversation, or a night on the dance floor.
As we sat there talking, several regulars came by to chat with Josh. He knows them by name. They congratulate him on his and Erin's recent nuptials and reiterate that it's not just a bar, it's a community gathering place. 
Check out their website and Facebook page for the live music calendar featuring Santa Cruz's best local bands and acts from all over the Bay Area. Bookings are professionally arranged by Rick Ednie of Red Knee Productions.
henflingsbar.com | facebook.com/HenflingsBarNGrill
Michele Murphy is a writer and singer-songwriter who has lived in the Santa Cruz area since 2005 when she migrated West from Buffalo NY to the beautiful San Lorenzo Valley. An avid music lover, she is entrenched in the local music scene both as a performer and a fan, with her finger on the pulse of what is happening with local musical talent and venues in Santa Cruz County.