Tech Backwoods: Eye in the Sky
Boulder Creek Startup Hopes to Develop Drone Fire Management Technology
By Julie Horner
"We are 85% there," said Ember Flash Aerospace co-founder and Boulder Creek resident Lee Kohlman. Kohlman, who holds a PhD in Engineering and is an Aerospace Research Engineer with NASA Ames Research Center in Mountain View said the early stage startup, made up of mostly San Lorenzo Valley locals with expertise in engineering, software development, and aerospace has completed the aero design for their new fire mapping drone that they have dubbed Phoenix. "We need to refine the little details like control surface actuators, checking loads, and mechanical fasteners," Kohlman added. Their stated mission is to modernize the technology used for wildfire prevention and response by creating in-the-field disaster related situational awareness solutions.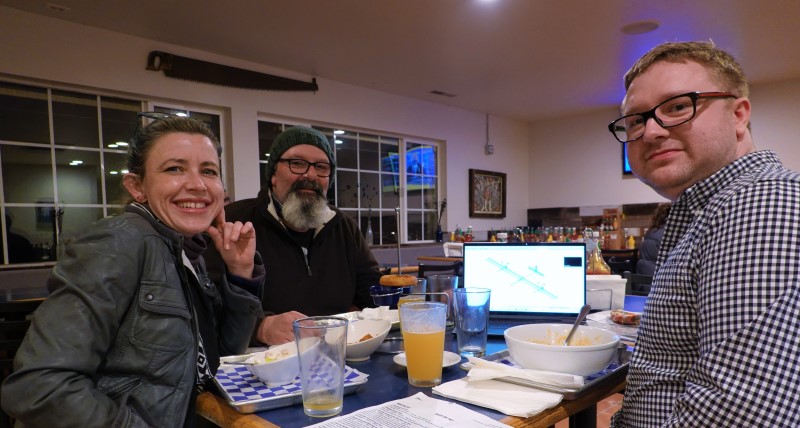 The team confirms they began working on the design of a whisper-quiet long-endurance drone, a fixed-wing, multirotor Unmanned Aerial System (UAS) in August of 2021. Using climate focused artificial intelligence (AI), aerial technology, and a specialized camera, the tool is being designed to triangulate data collected from a number of sources to assist crews on the ground. As planned, Phoenix will employ a thermal imaging detection system to read smoke signatures and active fire and will measure fuel load and scan topography to create 3-D fire mapping in real-time. Whether used during an emergency or for a controlled burn, Kohlman said, "It's all part of predictive modeling to better understand how the fire might spread in real-time and figuring out how people move around on the ground."
Kohlman says that the drone can be programmed into a search pattern that can be used as high altitude surveillance on red flag days when there is no active fire or can be deployed "down fire" during an active incident looking for hot spots. Phoenix, as planned, will be able to monitor regrowth, look for excess fuel on the ground to pinpoint where brush should be cleared and can access remote, heavily burned areas to drop seed to help with restoration efforts.
The Phoenix prototype will be made of aluminum and carbon fiber and will weigh about 22 kilograms (just over 48 pounds). According to design, the wingspan is 24 feet, and each wing can be broken down into segments for repair or storage. Complementary to Zonehaven technology, which uses a network of satellites combined with other data to determine how to move people safely in an emergency, the goal for Phoenix is to stay in the sky 24 hours a day using a solar battery. The team is currently looking for fabrication facilities and someone to do the machining. "We're looking at maker facilities in Santa Cruz. I'll be doing a lot of it on my living room table. My wife will be thrilled. She's in medicine, so is already thinking of how to use drones to transport medicines for emergencies."
Recently accepted into the Tech Futures Group, a program for Northern California small company technology development, Kohlman said, "We're unique in the space. We're being very open about the development." The team has been self-funded and is actively going after grants and reaching out to the community to make sure their model makes sense. "We want this to be customer driven."
Kohlman and his team believe they can make a difference in the way communities fight fire. "There's a lot of tech we can bring to bear that so far has been slow to be adopted," he said. "Fire service is more willing to start looking at this tech, which will have an impact on how we fight fire and how to keep fires smaller."
emberflash.com | FB: @emberflashaero | IG: @emberflash
Photos contributed by Lee Kohlman