Recipes from a Mountain Garden: Wild Blackberry and Beetroot Skillet Cake
By Alison Steele
When February comes to an end, I start dreaming of the garden. The collards, kales, lettuces, and herbs are thriving, but the thought of round plump fruits and vegetables keep me pulling my seedbox down and fingering the envelopes of home-saved seeds of summer last. I start to notice the new spring crops in Wild Roots Market… small beetroots with tops tell me they haven't been stored all winter. They make their way into my basket.
Knowing my son doesn't celebrate the taste of beets, I stand in front of my pantry shelves scanning to see how I can serve them under the radar. The wild blackberry jam from our coastal forage last summer just about jumped off the shelf. (You can use whatever berry or deep red plum jam you put up.) Blackberries and beets…add some dark chocolate. Wait until he experiences the color! Yes, that'll do just fine to nourish our brains and bellies until our beets are up and fruit is hanging on the vine.
1 stick of butter (8 Tbsp)
4 oz. unsweetened chocolate chips
4 small spring beetroots, cooked, peeled, grated (save the greens for dinner!)
¾ c wild blackberry jam from the homestead pantry, put up in the summer
2 fresh eggs
¼ t salt
1 ½ c coconut sugar
1 tsp vanilla extract
1 c flour (GF flour blends work well in this)
Cast iron skillet Sz 8 (10 ½ in from edge to edge) or 9×13 baking pan
Preheat oven to 350 degrees. If using a skillet, pop it in the oven to heat up while making the batter. Gently melt chocolate and butter together in a saucepan on low.  Stir in beets and ¼ cup of jam. In another bowl whisk eggs and salt until frothy. Add coconut sugar and vanilla whisking until fully incorporated. Add the chocolate and beetroot mixture and slowly whisk in the flour until fully incorporated. Slowly melt the rest of the jam, to just before the boil, in the saucepan you used earlier. Grab your hot skillet from the oven and pour the batter in, enjoying the sizzle as you pour. Scrape every last bit into the pan with a spatula. Drizzle the remaining jam over the top and use a knife to swirl in the batter. For decadence, sprinkle with dark chocolate chips and slide it onto the middle rack of your oven. Bake for 20-25 minutes or until a toothpick inserted in the middle comes out clean or with only a few crumbs. This cake is meant to be moist in the middle!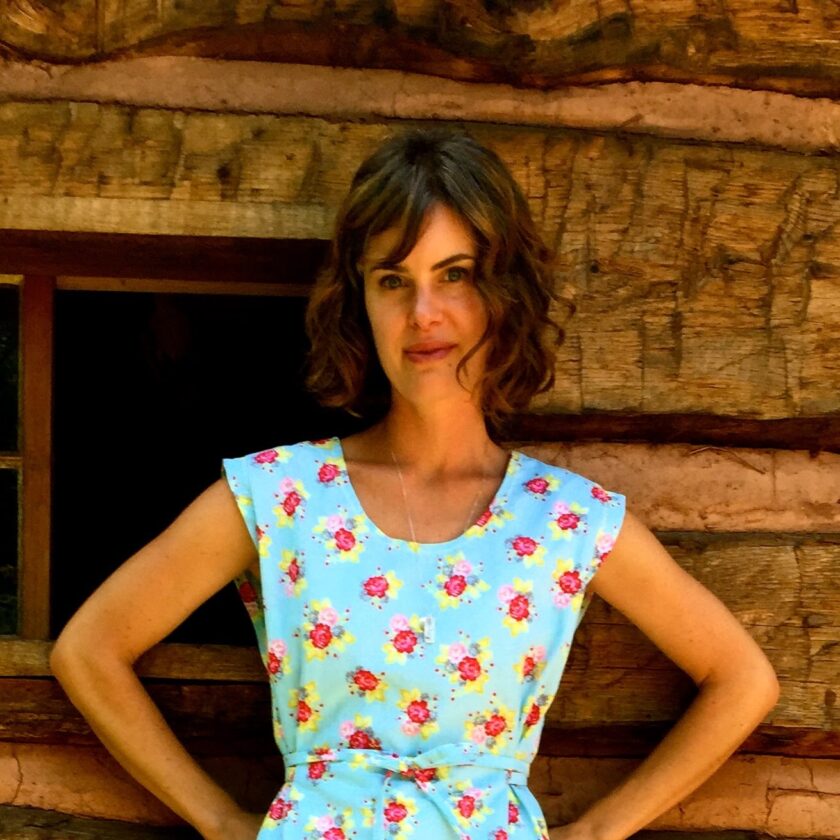 A Virginia transplant from 2003, Alison Steele lives with her husband, two children, and cat in downtown Boulder Creek where she raises quail, chickens, fruit trees, vegetables, and herbs. On the weekends, when COVID doesn't have folks hunkering down, she teaches reskilling workshops in her garden including knitting, natural dyeing, soap making, and other forgotten folk crafts. Alison starts her week by filling her cup, planting seeds, and singing songs with her bandmates from Sugar by the Pound.
Featured Photo: Wild Blackberry and Beetroot Skillet Cake by Alison Steele.