San Lorenzo Valley's Water District
By Mary Andersen
Recent news regarding a potential water district consolidation with Scotts Valley has raised questions and serious concerns for valley residents. In a series of articles, we will take a look at San Lorenzo Valley water sources, water rights and permits, and emergency interconnections, as well as the pros and cons of merger.
Santa Cruz County is not connected to any federal or state water project. This means that the water to support residents county wide must be obtained from our watersheds. Santa Cruz County is not unique in this – Monterey County is not connected to any state or federal water project either. Unlike other areas in the state, this water source limitation is a key factor in growth decisions facing our elected city and county governing bodies.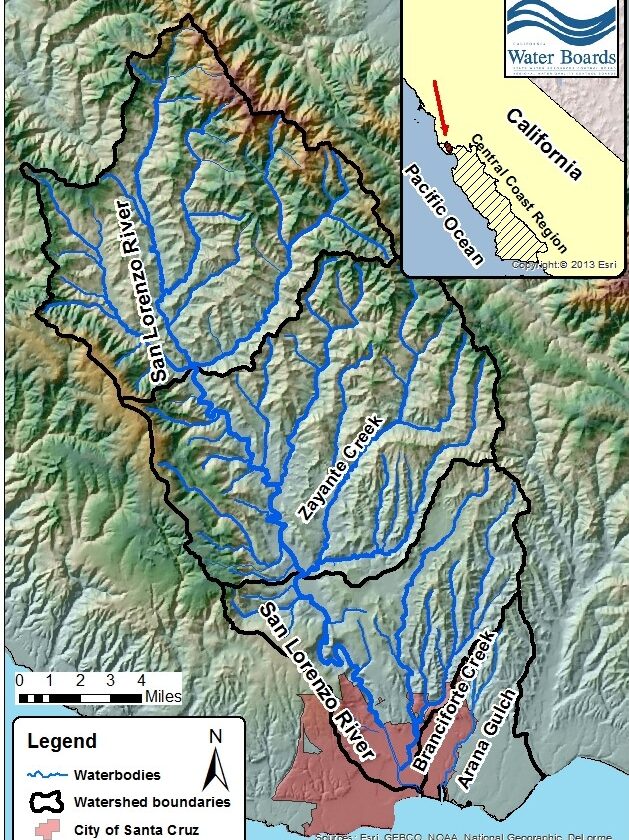 The SLVWD is unique among water districts in Santa Cruz County in that it possesses water rights to a rich and diverse set of water sources, both surface and subsurface (wells). Most other districts in the county use either surface OR subsurface sources but typically not both. And, even more importantly, a number of our water sources are known as "Pre-1914" meaning that they pre-date the earliest California laws governing water rights and so are remarkably free of regulation. This means that our local mountain community, through its elected governing board for the SLVWD, can make decisions about how to use this water in a manner that benefits both humans AND the environment, especially in support of ongoing efforts to restore the ecologically fragile fish population in our watershed.
Taken together, these diverse water sources provide the San Lorenzo Valley with an unparalleled strategic advantage in our ability to manage water distribution. And, while the consolidation proposal from Scotts Valley has focused on cost-savings and other monetary advantages, which may or may not pass muster, Scotts Valley gaining unfettered access to SLVWD water sources may be their unstated strategic reason for the proposal. Time will tell.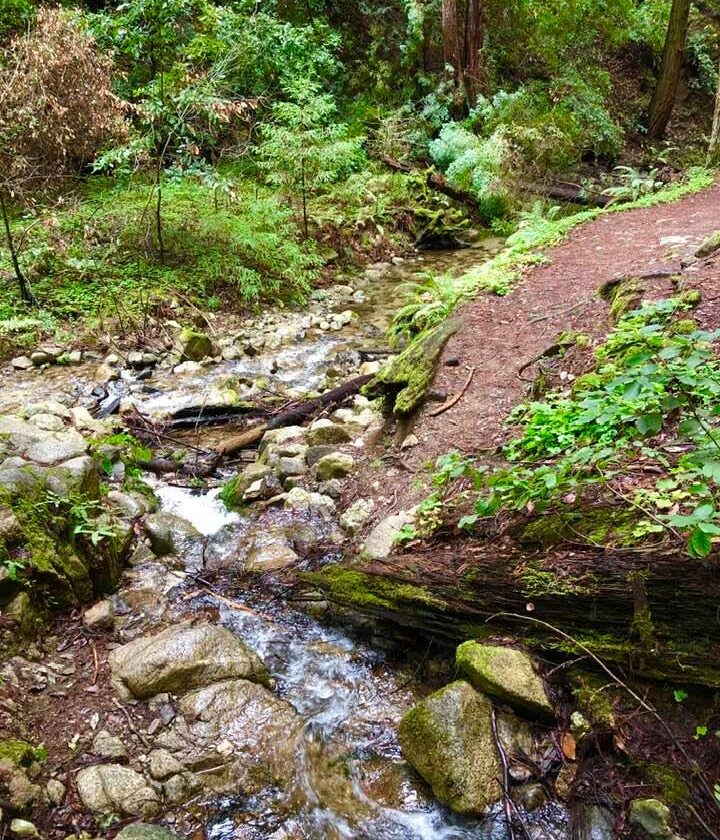 Turning to more specifics about SLVWD water sources requires an understanding of how the SLVWD system is operated. Currently, SLVWD operates two separately permitted water systems:
SLVWD System consisting of Boulder Creek, North Boulder Creek, Brookdale, Ben Lomond, Lompico and Zayante and the Scotts Valley areas of Lockewood Lane, Whispering Pines, Hidden Glen, and Manana Woods
SLVWD Felton System consisting of the Felton, Felton Empire Grade, Felton Grove, San Lorenzo Ave, and El Solyo Heights.
Breaking this down further, the SLVWD System has two operating areas, each served by separate water sources. The Felton System is also its own operating area:
SLVWD System – North operating area (aka "North") which is everything except Scotts Valley
SLVWD System – South operation area (aka "South") which is Scotts Valley
SLVWD System – Felton is its own operating area (aka "Felton")
Each of these three operating areas has its own dedicated sources of water, each with a unique pattern:
SLVWD System – "North" customers obtain their water from both surface sources on Ben Lomond Mountain (Clear Creek, Foreman Creek, Peavine Creek and Sweetwater Creek) as well as subsurface sources (4 wells: Quail Hollow 4A and 5A and Olympia 2 and 3 – in the Sandhills area).
SLVWD System – "South" customers obtain their water entirely from subsurface sources, specifically the Pasatiempo 5A, 7, and 8 wells.
SLVWD System – "Felton" customers obtain their water entirely from surface sources, specifically Fall Creek, Bennett Creek, Bull Creek and Bull Springs.
Because of this unique and diverse pattern, in a typical rainfall year, when combining all three operating areas, SLVWD obtains about 50% of its water production from surface sources and 50% from subsurface sources. This varies by year and is lower in drought conditions.
Unfortunately, due to the CZU fire, SLVWD lost its surface water collection system on Ben Lomond Mountain. Since last August, the entire North system has been mostly served by well water. However, due to emergency work on the part of SLVWD, Foreman Creek has been partially brought back online and, in January 2021, had over 2 million gallons of water production.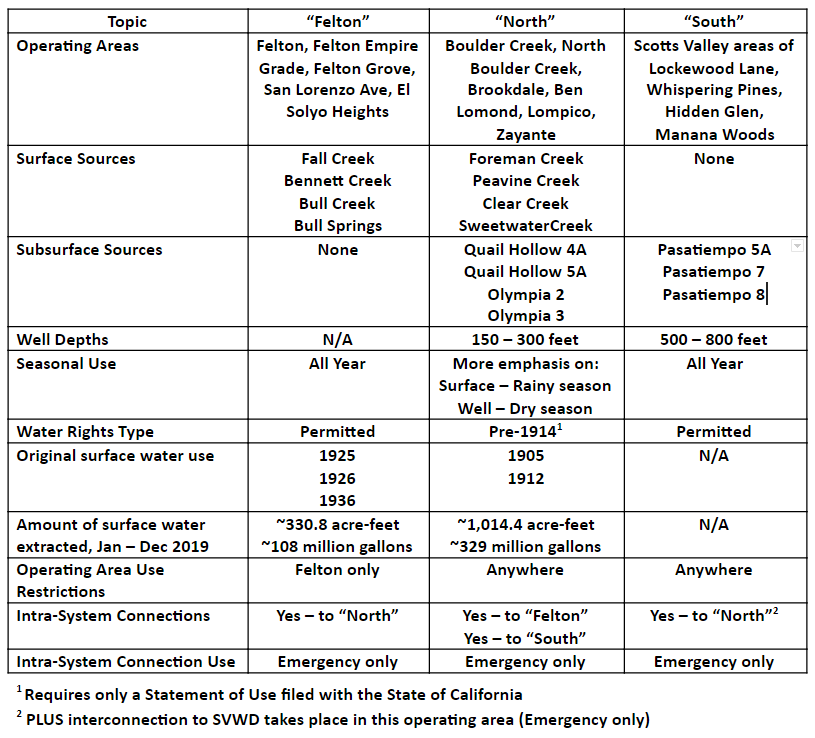 Potential for sharing water between the three operating areas within the San Lorenzo Valley
The North system is interconnected to both the South System (generally, Quail Hollow to Zayante to Graham Hill to Lockewood) and the Felton System (from Brackney to around the main school campus). In these configurations, the water can flow either way. However, at the current time, these interconnections allow for water sharing between the three operating areas during emergencies only.
Potential for sharing water with Scotts Valley
SLVWD also has another emergency-use-only interconnection. It is located near the junction of Lockewood Lane and Mt. Hermon Road and connects the Scotts Valley Water District to SLVWD. This interconnection, which is operated by SVWD, has seen water go both ways during emergencies. We do have a responsibility to help each other in times of need. This exchange can continue to occur whether a consolidation is in place or not.
View the SLVWD Annual Water Quality Report at slvwd-water-quality-report-2019
View SLVWD Agendas and Meeting Minutes at slvwd.com/agendas-and-minutes
Mary Andersen is the co-founder, editor, and photographer for the San Lorenzo Valley Post. She is a social media and marketing consultant and digital media strategist. Email | Facebook | Twitter | Instagram
Feature photo of the San Lorenzo River in Ben Lomond, CA by Mary Andersen