Foraged Wild Mushrooms: A Conversation with Bob Wynn
By Julie Horner
Lompico's beloved mushroom gastronomist, Bob Wynn said, "Typically right now I would be knee deep in mushrooms getting ready for the Fungus Faire." If not for the pandemic, the 47th annual Fungus Fair would have taken place the second weekend in January at the Louden Nelson Community Center in Santa Cruz. Wynn presented cooking demonstrations and sold food there for 28 years. "Usually I did mushroom lasagne, quiche, mushroom-quinoa soup, candy cap cookies, and way back I used to do a New York cheesecake with a candy cap glaze, which was a tremendous amount of work but everybody loved it."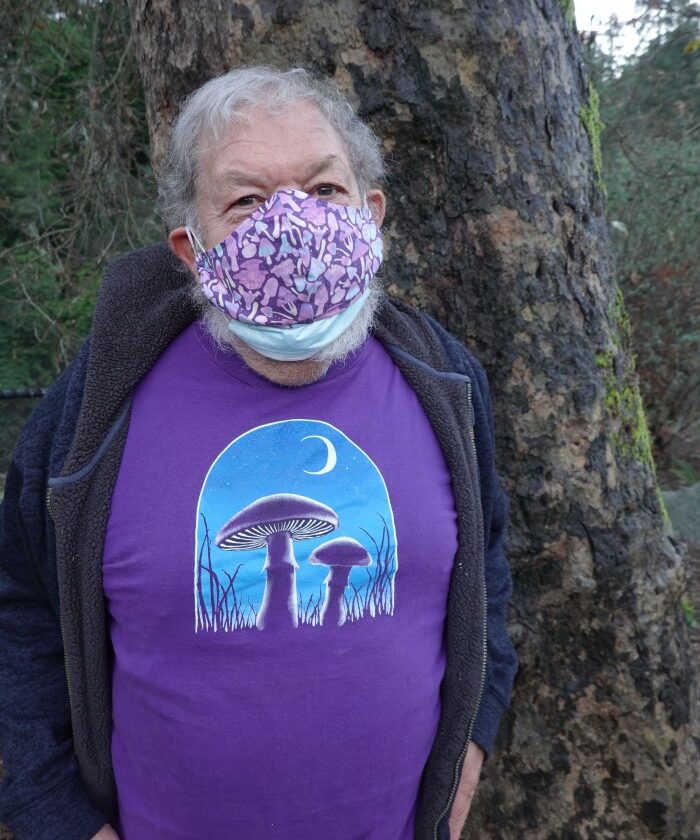 Bob and his wife moved from Upstate New York farm country to California in the fall of '85. A longtime forager with his aunt, who was "an outdoorsy type," he discovered the Santa Cruz Fungus Federation. "For my birthday my wife got me David Aurora's Mushrooms Demystified, it had just come out. I went out on my birthday and found an enormous bolete, or porcini. It looked like a lawn ornament," he said. The couple were giving California a trial run to see if they liked it. After finding the bolete, Wynn called his wife and said, "We're staying!"
Bolete (Genus Xerocomellus) (Edible); Henry Cowell Redwoods State Park – Photo by Emily Pomeroy
In a good year at the Santa Cruz Fungus Fair, Wynn said, there might be up to 300 species on display, most local finds. "We are blessed in this area to have probably the most variety if not the most quantity – from sea, to chaparral, to forest all within 10 miles."
The thrust of the fair is fun and education, Wynn said, "and people every year would come for the food, so I would typically do a food demonstration." Self-taught, he always loved cooking and practicing on friends, and in the 90s did some catering. When he joined the Fungus Federation, it became obvious that his contribution would be culinary in nature.
Wynn settles the washing versus brushing debate by advising, "Unless you really like eating grit, wash them thoroughly. Do it just before you start to cook them." Some people complain that they don't like mushrooms because they're slimy. Sautéeing is the key, he says, "which requires a really really hot pan. Put the mushrooms in there, let the moisture sizzle out." Browning begins at 300 degrees. "You can see it and hear it. Dry sauté until the water is out, and then you can add oil and salt. Garlic is a good friend, of course."
You can use the sautéed mushrooms – even dried mushrooms – any way, and, according to Wynn, if you have caramelized onions in your arsenal, you're in good shape. For the Fungus Fair he'd buy hundreds of pounds of white button mushrooms, then he'd add porcinis. "The white buttons absorb the flavor of the fancier mushroom." Pro tip, if porcinis prove elusive in your local hunt, you can pick up the powdered version from Pistol River Mushrooms or Oregon Mushroom Supply. Wynn said, "It's a great product to have, quite potent, you don't need a lot of it. It makes you a genius chef." Oyster mushrooms also absorb the flavors of added ingredients. "Oysters are a good beginner mushroom, they grow mostly on rotting wood and will be prolific on a young healthy tree. Cook the caps really well, drive the initial water off, then you can start to brown those and add any flavor."
Oyster mushroom (Genus Pleurotus) (edible); Boulder Creek – Photo by Emily Pomeroy
A big hit at the Fungus Fair were Wynn's candy cap cookies. "Candy caps are truly available in the wild, you have to go out and hunt them. They're an elusive little mushroom, about the size of a half dollar. They camouflage under oak leaves, they're the same color." When you find them, Wynn said to dry them slowly into chips. When dried, the distinct candy cap aroma redolent of maple syrup becomes most evident. Then use a coffee grinder to reduce them to a fine powder to add to your cookie recipe. You can also add sugar and water and cook candy cap powder down into a syrup that you can drizzle on waffles, pancakes, cheesecake, and apple pie. Even popcorn.
Candy Cap Cookies – Photo by Susie Wyshak
Wynn has measured the march of time through his years at the Fungus Fair. "I really wanted to do it this year," but with a 70th birthday and the fair canceling for health and safety, it was natural to close the chapter. "I look back and think of all those years of doing it. It was good. We're blessed with habitat. It's been healing," Wynn said.
Wynn recommends a Candy Cap Cookie recipe at fungi.com/blogs/articles/candy-cap-cookies.
More wild mushroom recipes can be found at thedailymeal.com/best-recipes/wild-mushrooms.