New Year's Eve with The Coffis Brothers at Henflings Ben Lomond
By Julie Horner
Kellen and Jamie Coffis are coming home for the holidays. Born and raised in Ben Lomond, the brothers have recently scattered to the local winds, one to Aptos and one to Santa Cruz. Not so far, but the two are looking forward to stomping some home turf on December 31. Kellen said, "Henflings is my favorite bar in the county. It's New Year's Eve, a big night. Just from growing up in the valley, it's not always the easiest thing to want to get out of there to do something special." So staying local sounds just about right. It will be all five band members, including lead guitarist Kyle Poppen, also from Ben Lomond. "We all went to SLV, grew up in Ben Lomond," Kellen said. "Henflings is the bar we can walk to." Carolyn Sills and Gerard Egan of Poi Rogers open the show, music starts at 9:00 pm. Kellen said, "It's New Year's Eve! We'll be ready to go long!"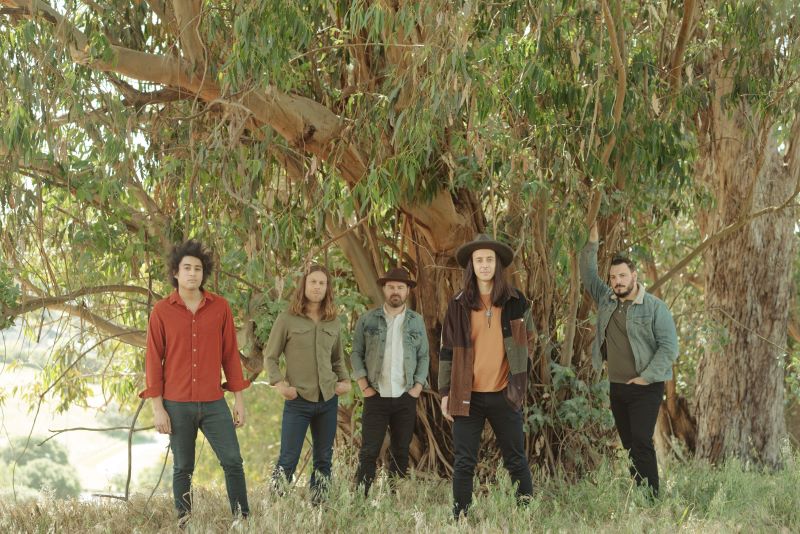 The Coffis Brothers have recorded five albums and just started working on their sixth. The band celebrated the release of their last album in April 2022. "Turn My Radio Up" is signature Coffis Brothers sound: heartfelt, unpretentious, Americana roots, folk-rock, and blues. All songs on this effort are written by Jamie and Kellen. Produced by Tim Bluhm of The Mother Hips and recorded at Bluhm's Marin studio and 25th Street Recording in Oakland, they're waiting on the vinyl and hope they get some by New Year's Eve. The album is available for download on Bandcamp: coffisbrothers.bandcamp.com
"It seems like a long time ago," Kellen said, "but it still feels pretty fresh." Recorded in 2021, the material had never been played live. "We just went and recorded, unusual for us," he said. Expect to hear cuts from this album at the New Year's Eve show. A couple of favorite tracks include the acoustic folk song Feel This Free. "We've never really recorded anything like that, super simple, without drums, the quietest song we have. Jamie sings the song Ramona, people connect with that." They often get asked to play Better Days, a song written during "the livestream era," the shelter times.
The band members are in their 20s and 30s. "Me, Kyle, Jamie, we're in our 30s," Kellen said. "First time I played Henflings I probably wasn't 21 yet." Bassist Aiden Collins moved to Santa Cruz from Santa Rosa and joined the band in 2014. Drummer Cory Graves left the East Bay to attend UCSC and joined the band in 2020. Holding down the vocal harmonies, Jamie Coffis plays piano and Kellen Coffis plays guitar and harmonica.
"We've been at it for about a decade," Jamie said. "We started very green. In some ways it feels like we've been doing this forever. It's a lot of up and down and back and forth and we've been working hard." He acknowledges that the standard for a good record is pretty high. "Our favorite records we hold in high esteem, they enter your psyche, become such a part of your life." He thinks the new album is going to be the best one yet. The process, he said, is very rewarding. "We had a moment when I looked around the studio and looked at the people we were working with, Andy Zanzack [Gadgetbox Studios], AJ Lee [Blue Summit] sitting in on some tunes, Tim Bluhm producing. We're very lucky with the people we've surrounded ourselves with."
With close ties and deep roots in Ben Lomond, Jamie said, "We have a lot of love and respect for our hometown. This is going back home for us. It's a homecoming."
New Year's Eve with The Coffis Brothers and Poi Rogers, Saturday, December 31, 2022, at 9:00 pm. $10 at the door. coffisbrothers.com | poirogers.com
Julie Horner writes about art, music, and culture in the Santa Cruz Mountains. Reach out to Julie at leap2three@gmail.com.
Featured photo by SLV Steve: Kellen and Jamie Coffis: SLV locals back in town for New Year's Eve, plus a brand new album in the works.