Bonny Doon's Michael Harrison: What a Long Strange Trip
Bonny Doon's Michael Harrison Keeps a Community Dancing
By Michele Murphy
What a Long Strange Trip it's been For Michael Harrison, proprietor of Michaels on Main, affectionately referred to by grateful patrons as MoM. Michael, along with his wife and partner Colleen, agreed to purchase the dining establishment and music venue in the summer of 2016, by mid-December they took over operations and a transformation that no one could have imagined began.
On his early vision: "When we originally bought the restaurant, my intention was to create a community gathering place for live music, weddings, birthdays, and fundraisers, while operating as a restaurant and pub." The menu, Harrison said, "is what I like to think of as 'Americana' cuisine, which I interpret as anything that has washed up on American shores." Just as our citizenry is a melting pot of cultures and flavors, so is the menu at MoM.
His initial vision grew over time, conservative at first, considering tastes of the local demographic… but then recognizing that he had this remarkable facility where he could fulfill a dream he had nurtured since he was young; to create a communal space reflecting who he really was, that could potentially be embraced by the community. Realizing he might be among few restaurateurs that actually followed the Grateful Dead, he imagined he could indulge, and share, his passion for the band by offering live Grateful Dead music to the local Deadhead community.
"Come hear Uncle John's Band by the riverside"
Shortly after taking over, Michael met with well-known guitar player Matthew Hartle, and the two developed the idea for a 'Grateful Sundays Concert Series' with special guests, to be held Sundays from 6-9pm with no cover charge. Attracting some of the best musicians in the Bay area, Grateful Sundays exploded into a phenomenon that has had jam band music fans flocking to the venue from far and wide while delighting lucky locals who truly appreciate what has been created in this space. Hippies twirl under the stars on one of two lovely heated patios, or on the main dance floor in the bar area, which is adorned with Harrison's fantastical collection of counter culture art. Others relax in the pub or main dining room, which are quiet enough for a chat with friends, but within earshot of sweet music.
"One man gathers what another man spills"
After the first year of doing the music bookings himself, Michael procured the services of Tom Miller when another local venue changed hands. A veteran booking agent with decades of experience and connections with high quality national touring acts, Tom was able to add an exciting dimension to the variety of shows the venue could attract.
Regular free events include local bands on Friday and Wednesday happy hours from 5-7pm in the pub. Tuesday night Open-Mic Acoustic Jams were becoming hugely popular; there aspiring and established players sign up to perform with prominent local musicians.
"Just when life looks like easy street there is danger at your door"
On March 15th 2020, the decision was made to close in order to protect the employees and customers due to the pandemic, reopening three months later with restrictions, now closed down again in late December.
Their resilience has been astounding. When the CZU complex fires tore through the Santa Cruz mountains, Michael and Colleen were evacuated from their home in Bonny Doon. They lived in their RV in the parking lot at MoM for just over a month. Grateful to have not lost their home, they remain hopeful that they will be able to save their business, which is so much more than a business.
"Such a long long time to be gone, and a short time to be there"
For Michael, Colleen, and their amazing staff, this has been financially devastating, and the future is uncertain with new restrictions in place for the foreseeable future. Numerous measures were taken to operate safely and they are ready to offer outdoor seating as soon as it's deemed safe.
The easiest way to support MoM now is to order take-out!
Online menu: michaelsonmain.info/take_out_1.html
*Italicized lyrics in quotes are the prolific words of Robert Hunter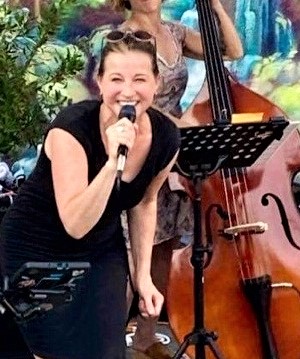 Michele Murphy is a writer, and singer-songwriter who has lived in Santa Cruz County since 2005 when she migrated West from Buffalo NY to the beautiful San Lorenzo Valley, never looking back. An avid music lover, she is entrenched in the local music scene both as a performer and a fan, with her finger on the pulse of what is happening musically in our area.