By Jennifer Mount
What do kittens, glass, and handmade soap have in common? They share the same address in a prominent storefront on the corner of Highway 9 and Forest Street in downtown Boulder Creek where you are greeted by adorable kittens playing in the window. This new establishment has historic charm with a twist of modern day living. The history belongs to Boulder Creek Glass, owned by John and Jeanette Kornher, which has been open since 1982. The business was handed down to John, a C-17 licensed glazing contractor, by his parents. The shop provides a variety of services dedicated to glass such as skylights, doors, showers, and windows for your home. John's personal passion is customized stained-glass art.
The modern twist comes from Kitten Kornher Rescue and Wild & Free Bath & Body Company which share the storefront space. As we all know, times are tough for small businesses and mom & pop shops. It takes creativity to make them sustainable. Well, these three small businesses have certainly developed an inspiring sustainability plan through their collaboration.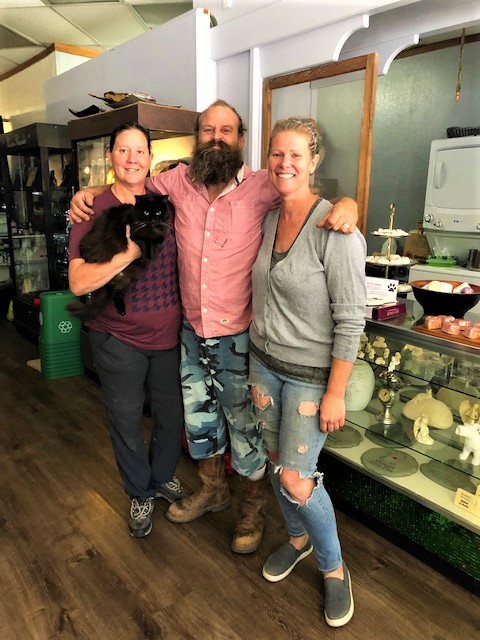 Stacy Stanley, owner of Wild & Free Bath & Body Company, created her business so that she could help raise her grandson Jaiden while giving back to the Boulder Creek community. I was greeted by Jaiden's baby smile at the store as he cruised over to the door in his foot-powered race car. Stacy creates and sells locally handcrafted bath bombs, lotions, and soaps for people and pets. She also sells reasonably priced artwork from various local artists. The proceeds from Wild & Free go to support Kitten Kornher Rescue.
Jeanette Kornher started the rescue and has quickly risen to fame hosting a bunch of kittens in the corner window of the corner store. Yes, this must be by divine design! Jeanette fell in love with cats when she and John moved back to Boulder Creek from Pennsylvania to take over the glass shop. She was helping out a friend's elder Dad who had feral cats on his property. The kittens followed John everywhere, and Jeanette tried to catch the mom but couldn't. She rescued the kittens, and Kitten Kornher Rescue was born. Jeanette has changed the term "crazy cat lady" into "compassionate and caring cat lady." She rescues kittens from all over the state and finds them a home.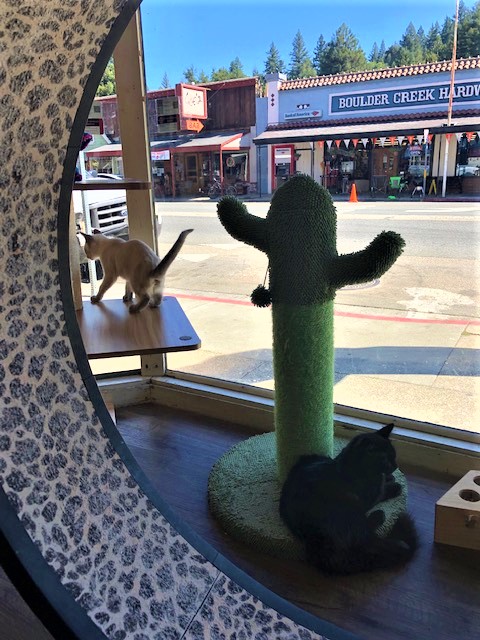 Jeanette will take unwanted kittens, and she partners with the Project Purr Spay/Neuter program to get feral cats fixed. She often takes in pregnant cat moms and provides them a safe space to have their kittens. Jeanette also uses a spay microchip program that helps reunite lost cats with their owners. Her current challenge is finding veterinarian partners who can help spay and neuter the kittens before they go to new homes, as Project Purr can only spay and neuter feral cats.
The response from the community around Kitten Kornher has been heartwarming. People come in daily to get a dose of mental health therapy by playing with the kittens. Jeanette often comes to the store to find cat food and litter donations waiting. She has a vision of creating a "cat café" where people can bring in take-out food from local restaurants and enjoy their lunch while playing with the kittens.
Jeanette, John, and Stacy have forged a masterful collaboration that extends well beyond their three organizations. They asked me to say thank you to the community for all the support. On behalf of the community, I say thank you Jeanette, John, and Stacy for providing the community with a strong example of how to sustain small businesses by working together and being creative!
For more information, fun and inspiration, stop by the store and play!
Kitten Kornher 13101 Highway 9, Boulder Creek, CA 95006 | 831-428-4726
FB @kittenkornher
FB @bouldercreekglass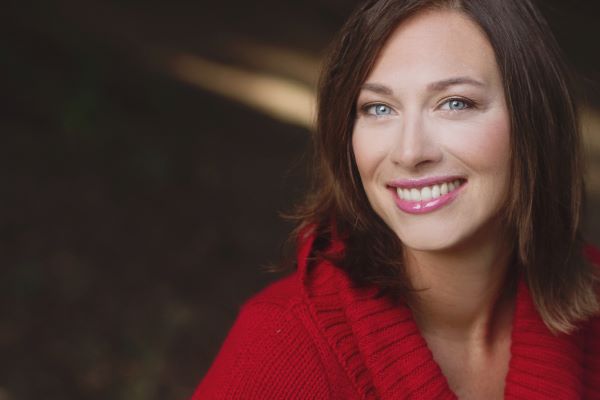 Jennifer Mount provides educational workshops and consulting to support emerging leaders in developing the communication skills necessary to guide their teams. She has partnered with Fortune 500 companies, non-profits, and small businesses and currently focuses on local Santa Cruz County organizations. Please visit jennifermountconsulting.com for more information.
Photos by Jennifer Mount