Winter Pot Pie with Drop Biscuit Blanket
By Alison Steele
We find ourselves in our dark cozy homes even as the sun slowly returns. Garden greens thrive in the morning frost and root vegetables are protected below ground. The pantry is stocked with pickled vegetables and fruits from the summer. Good meat is readily available at our local markets, and friends share their fishing and hunting abundance. Colder months are the time for giving.
Visiting Virginia for the holidays I watch the Angus cattle move over the grasslands that surround our home. Crossed with four other breeds for heat tolerance in summertime and grazing efficiency in winter, Joel Salatin of Polyface Farms is using cattle to help us heal and regenerate our land. Winter fields are transformed as the cattle forage for the sweet new growth of native plants. They effortlessly redistribute the seeds in a perfect package of fertile nitrogen awakened by the spring rains to rebalance the native plant species.
I'm grateful for family and friends bringing venison, root salad, cabbage, and fresh bread as they visit. The farmer's market, still bustling with German bakers and beekeepers, cheese makers, and winter vegetables make it effortless to prepare a local sustainable feast for friends and family.
This sustenance, grown, hunted, foraged, and baked on a small scale is worth its weight in gold and won't be tossed. Little bits of leftover meat and vegetables are guaranteed a delectable second life as shepherd's pie or hash sopped up with some form of biscuit or toasted day-old bread.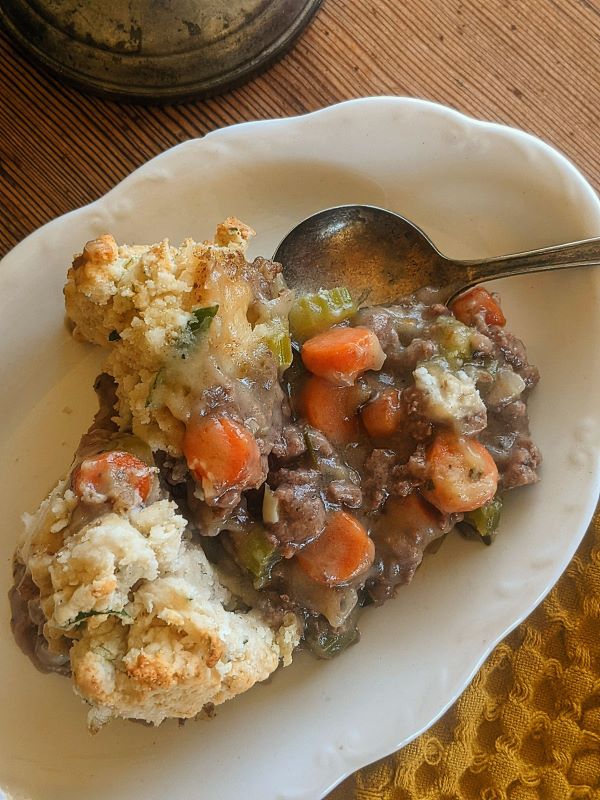 Winter Pot Pie Filling
1 small onion, diced
3 T butter
¼ c flour
1 T fresh Rosemary, minced
2 cloves garlic, minced
3 cups broth
1 cup milk
2 c leftover vegetables chopped small
1 lb leftover meats torn small (venison, beef, quail, or tofu)
Sea salt to taste
Melt butter over medium heat in a 9-inch iron skillet. Saute onions and garlic until soft. Sprinkle with flour and rosemary. Cook for 3-5 minutes more until the flour is golden brown. Slowly stir in milk, then broth, a little at a time until bubbling. Stir in leftover meats and vegetables and bring back to a bubble. Add more broth if needed for a runny gravy. Transfer to an 8×8 casserole dish or just bake in the iron skillet if you'd like.
Drop Biscuit Blanket
2 c flour
2 t baking powder
½ t sea salt
1 clove garlic, minced
1 stick of butter
1 cup milk (rice, almond, cow)
1/2 c leftover cheese, chopped small (optional)
2 T fresh thyme, chopped
3 T green onion, minced
Preheat oven to 400° F. Toss flour, baking powder, salt, garlic, and parsley together. Cut butter into pebble size pieces and pinch into flour with fingers. Add milk and gently stir until moistened. Fold in the cheese if using. Drop by large spoonfuls onto the top of the warm vegetables and gravy. Bake until biscuits are cooked through and brown, about 20 minutes. Serve hot!
A native of Virginia, Alison Steele lives with her husband, two children, and cat in Boulder Creek where she raises quail, chickens, fruit trees, vegetables, and herbs. Alison plays banjo and sings in Sugar by the Pound.
Photos by Alison Steele