Streetwise: Kenville Road
The Hidden History of SLV Street Names
By Lisa Robinson
Old Kenville Road, east of Zayante Creek, is the topic of this month's article. But for whom is it named? There were two early Kenville homesteaders –  Joseph Kenville, who with his wife America, came to Santa Cruz County in 1866 and, seemingly unrelated, Solomon Kenville and his wife Edesse who arrived in the 1870s. Both families were of French-Canadian descent; the surname Kenville being the Americanized version of Quenneville.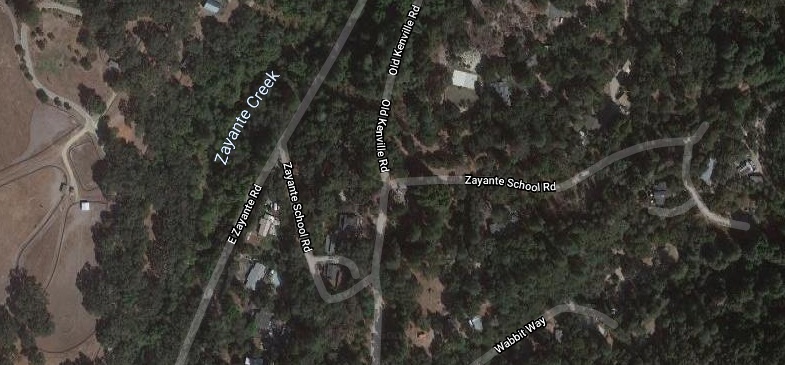 Both homesteaded land near Eccles, northeast of Felton. Indeed, a station named Kenville was located on the Southern Pacific railroad line between the stations of Eccles and Meehan.
Both Kenvilles were ranchers. We know more about Joseph Kenville and his family than we do about Solomon and his. Joseph Kenville named his 126-acre ranch Quail Hollow. He had a large orchard (peaches, plums, but mainly apples); raised fine horses, Jersey cows, chickens, and hogs; and grew melons. According to an 1872 advertisement, he grew "watermelons, muskmelons, cantaloupes, nutmeg-melons, and citron melons, &c." In 1902, the Kenvilles sold the ranch to William and Leona Richards of Los Angeles and moved to Santa Cruz. Joseph passed away in 1911 and America remarried a year later.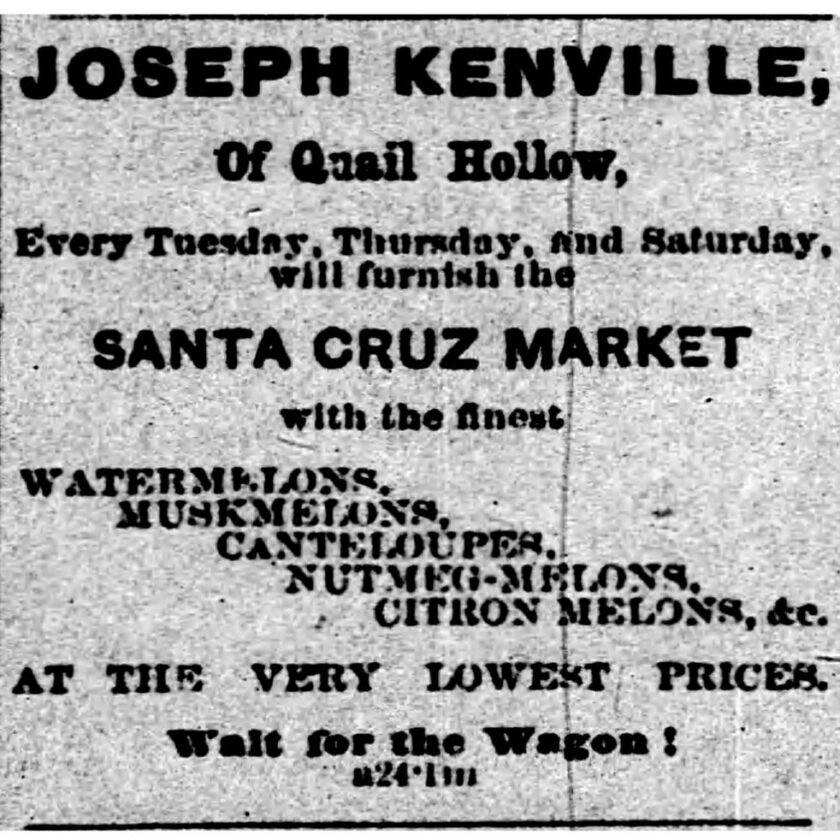 Today, Old Kenville Road joins Solomon's homestead to the Zayante School Road, albeit not all paved. Some of it runs along the old Southern Pacific right of way and Derek Whaley of santacruztrains.com suggests that part of the road did not exist until the railroad had been torn up.
However, the first Zayante Schoolhouse was located due west of Solomon's homestead. Solomon's children attended the Zayante School, indeed three of them — Mamie, Johnnie, and Maggie – were on the honor roll in 1887. A year earlier in 1886, Solomon had been paid $8 for labor from the San Lorenzo Road district fund. So, it seems possible that Solomon constructed the road and his children used it to get to school. In fact, Solomon continued to be paid for his labor out of the San Lorenzo Road district into the early 1900s.
Many residents participated in building and maintaining roads. Joseph had the contract to maintain a road in the district too – Zayante Road. He didn't do a good enough job though, and the contract was rescinded.
As for the naming of the station, some local historians have suggested that it was named for Joseph Kenville. According to Whaley, it appears in the Southern Pacific station books in 1893, 0.6 miles north of Eccles, close to the south entrance of the Zayante railroad tunnel.
In 1899, Joseph had a bumper harvest of 3,000 boxes of apples (about 4-5 carloads). The Kenville Station had no platform, and freight had to be in carload lots only – nothing less. However, the road leading out of Quail Hollow intersects the railroad further south than the Eccles station, and consequently further south than Kenville, which lay closer to Solomon's homestead, than to Joseph's. To get to Kenville Station, Joseph would have had to traverse the sandhills.
Solomon also likely shipped other products from his ranch, which was noted to have timber holdings. In fact, shown on the 1889 map, parcels of land in the area are also owned by the lumber company Grover & Co. Perhaps the short-lived station of Kenville, more likely named for the Solomon Kenville homestead, was for the benefit of shipping lumber.
Lisa Robinson is the Collections and Exhibitions Curator at the San Lorenzo Valley Museum.
Featured photo Quail Hollow Pond