Bright Spots in the Real Estate Outlook
By M.C. Dwyer
We Santa Cruz Mountains residents are still recovering from this winter's brutal onslaught of back-to-back atmospheric river storms. We've been through evacuations, multiple road closures (some of which will last for years), fallen trees and branches, slides, floods, property and electronics damage*, intermittent loss of internet and cell phone coverage, and frequent/lengthy power outages across the County. The Mercury News reported that the three week period was the wettest in the San Francisco Bay Area in 160 years. The National Weather Service said that the San Lorenzo Valley got 3 feet of rain over the first 3 weeks in January, and we're at about 50" for the season which started in October.
Long time locals compare these storms to 2017 and 1982, a tragic storm that took lives. The San Lorenzo River at my place north of Boulder Creek reached the same peak height in '17 and '23. At a fellow REALTOR®'s Ben Lomond property, the river was a few feet below her home this year; in 1982 the river reached the foundation. In Felton, where the river rose to 8 feet above flood stage, several neighborhoods flooded.
The most heartwarming part of this? Camaraderie. It's like nothing I've experienced anywhere else in the Bay area: I've lived in San Francisco, the East Bay, the Peninsula, Marin and Sonoma Counties before settling here. Here, people help each other clear roads, figure out commutes, move sandbags, tarp roofs, dig drainage ditches, and clean up fallen trees, limbs, and mud from flooding. The countless stories of people helping each other make me proud to live and work here.
You might be asking yourself, what do storms have to do with our housing market? While it remains to be seen, I've been hearing some people who recently bought homes here are considering leaving after experiencing these storms. Many homeowners who purchased during the pandemic paradigm, when millions of people moved causing a rapid run-up in home prices as buyers fought to win multiple offer scenarios, could face losses by selling so quickly. I just showed a property to buyers where the seller paid $200,000 over asking price less than one year ago, yet now they're asking even more. The buyers feel like the sellers' expectations are unrealistic since home prices are declining. Generally, owning a home for a 7-10 year time horizon helps avoid selling at a loss. We can't predict how many new homeowners will stay or leave, but if more people decide to sell than want to buy, that could change our area from being in a marginal sellers' market to a balanced or even buyers' market, where more buyers would have the upper hand in negotiations.
After the pace of homes sales at the end of last year declined nearly 50%, the pace improved across Santa Cruz County to 70% of last January's pace. The San Lorenzo Valley (SLV) remained 50% slower than last year, due to a disproportionate hit from the storms. Excluding one clearly overpriced SLV property that sold after four months for $200,000 under asking price, the other homes sold within 1% of asking price. Scotts Valley (SV) experienced a higher rate of sales in January '23 versus '22, with average sales prices about 3% below asking price. The worst SV case sold $400,000 below asking after 5 months on the market; the best got $51,000 over asking after 9 days on market. Takeaway: pricing too high — especially in this market — is an expensive mistake.
Bright spots: Consumer prices fell for the first time in 30+ months, which may lead the Federal Reserve to decrease the pace and scale of their interest rate increases (to fight inflation). (In December, they projected a 0.75% rate increase during 2023.) As a result, the stock market has mostly recovered, and the benchmark 30-year fixed mortgage rate remains in the low 6% range. If you're thinking about getting a mortgage, keep in mind lenders offer many different kinds of loans, some with lower rates. Plus, some home sellers are open to helping buyers get a lower rate. The Bay Area added over 13,000 jobs in December (but likely not as well-paying as tech jobs). California's unemployment rate is stable at 4.1% — same as 2018-2019.
Concerns: Tech firms have announced plans to cut over 11,000 Bay Area jobs; some tech employees are delaying their home buying plans.
In closing: The median home price fell 10% in the Bay Area during December. By my calculations for January, at press deadline, SLV average home prices fell 13 % while SV fell 42%. But! I don't consider those figures an accurate measure since there were so few home sales. Also, 1/3 of SV January 2022 sales were between $2.8 million and $4.2 million, while the highest price SLV home so far this year sold for $1.980 million.
Our Rebuild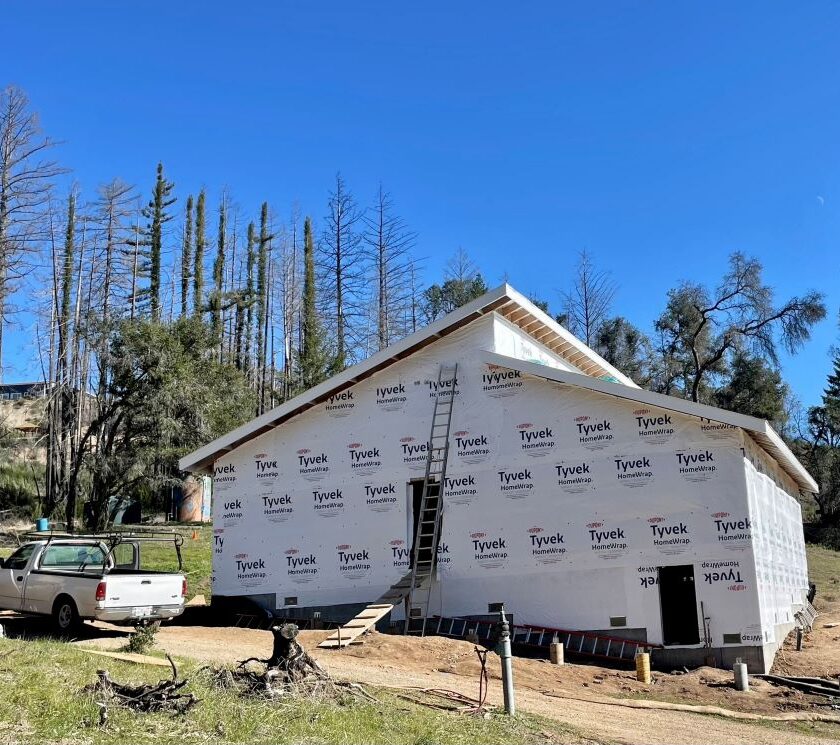 Our contractor & team couldn't work for weeks due to rain, so the house was tarped. They're just about finished sheathing the roof. Our 5th SBA account manager since 2022 recently e-mailed urging my husband to complete loan forms that were neither attached nor on the website under his account. The saga continues…
*Visit IRS topic 515 regarding deductibility of disaster losses resulting from a federally declared disaster.
Please send your questions & topic requests to "M.C." (MaryCatherine) Dwyer, MBA, REALTOR®
(831) 419-9759 E-mail: mcd@mcdwyer.com Website: https://mcdwyer.exprealty.com
CA DRE License 01468388 EXP Realty of California, Inc.
Serving San Lorenzo Valley and Scotts Valley since 2005
Sources: MLSListings.com, California Association of REALTORS®, Mercury News, LookOut Santa Cruz, S&P Dow Jones Indices LLC, Mortgage News Daily, Mortgage Bankers Association
The statements and opinions contained in this article are solely those of the individual author and do not necessarily reflect the positions or opinions of eXp Realty, LLC, or its subsidiaries or affiliates (the "Company"). The Company does not assume any responsibility for, nor does it warrant the accuracy, completeness or quality of the information provided.
Featured photo by Red Heifer Productions
1200 Rebecca Dr, Boulder Creek: "Fixer with a Future" home, studio, and garage on over an acre priced at $700,000.