Gifts From the Land: A Visit to Pescadero's Pie Ranch
By Josh Reilly
During the peak of the pandemic, one of the few outings my wife and I allowed ourselves, during the warmer seasons, was a Saturday or Sunday drive over the mountains, via Bonny Doon, down to Hwy 1. After stopping at Swanton Berry Farm for the best strawberries in the area, one of those trips brought us to Pie Ranch, just north of Ano Nuevo State Park and a bit south of the town of Pescadero. They called it 'Pie Ranch' to reflect the overall mission of inclusion; like the combination of ingredients that make up the delicacy, and everyone gets a slice. And their farmstand offers delicious pies.
Pie Ranch was founded here in 2002 by Jered Lawson, Karen Heisler, and Nancy Vail, each with backgrounds in sustainable agriculture and education. They envisioned a regional center for regenerative farming, food system education, sustainability, renewed engagement between farmers and end use consumers, and wanted to incorporate training and farm experience for new young farmers, especially from marginalized communities. And they imagined finding joy in all of it.
Honoring the land's earliest inhabitants
Working with the Amah Mutsun Land Trust, Pie Ranch established a Native Garden to grow useful California plant species, preserve seed lines, educate visitors, and perpetuate historic food and fiber production and use practices. The Garden features plants that continue to have a role in local sustainable agriculture, such as rosehips from native California shrub roses. Interpretive posters provide information regarding the ways these plants were once used, and could still be.
Youth and stewardship programs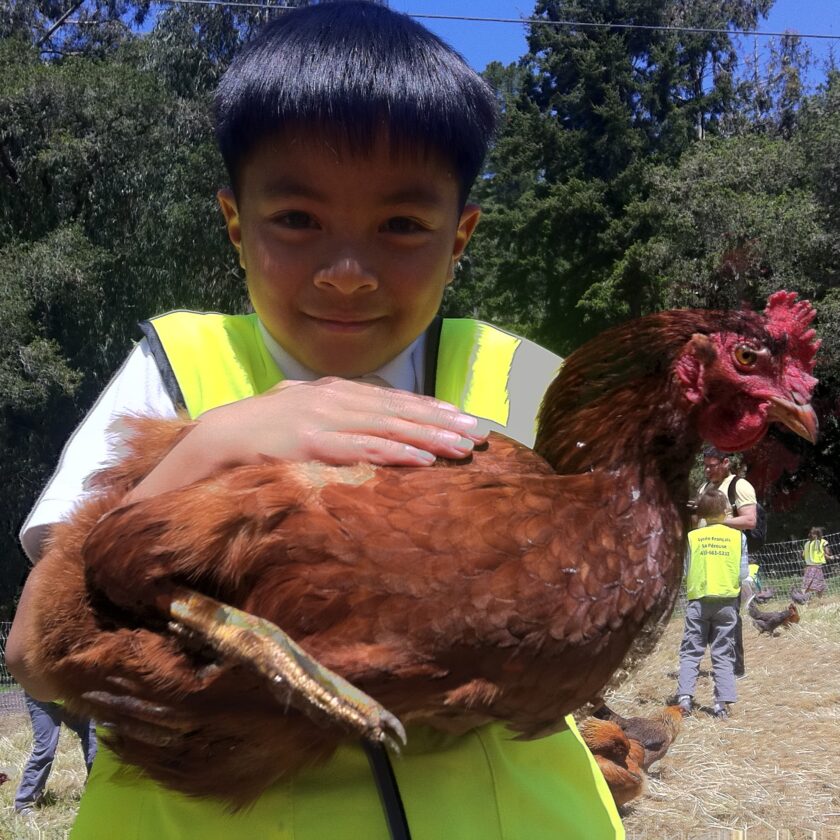 Early on, Pie Ranch began a Youth Corps program, bringing kids from urban areas to learn about crop production and distribution, food justice and food preparation (baking in the onsite kitchen), as well as farm maintenance. A casualty of the CZU Complex fires, which swept down the slopes on either side of the farm, was the historic Steele Family farmhouse. Thankfully, with the help of generous local (mostly small) donors, a sustainable, energy-efficient structure is being completed in its place.
The Regenerator Program, based in nearby Cascade Farm provides land, mentors, access to farm equipment, sales and marketing, and business planning assistance to new young farmers from marginalized communities. Pie Ranch is also involved in multiple local and regional partnerships to bring more farmers into sustainable farming, make available affordable land, and build relationships with informed, engaged citizens whose buying choices support sustainability.
A slice of sustainable farming goodness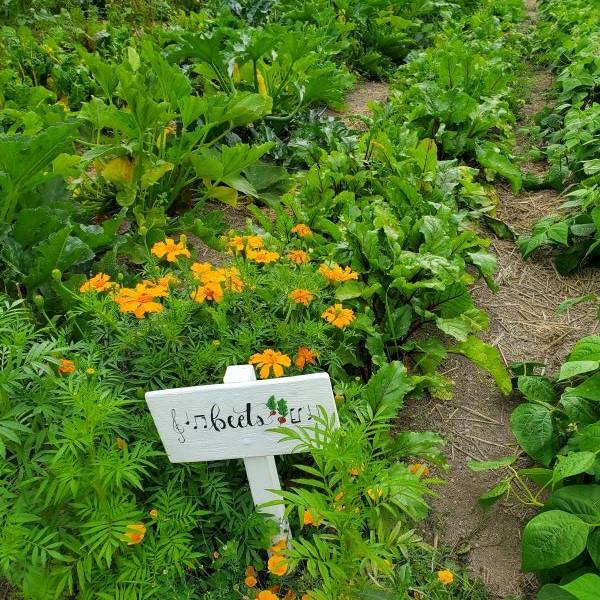 With all that going on, it's a wonder they have time to actually farm and sell produce, but they do. In the area they call the "lower slice" (get it?), row upon row of vegetable and fruit crops are interspersed with flower and herb beds. These beds are planted densely with species that attract beneficial insects (called "insectary plants") or have other beneficial roles in crop ecology. The farm is bursting with Salvias, Coast Buckwheat, Statice, Zinnia, heartbreakingly gorgeous dahlias, Rudbeckia, California asters, marigolds, and calendula. Between these riotously colorful borders, are rows of food crops, starting with a small orchard of heirloom apples, then corn, squash and beans, (companion-cropped, called the "Three Sisters" in many parts of Native America), dry farmed tomatoes, strawberries, artichokes, and tomatillos. There are also plants used for dyeing such as red and gold tickseed. True fact: Pie Ranch grows and mills its own heirloom wheat varieties for their pie crusts.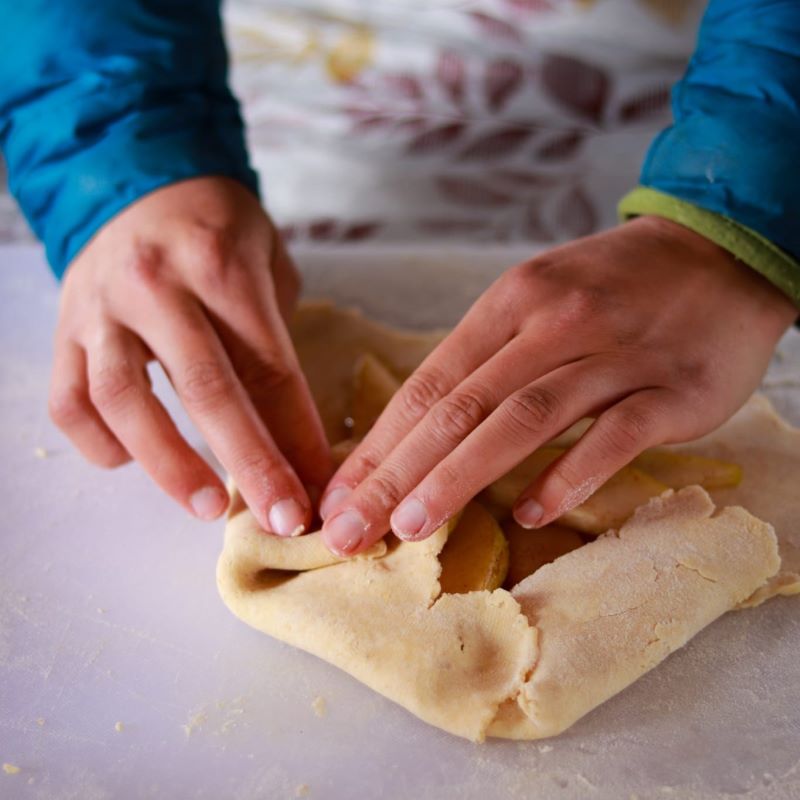 How to get involved
Pie Ranch has a monthly Work Day and Barn Dance. Next up: November 18 and December 16. If you're planning to work, arrive at about 2 pm to get busy in the fields. Or just come to dance. Homemade chili is served at 6 pm, and the dance starts at 6:30. One of the founders even plays fiddle in the house band! All proceeds benefit the programs of this nonprofit.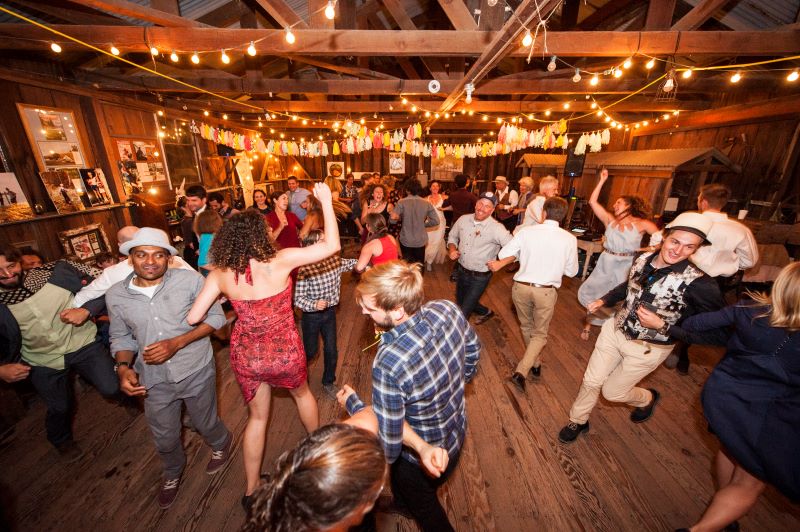 Stop at the rustic Farm Stand and talk to the friendly folks while picking up local produce, preserves and jams, honey, Companion Bakeshop bread (my favorite is the "Three Seed"), blue corn flour, and beef, chicken and pork products, as available, and handcrafted ceramics and gifts. And of course, pie.
Pie Ranch, 2080 CA-1, Pescadero. (650) 262-1220
pieranch.org
Josh Reilly, aka Uncle Skip, writes about seasonal gardening from his home in beautiful Ben Lomond, California.
Featured photo: The "Lower Slice" at Pie Ranch where vegetable, fruit, flower, and herb plants are interspersed to attract beneficial insects. Photo by Josh Reilly.
Photos contributed by Pie Ranch.
Have something to contribute? The San Lorenzo Valley Post welcomes your Santa Cruz Mountains story ideas, photos, and letters. Send us an email.