by Josh Reilly
In February, a gardener's anticipation borders on intolerable. Especially in those parts of the SLV subject to frost. A lot of what we see growing happily in Santa Cruz, right now, undamaged by frost, is under threat here. Alas, many winter-flowering plants are a lost cause here, with a few very worthwhile exceptions (see below). Flower buds trying to open may be burnt under sub-freezing dawn skies. Tender foliar shoots peaking gamely above the soil, looking for sun, may find instead a crust of frost.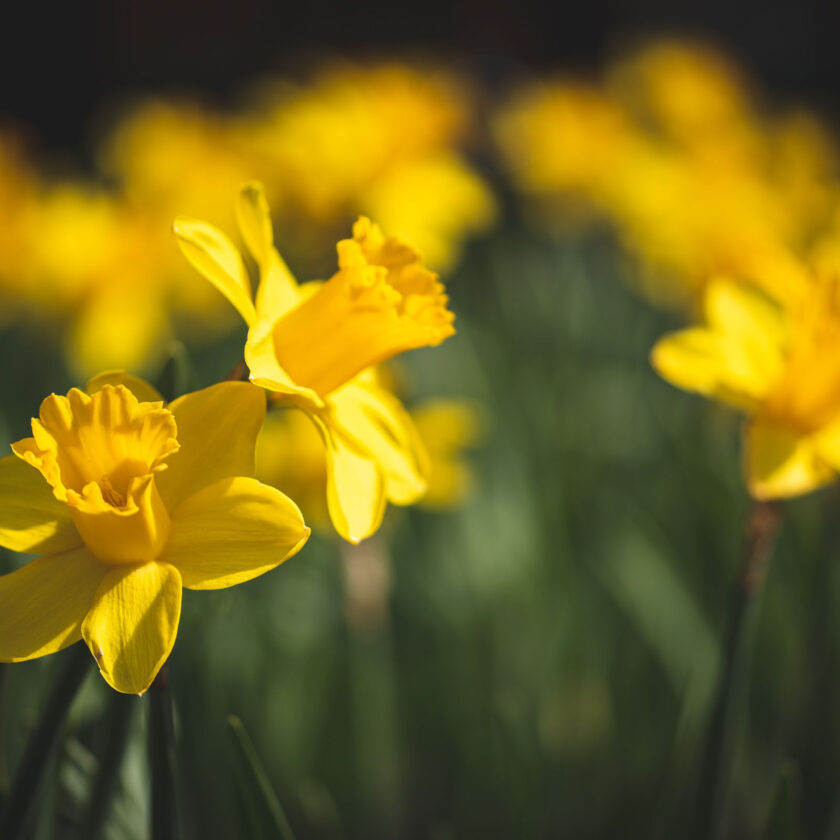 But, then, there are the daffodils (genus Narcissus)! Daffodils are more or less indestructible, toxic to gophers and deer, unperturbed by frost, bent, but not broken by heavy rain. Their buds swell for several tantalizing days before bursting open in a riot of color. Varieties are endless – cool whites, creams, and porcelain off-whites, mixed with warm orange, translucent pink and salmon shades as delicate as the sunset sky after a storm. Catalogs, such as John Scheepers.com, offer hundreds of varieties. The blossoms hang over, appearing relaxed and confident, even triumphant, after weeks of straining upward. They also tend to track the sun, twisting slowly from southeast to southwest, their cups open to the rays. The thrill for the gardener, of this bright, hot color explosion cannot be exaggerated. No, they are not native, nor "drought tolerant," exactly, but once established, they welcome your neglect. And they are a signature American garden plant, a nod to your gardening ancestors and your descendants. Located properly, they will grow and spread for decades. Your grandchildren might just see fields of them where you planted a couple of handfuls of bulbs. There is an absolutely gorgeous border of mixed daffodils on the west side of West Zayante Rd, that starts blooming right about now. Well worth the trip to take a look.
A good, hardy, early-flowering companion for the Daffodil is the Snowdrop (genus Galanthus). Each bulb produces multiple shoots bearing pure white blossoms of three petals that hang earthward. I have seen these pop up through the snow in the Midwest. Alas, gophers and deer will eat them, so protect accordingly.
Hellebores (genus Helleborus) are another undaunted Winter bloomer. Available in nurseries now, are the "Lenten Rose" (Helleborus orientalis) and Helleborus niger, sometimes called the "Christmas Rose" or "Black Hellebore." This species blooms even earlier than H. orientalis, hence the name. These plants are not roses at all, and while I have grown both at multiple sites, I have never seen one flower as early as Christmas nor one I'd call black. Instead, the blossoms are a rich, seductively dark eggplant color on the inside and pinkish on the outside. There are multiple other Hellebores on the market including H viridis, a green-flowering beauty. These are long-lived, easy care perennials and as a bonus, they are toxic, so deer and gophers leave them alone. Plant in a well-drained, organic soil. They are not exactly drought tolerant but mine have been fine with a frugal watering schedule.
Just possibly my favorite drought-tolerant, winter-flowering plant is Garrya elliptica, the silk tassel plant. Plant this large, long-lived CA native in a sunny spot in a native or xeriscapic garden and be prepared to wait a few years for the eponymous silk tassel flowers. This year, mine is covered with them, like a Mardi Gras float covered with strings of beads. Backlit by the afternoon sun, the tassels are magical, lightly wafting, and swaying in the breeze, releasing soft, tan puffs of pollen. Silk tassel bush will produce dense growth, so prune regularly for light and air. I have seen it trained against a wall in old town Monterey, like an espaliered fruit tree. A lovely choice if you don't mind the work involved.
Every garden in California should have at least one Manzanita. They come in all shapes and growth habits but I am most partial to those with an open form, dark, twisting red branches and clumps of pointy, greyish-green leaves. The bark alone is worth it, but the pinkish-white flowers, in profusion in February, are a lovely reminder of the long blooming season about to arrive.
Josh Reilly, aka Uncle Skip, writes about seasonal gardening from his home in Ben Lomond.
Feature photo: Lenten Roses. Photo by Josh Reilly.