San Lorenzo Valley Home Prices Hold Steady
By M.C. Dwyer
Did you know the unemployment rate is down to just 3.5% — tied for the lowest rate since 1969? This helped push wages about 5% higher than this time last year and may reduce chances of recession. Meanwhile, the stock market (a source of buyers' down payments) recovered to about a 10% loss for the year, a big improvement from the 20% loss a few months ago. Consumer sentiment rose to a 3-month high, meaning people's expectations about their finances and the economy as a whole are improving. After the bellwether 30-year fixed mortgage shot up to an average rate of 6% mid-June, it's pulled back to around 5.3%*. Taken together, these positive signs support home buyers venturing back into the market.
Fannie Mae's Home Purchase Sentiment Index® fell in July to 62.8, down from about 75 last year, as the housing market slows and prices cool. And the Federal Reserve has been clear that they may need to continue to raise their rates by around another 1.5% to address inflation. Mortgage rates are expected to trend higher, up to about 6.7% in 2023 according to one Fed survey.
Home prices fell across Santa Cruz County, SLV holds steady
Most home buyers focus on their monthly payment, a combination of home price, mortgage interest, property taxes and insurance. The double punch of high home prices and doubling mortgage rates resulted in about 37% fewer home sales across Santa Cruz County during July, compared to last year. Meanwhile, the number of homes available for sale rose by about 24%. "Inventory" now stands about 3 months — up from about 1.5 months during the worst of the pandemic — meaning the market is becoming more balanced between buyers and sellers. About 43% of sellers — those committed to selling and moving — have dropped their asking price. Facing less competition and having more homes to choose from, for the first time in years buyers often don't have to offer hefty premiums; on average they paid about 100% of asking price.
August trends were similar. The 76 homes that sold County-wide took an average of a month to sell, at an average price of $1.4 million. Of the 54 homes that sold for over $1 million, half sold at an average discount of $75,000 from original list price. But, of the 22 homes that sold for less than $ 1 million, half sold at a discount from original list price averaging just $9,000. Altogether, the average sales price to list price average was 100% when homes were priced appropriately.
Currently, Santa Cruz County has about 300 single-family homes for sale with an average of two months on market; earlier this year homes typically went into escrow within about 2 weeks. 225 of these homes are priced over $ 1 million, 80 of which have lowered their price. 29 of the 75 homes priced under $ 1 million reduced their price. The average price reduction for homes currently for sale is 3%.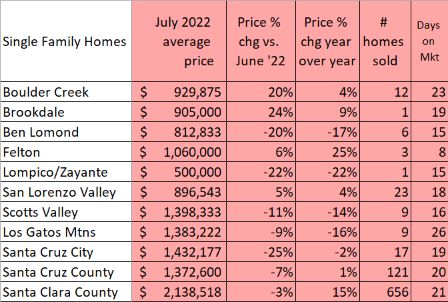 Takeaway: Averages help illustrate trends, but each property, seller, and buyer are unique. Competition still plays a role in the more affordable segments and prime locations. In today's rapidly changing market, the guidance of an experienced local REALTOR® is paramount. For sellers, property preparation and pricing correctly are critical to success. For buyers, no one knows whether this is a temporary boost in negotiating power, but the consensus is that mortgage rates will continue to rise through 2023.
Our Rebuild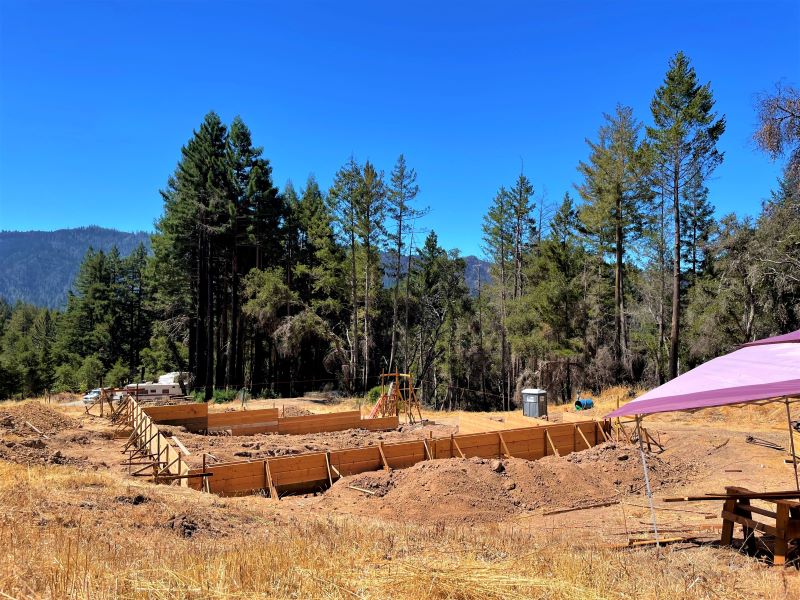 Ground breaking began in August when heavy equipment re-shaped the former home site after it was scraped to remove CZU fire toxins. Finding subcontractors who aren't booked out for months in advance is proving challenging, so our contractor is staying on schedule by doing a lot of work he normally would sub out to specialists. After a lot of paperwork and phone calls, the SBA (Small Business Administration) is sending a representative out to the property to confirm the total loss: part of processing our application for a disaster loan, because insurance didn't provide enough money to rebuild.
"M.C." (MaryCatherine) Dwyer, MBA, REALTOR® 
CA DRE License 01468388   EXP Realty of California, Inc.
Serving San Lorenzo Valley and Scotts Valley since 2005                                                                                                          
(831) 419-9759 | E-mail: mcd@mcdwyer.com | Website: https://mcdwyer.exprealty.com
*Sources: MLSListings.com Commercial and Single Family Homes data, Mortgage Bankers Association, California Association of REALTORs, Reuters, CoreLogic, REALTOR.com, Mercury News, through press deadline August 19, 2022.
The statements and opinions contained in this article are solely those of the individual author and do not necessarily reflect the positions or opinions of eXp Realty, LLC, or its subsidiaries or affiliates (the "Company"). The Company does not assume any responsibility for, nor does it warrant the accuracy, completeness or quality of the information provided.
Images contributed by M.C. Dwyer