Spring at the UCSC Arboretum
By Josh Reilly
The UCSC Arboretum holds one of the largest collections of Australian, New Zealand, and South African plants outside their continents of origin. It also has a huge native California Garden, a collection featuring natives and drought-tolerant plants that do well in Santa Cruz area gardens, and a Succulent Garden, featuring plants from semi-arid regions all over the world. When I'm not pounding these keys, consulting tomes by other garden wizards, or wandering around in my own garden, I'm the lead volunteer at the UCSC Arboretum Aroma Garden. The Aroma Garden is on a south-facing slope, just above and across the road from Norrie's Gift Shop.
The Aroma Garden features aromatic plants of diverse origin which thrive in "Mediterranean" climates: those with winter rain, dry, warm summers, and temperatures between the low 30s F in Winter and the high 90s F in Summer. These environments are found on or near the coasts in South Africa, Latin America, Australia, New Zealand, Southern Europe, and the West Coast of California. Soils in these areas tend to be lean (low in nutrients), slightly alkaline, and rocky. The Aroma Garden has such soil. Most locations in the San Lorenzo Valley do not. SLV soils range from slightly acidic forest clay-loams to the lean, sandy soil of the Sandhills. Still, most of the plants thriving in the Aroma Garden will grow in the SLV with soil amendments and always with good drainage. Most of them do not like staying wet, above or below ground. Organic mulches, like wood chips, remain moist throughout the rainy season, which is tough on Lavender, Santolina, native Salvias, and succulents, among others. I heartily recommend planting as many of these fragrant, drought-tolerant plants as you can. Just remember that they are happiest where they can dry out between waterings and rains. Gravel mulch, which you'll see at the Aroma Garden, is a good alternative, drying quickly and reflecting heat up into the understory of the plants while suppressing weeds.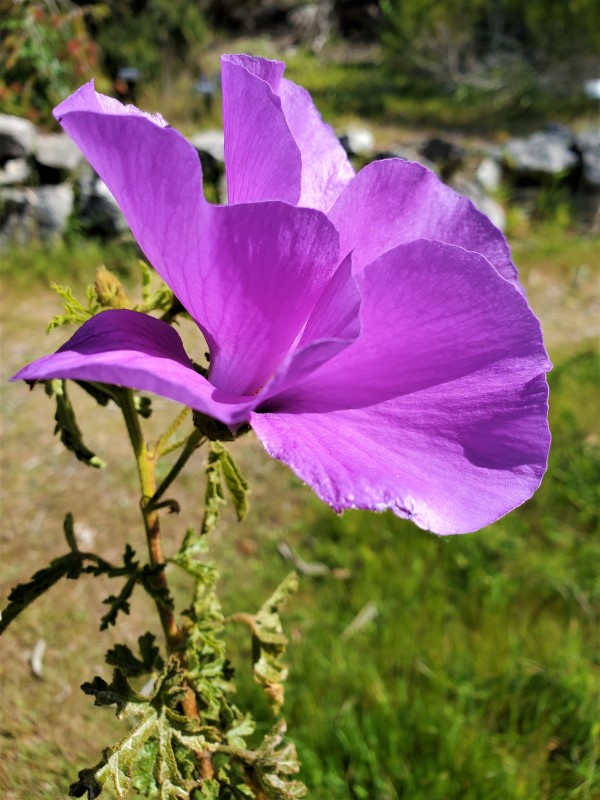 It's a slow time of year for flowers in the Aroma Garden, but now is a great time to see the delicate, light salmon blossoms of the rare One-Leaf Cape Tulip (Moraea flaccida). In the South African collection, Leucadendrons (Cone bush) and Leucospermums (Pincushion flower) are in peak bloom in March and April. Of these, my current favorite is the bright yellow beauty, "Cloudbank Ginny." The name evokes one of those heroic early female aviators who miraculously lands a rickety old biplane on a dirt airstrip in high winds, then jumps out of the cockpit and cracks, "Nothing to it, boys!" Varieties of Lampranthus, an ice plant relative, can be found in full bloom in the Succulent and South African Gardens.
At the entrance to the Australian collection stands the otherworldly Eucalyptus cassiea (Silver Princess), which bears gorgeous red and white flowers in silver cones. Nearby, Prostanthera "Purple Haze" is so named for its cloud of tiny blossoms the color of yogurt whipped with fresh blackberries. Further north on the winding paths are Alyogyne "Blue Hibiscus" and electric pink Tetratheca "Amethyst Eyes." At the far northern end of the collection, don't miss the red and blue varieties of Lechenaultia and the Acacia "Clay Wattle," a plant so strange and beautiful it may renew eyes weary of our highly invasive and maddeningly over-abundant yellow-flowered Acacia.
Stop by Norrie's Gift Shop at the end of your ramble for a chance to take home a sample of something you have seen growing on site. Visit on Tuesday and Friday mornings, and come back next August or September when many Salvias are in full bloom and hummingbirds are everywhere.
Josh Reilly, aka Uncle Skip, writes about seasonal gardening from his home in beautiful Ben Lomond, California.
Photos by Josh Reilly