Real Estate by the Numbers
By M.C. Dwyer
2022's home price gains are getting erased as prices dropped compared to last January: around 10% in Santa Cruz County, 6% in Santa Clara County, and 13% in San Lorenzo Valley. Although the SLV figure isn't statistically reliable because only 10 homes sold in January, it illustrates the trend. The Mercury News reports home prices across the 5 core Bay Area counties have fallen about 25% from the peak last May.
After a depressed winter where county-wide home sales fell +/-40%, the pace of home sales in January increased but was still about 25% slower than last year. February feels like the market is regaining momentum: I think buyers who can still afford to purchase are attracted by lower prices. Also, buyers have more time than last year to consider making an offer, as the days a home sits on the market before a buyer goes into escrow lengthened to around 40-50 days. Some of that may be due to sellers' reluctance to reduce their home price to match market conditions.
Buyers are facing less competition as affordability continues to fall and mortgage rates increase. Only about 20% of Santa Cruz residents can afford to buy a home, whereas affordability in northern California Counties ranges between 50-70% according to the Mercury News.
California Association of REALTORS says just 17% of households can afford to purchase now, (versus 25% during 2021, and 38% across the nation.  Peak affordability was 56% in 2012). Buyers will pay another $1,000 a month today versus last year for the average-priced home in the San Lorenzo Valley if they use a 30-year fixed. Since the benchmark 30-year fixed mortgage rate increased on all but 3 days so far in February, up to the 6.8% range,* buyers are using a wide variety of other financing strategies to manage their monthly housing costs. Home buyers are often motivated by the desire to stop paying high rent, new jobs and partners, changes in family size, and desire to be closer to family or work. Millennials who've been staying with parents to save money may have paid off student loans and are ready to buy. But, the share of first-time homebuyers is down to 26% according to the National Association of REALTORS®. That figure is normally 40%. And, the age of first-time buyers reached an all-time high of 36.
Despite rising rates and affordability issues, many experts (including NAR Chief Economist Lawrence Yun), believe prices will not fall much further, since there are not enough homes for sale compared to the number of buyers. The home building deficit continues all across California – many regions didn't file their state-mandated building plans on time. The Bay Area is about 440,000 homes short! Another factor is the reluctance of people to sell because they've locked in the lowest mortgage rates in a generation. People are staying in their homes for an average of 15 years now, compared to 6-7 years between the 1980s and early 2000s.
Jobs: The region's job market is still strong according to Russell Hancock, president of Joint Venture Silicon Valley as reported in the Mercury News: "Tech is going through a painful period," but "There is no way to construe what is happening as a crisis" for the tech sector.  From June 2021 to 2022, the Bay Area added 88,000 jobs, 16,000 of which were tech. Since then, about 19,500 tech layoffs have been announced, and there's no doubt this affects the mindset of some of our highest-paid potential homebuyers.
Water: Recently, the Board of the San Lorenzo Valley Water District and owners of Big Basin Water ended negotiations. This is a huge blow to Boulder Creek residents and people rebuilding who need water and sewer.
Septic: New regulations go into effect this summer, affecting home sellers on septic systems. LAMP – Local Agency Management Program – is complex: here's a link: scceh.org/NewHome/Programs/LandUse/LocalAgencyManagementProgram.aspx.
Septic professionals are busy: on top of their normal workload, they're helping homeowners planning to sell, and those rebuilding post-fire. Plus the County is short-staffed, so permits are taking weeks longer than normal. Expect longer time frames and a new topic to negotiate between buyers and sellers.
Storms: Since January's storms were declared a disaster, federal funds are available for recovery. FEMA and SBA staff are available for in-person help at the County Building and the Felton Library at 6121 Gushee 10-6 weekdays. The deadline to apply for assistance is March 16th. Call 1-800-621-FEMA or go to disasterAssistance.gov.
Bright spots: Lower Inflation led the Federal Reserve to decrease the speed and scale of their rate increases to fight inflation to just 0.25% in February. But, inflation is still above the Fed's target and recent strong jobs and retail sales reports are signs of economic strength that concern them.
Rates are widely expected to peak this year and then decline. CoreLogic expects national home price appreciation of about 3% this year; realtor.com forecasts 5.4%.
Recession concerns are waning: 60 Minutes interviewed IMF Managing Director Kristalina Georgieva who projected slowing global growth and that the US will avoid a recession, with inflation slowed to about 4.4% by 2024. She expects weaker global employment
Our Rebuild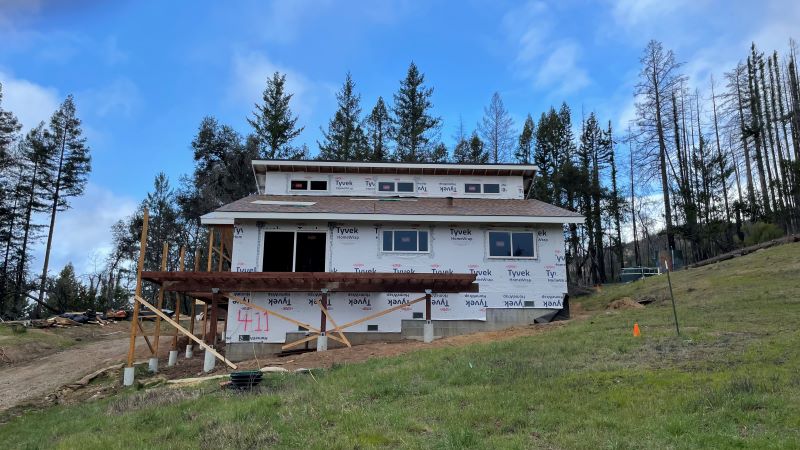 Our contractor, James Harnett at CoastLine Construction,  is installing the windows. I'd wanted a metal roof, but they cost twice as much, so   Michael Johnson Roofing suggested installing composition shingles over a special fire-resistant underlayment. My husband, like most, can't afford to rebuild based solely on insurance, after COVID and inflation nearly doubled building costs. We've been through 5 different SBA account managers, the last of which just sent him his loan documents – he applied right after the fire in 2020. He still faces a 6 figure shortfall.
Please send your questions & topic requests to "M.C." (MaryCatherine) Dwyer, MBA, REALTOR®   
(831) 419-9759 E-mail: mcd@mcdwyer.com Website: https://mcdwyer.exprealty.com
CA DRE License 01468388 EXP Realty of California, Inc.
*Sources as of 2/20/23: press deadline: MLSListings.com. California Association of REALTORS®, Mercury News, S&P Dow Jones Indices LLC, Mortgage News Daily, Mortgage Bankers Association
The statements and opinions contained in this article are solely those of the individual author and do not necessarily reflect the positions or opinions of eXp Realty, LLC, or its subsidiaries or affiliates (the "Company"). The Company does not assume any responsibility for, nor does it warrant the accuracy, completeness, or quality of the information provided.  Graphs and calculations based on MLS data are deemed reliable but are not guaranteed accurate. Some sales may have been by the author.   
Featured photo by Rachel Claire