Gathering in the Harvest at Camp Joy Gardens
By Julie Horner
The comice pears have come in at Camp Joy Gardens. Windfall apples from several varieties of trees fill the air with a syrupy headiness; stalks of reddish-rose colored amaranth and fading sunflowers blaze against a cloudless blue sky; and pumpkins peek from their leafy umbrage. Towhee Nelson, daughter of Camp Joy founder Jim Nelson, grew up on these four sunny acres in Boulder Creek on the east side of the San Lorenzo River, and working the land is second nature. She said, "Because we got so much rain this winter, we felt a little more freedom to grow more this year. We were a little gung-ho." They had a great year of cucumbers and summer squash, tomatoes, and they're waiting for the hot and sweet peppers to ripen. With new puppies to nurture and a barn full of goats to wrangle, they're slowing down now with the cooler weather.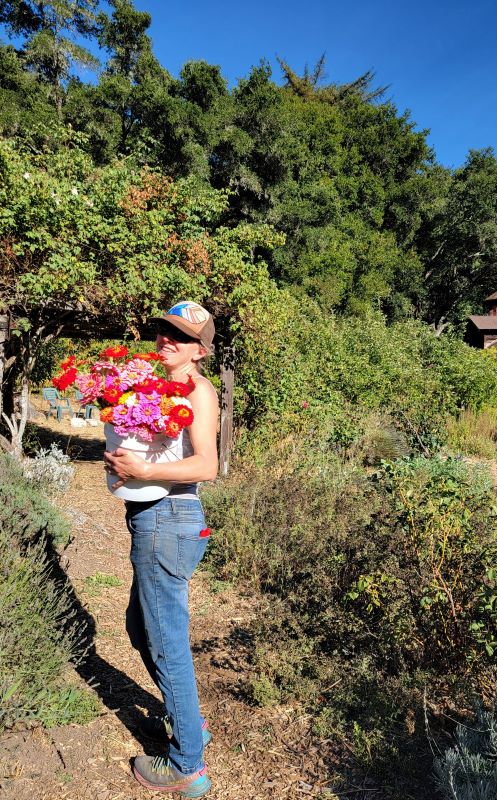 "We're trying to connect more with the community after these strange couple of years," she said. They reinstated their spring plant sale, revved up the volunteer days for people to help on the farm, hosted a farm-to-fork dinner, and provided space over the summer for Sarah Nielsen's Art Lab students. "It's been really fun listening to children here again this year."
Now we're letting the garden do its thing and turn into the next season. They've been packing veggie boxes for sale from the harvested goodness. Towhee and team player Betsy Garties have been drying flowers, processing food, and shifting toward getting ready for the annual wreath sale. Lately the wreath sale has morphed into a pop-up at the front gates rather than being in the old ranch house as in olden times. Save the date to pick out a beautiful botanical wreath grown and handcrafted on the farm: Sunday, November 19.
After the wreath sale, the Nelsons are looking forward to a little downtime. They do have to cover-crop the fields as the season turns. "Every crop that finishes, we're going to pull it out, and we're either going to plant a winter crop like garlic, or we're going to plant a cover crop which will grow throughout the winter like nitrogen fixing fava beans, oats and barley, sometimes vetch." Sometimes they plant flower bulbs for color in the spring, other times they just "honor the rhythms" and rest for the winter. Once they put the garden to bed, they'll begin renovations on the old greenhouse, that'll be their winter project, Towhee said.
campjoy@cruzio.com | campjoygardens.org
Julie Horner writes about art, music, and the people of the San Lorenzo Valley.
Photos by Julie Horner
Featured photo: Trellis view of the farm at harvest time.
Have something to contribute? The San Lorenzo Valley Post welcomes your Santa Cruz Mountains news, story ideas, photos, and letters. Send us an email.