Post-Fire Watershed Defense Coalition Takes Action
By Beth Prentiss with Rebekah Uccellini Kuby and Tiffany Worthington
While cooler weather and rains may spell relief for some people worried about wildfires, for others they mean a race against the clock to protect our waterways from toxic ash runoff before heavy rains begin. The Post-Fire Watershed Defense Coalition has been working non-stop since the wildfires to contain the toxic contaminants of structure and vehicle burns and keep them from reaching pristine rivers, creeks, and streams which we all ultimately depend on within the Santa Cruz Mountains. The work involves placing barriers around burnt structures to prevent contaminants from becoming toxic runoff that will enter the watershed. These barriers include long fabric tubes filled with straw, called "wattles," and compost sox, which are fabric tubes filled with wood chips and compost. The wattles are used to direct water toward the compost sock, which is designed to absorb toxins.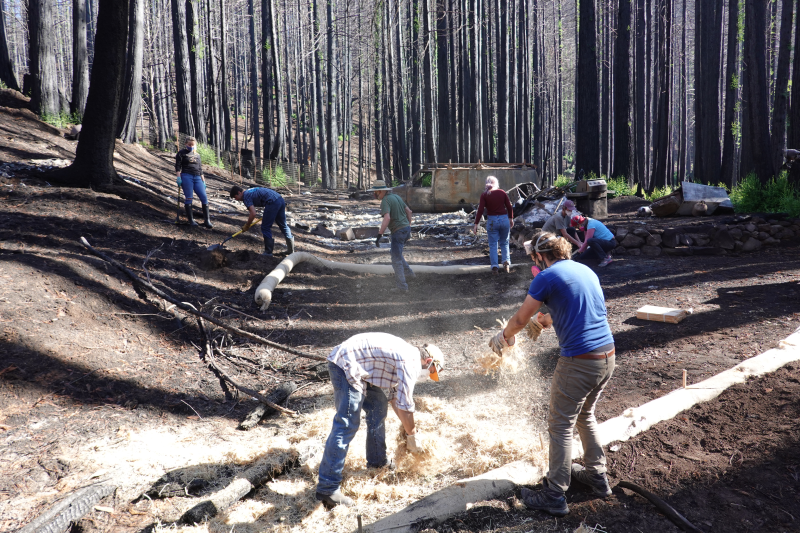 Coming to terms with the reality that rain is just around the corner and that there are no other agencies or local governments moving into swift action, the coalition has organized multiple "action days" for several communities impacted by the wildfires. A small group of dedicated local volunteer organizers saw that the burden of protecting the land after the wildfires, unless property owners had the money to hire professionals, was falling on an already overwhelmed community of fire survivors to do by themselves.
The coalition takes a neighbors-helping-neighbors approach. Individual advocates and several grassroots groups including Wildfire Protectors Corps, Santa Cruz Relief, Grow the Change, and CoRenewal have partnered with community members who work alongside homeowners and renters who lost their homes in the wildfires. For months, teams of volunteers have been visiting burn sites where homes and other structures once stood. In a burned site, volunteers assess the land with the homeowner to find areas where the water flows. Mitigation includes spreading a thin layer of straw on steep slopes, placing wattles around the perimeter of the burned structures, and adding microorganisms to the wattles. Inoculating the wattles with biologically diverse compost and Oyster mushroom mycelium increases the potential of the wattle to absorb more toxins from the ash runoff.
The action days have proven to be more than just an opportunity to protect the land; they are also an opportunity for communities to come together to connect and begin healing. Participants have said that working alongside one another (so far as social distancing and masks allow), helping others and receiving help, and simply seeing that the wider community truly cares about them has been a meaningful step in moving beyond the trauma of losing their homes to the fires. The work also empowers property owners to take care of their own land and of each other after a disaster.
Thus far, the efforts have been funded entirely by the organizers and a few individuals, and bolstered by material donations from the community. Vrinda from Areparía 831 and Eric from Operation Feed The People (who lost everything in the fire as well) have prepared nourishing meals for the action days to sustain the volunteers and keep spirits high. Volunteers have been hand-filling compost socks for anyone to use on their properties, cutting down on costs significantly. Additional support is still needed. Monetary donations are welcome to purchase materials, tools, and safety gear so that the Post-Fire Watershed Defense Coalition can continue their work throughout the areas impacted by the wildfires.
If you are able to contribute, please visit the Wildfire Protectors Corps GoFundMe page at: gf.me/u/y9b96b. And if you are interested in volunteering time or resources, you can visit: wildfireprotectorscorps.org or screlief.org. And for those do-it-yourselfers, members of the CZU Fire Remediation Team Facebook Group have found bases in Boulder Creek's Garrahan Park and Boulder Creek Community Center to hand-stuff compost sox for folks with a free/pay-it-forward model.
Special thanks to all the volunteers and donors and to Bryan Hofmann of Filtrexx, Jorah and Andi of Mountain Feed, Don Nathe of Intuitive Healing Touch, Warren Knox of Knox Roofing, Jewish Community Foundation of Silicon Valley, Coongie, Big Sur Bakery and Coast Gallery, and the Fyera Foundation, among others.