By Marielle Martin
Traditional Scandinavian Christmas Fare 
Since ancient times, Scandinavian midwinter celebrations have centered around Norse and Pagan rituals of bringing warmth, joy, and light to the community to counter the darkness and cold of the season. Once Christianity was established in the region in the 11th century those traditions began to be called Christmas, but many practices continued.
Preserved foods – smoked, pickled, salted, dried, fermented – are hallmarks of Danish, Norwegian, and Swedish cuisine. Foods meant to last the winter. Popular to this day are smørrebrød (smörgåsbord) with pickled seafood, cured meats, jams, and vegetables; potato dishes; baked goods – including cookies, breads, pastries, and cakes; and warm beverages of hot chocolate with spirits and mulled wine seasoned with fruit, spices, and nuts.
Here in the Santa Cruz Mountains, two families with deep connections to Scandinavian cultures share their favorite holiday recipes.
Beth Hollenbeck – Glögg
From her travels in Sweden, Beth Hollenbeck discovered Glögg – a warm spiced red wine simmered with sugar, citrus. and warming spices. A non-alcoholic version can be made with fruit juice in place of the wine.
"I was working as a musician in a small town in Sweden called Örebro during Christmas and had been invited to watch the Sankta Lucia celebration in the town square," said Beth. "Afterwards, we went to a friend's home. Walking in the door and I smelled a lovely spice coming from the kitchen. It was a holiday drink called Glögg and they served me up a cup. It was heavenly! When I returned to my apartment in LA, it just so happened that I lived down the street from a Swedish deli and they had it there. So my home became known for Glögg every holiday. Friends still talk about those Glögg parties!"
"Cost Plus carries a great mix, but you have to get there early in the season or it's gone! I always add a few cinnamon sticks and have put almonds and raisins in too. It mixes best with merlot, but any red wine will do."
"I love to attend the Scandinavian Cultural Center's Sankta Lucia celebration in Santa Cruz every year. That really kicks off the season for me and brings back fond memories of my time in Örebro. Christmas dinner is always crackers and Swedish cheeses, pickled herring and lax for appetizers, followed by a smörgåsbord of yellow potatoes, meatballs, lingonberry jam, ham, creamed peas, and gravy. We finish off with Swedish pudding and gingersnaps, or pepparkakor, and of course Glögg is on the stove all Christmas day."
Purchase a pre-mixed Glögg blend to add to mull with your wine, or try this recipe from scratch.
1 bottle of red wine
3 cinnamon sticks
5 whole cloves
7 whole cardamom pods, peeled
3/4 cup of sugar
1 slice fresh ginger
Candied or fresh orange peels or slices
Pour into individual mugs and garnish with almonds, raisins, and a cinnamon stick
Tom Andersen – Pebernodder
Tom Andersen's parents were born and raised in South Dakota where their parents immigrated from Denmark. Pebernodder, or peppernuts, are small, crunchy sugar cookies flavored with fragrant spices. They are a holiday tradition with a recipe handed down from generations past. "They're like a shooter marble with a flat spot. Making them takes some time, eating them takes far less. That's why they have many other uses prior to their being eaten," Tom said. Due to their shape, size, and preserved and durable nature, the cookies can be used for all kinds of tabletop games, keeping young ones occupied for hours while Christmas preparations ensue.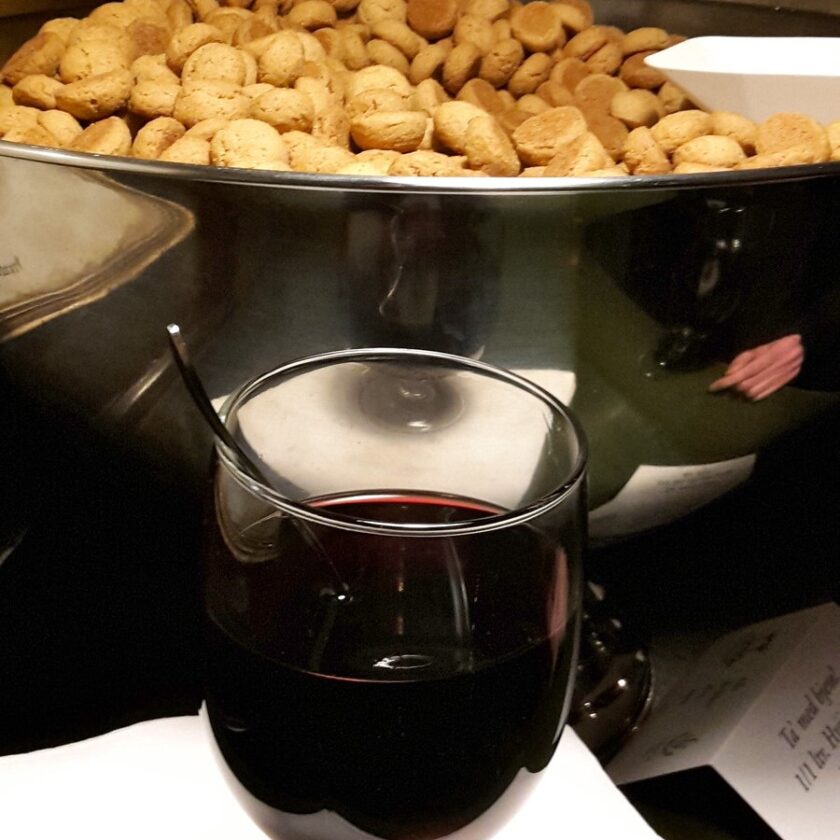 "The key ingredients to perfect peppernuts are corn syrup and cardamom. Corn syrup makes them crunchy without burning. Cardamom is the spice of the Danes. Fresh, hand ground is best. It's important. The last words my mother's aunt, Tanta Rose spoke to me on the day she died, maybe the last words she spoke at all, were, 'tell your mother to put more cardamom in her pebernodder.' I also believe they were her last meal. This recipe reflects her wishes and comes directly from my mother's memory."
1 ½ cups dark corn syrup
½ cup white sugar
½ cup shortening
1 egg beaten
½ tsp soda
½ tsp cinnamon
At least 2 tsp fresh cardamom
¼ tsp nutmeg
4 ½ to 5 cups flour
Some add ½ tsp of white pepper
Mix syrup, sugar and shortening together until creamy. Add egg, soda, spices, and half the flour. Mix in the rest of the flour to make a very stiff dough. Chill in the refrigerator for an hour or more. On a floured board take a small handful and roll out to make a snake about ½ inch in diameter. Pinch off pieces about ½ inch long and roll into a small ball. Lay out on parchment paper or a lightly oiled and floured pan. Bake at 300 to 350 degrees for 20 to 25 minutes. Keep the extra dough in the fridge between batches. After baking, remove cookies from the pan and let them cool. Store in a ziploc bag or cookie jar. They should be hard when cooled. Leftover dough can be frozen for future use.